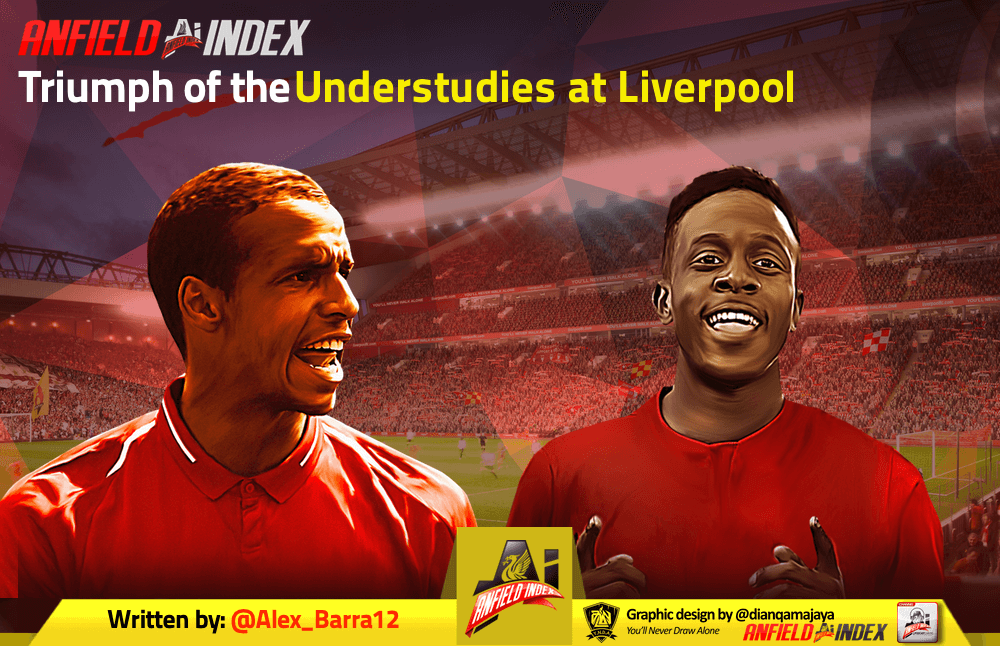 Triumph of the Understudies at Liverpool
It was only a few days ago that Liverpool fans bore witness to another one of Jürgen Klopp's most repeated sentiments – "I don't need to spend anything, I've got all that I need."
"I don't want to talk exactly what we will do, but I don't think this is a team at the moment where we have to spend the big money or whatever.

"The best way to do it is bring together a group of players, try to develop them all together and then stay together for a while."
Perhaps he is entirely transparent in his assertion that he won't be looking to spend the kind of money he did last summer when Alisson arrived for a world record fee and Naby Keita finally made the long-awaited trip from Leipzig to Liverpool at the cost of around £55 million.
Then again, there is also a £50 million void in said transfer business, where Nabil Fekir would have been present were it not for a botched ACL job and a subsequent failed medical.

Perhaps that money will be invested into two players, and that'll be it. The kind of signings that fill the squad out a bit. One of them will probably be an attacking midfielder in the ilk of the Frenchman.
Then again, Klopp placed his faith in Loris Karius after the Champions League final, feeling a deal for Alisson was too expensive. Nearly a year on from that calamitous night in Kiev, the Liverpool manager's ruthless side paid off.
It's almost like what Klopp says and what Klopp does are two separate entities unto themselves.
And why shouldn't it be that way? In the midst of not only a title challenge, but a Champions League campaign that could well end up in a second consecutive final, shouldn't the men playing for the big friendly German feel like they're superhuman? Klopp's tactical nuance often gets veiled beneath wild, emotive phrases like "heavy metal football" and not particularly discussed in depth, but his greatest tactical asset will always come from the collective being more important than any individual performance.
"These players, the character and mentality of these boys is the only reason we are where we are"
Klopp said following his side's thrashing of Bournemouth. Former Aston Villa and Stuttgart midfielder Thomas Hitzlspurger places more importance on the manager himself, saying in Gavin Cooney's profile of Klopp that for the German's' famed gegenpress to function properly, players "have to completely accept it."
A bit hard to do that if you're afraid you're about to be replaced. Here's where Klopp's comments will always come with a grain of salt, no matter the circumstance.
Yet it's that very dedication to building what Pepijn Ljinders calls "a family" that is Klopp's greatest triumph. Because no matter how much they spend to break the world record transfer fees for both goalkeepers and defenders, they will never be powered by the wealth of an entire nation. Klopp's magic is not in Pep Guardiola's ingenuity and tactical nous, it is not in creating an unstoppable collective.
Klopp's magic comes in making the collective feel unstoppable.
Joel Matip was seen as the dispensable fourth choice centre back at the beginning of the season. Yet he has proved to be a much more impressive understudy to Joe Gomez than Dejan Lovren – who has sustained nine "niggling" injuries (only one of which lasted longer than thirty days) over the last three seasons. When Gomez went down again and Lovren couldn't be a reliable backup, Matip was thrust into the limelight next to Virgil van Dijk.
And he hasn't missed a beat.
Key moments against Watford and Bayern (an unfortunate own goal aside) compound what has been an immeasurably composed set of performances over the last month or so, when Liverpool desperately needed the stability provided in the first half of the season. Matip slotted in beside the flying Dutchman and looked right at home, even managing to be Liverpool's most creative outlet at times with his mazy, confounding dribbling through the centre of opposing midfields.
So too did Divock Origi feel like he was being cast out at the beginning of the season? Moves were touted back to Germany, or perhaps even to another Premier League side, and yet the Belgian remained.
And every Liverpool fan rejoices that fact, after his heroics in the Merseyside derby. But it's not only that; his pass to Mo Salah for Sadio Mané's second goal against Bayern was sumptuous, he scored a lovely solo goal against Watford, and though he was poor in the stalemate against Everton, he has far exceeded Daniel Sturridge's effectiveness as a sub.
Though, speaking of Sturridge, he had his moment in the sun with an absolute pearler of a strike against Chelsea. Adam Lallana, too, has recently shown his usefulness to his manager's plans. And so too has Xherdan Shaqiri performed exceptionally well when he's come on as the attacking midfielder, single-handedly getting Jose Mourinho sacked.
These aren't necessarily names associated with glory and triumph, in the way that Sadio Mané and Virgil van Dijk have lately been grabbing headlines, but they are important, exceptionally important even. And while they may be replaceable in the summer, when Klopp will undoubtedly turn to the market as he's done in the past, for now, these names need to be noticed.
They're the bedrock to Jürgen Klopp's success: the magic of making men into something greater.