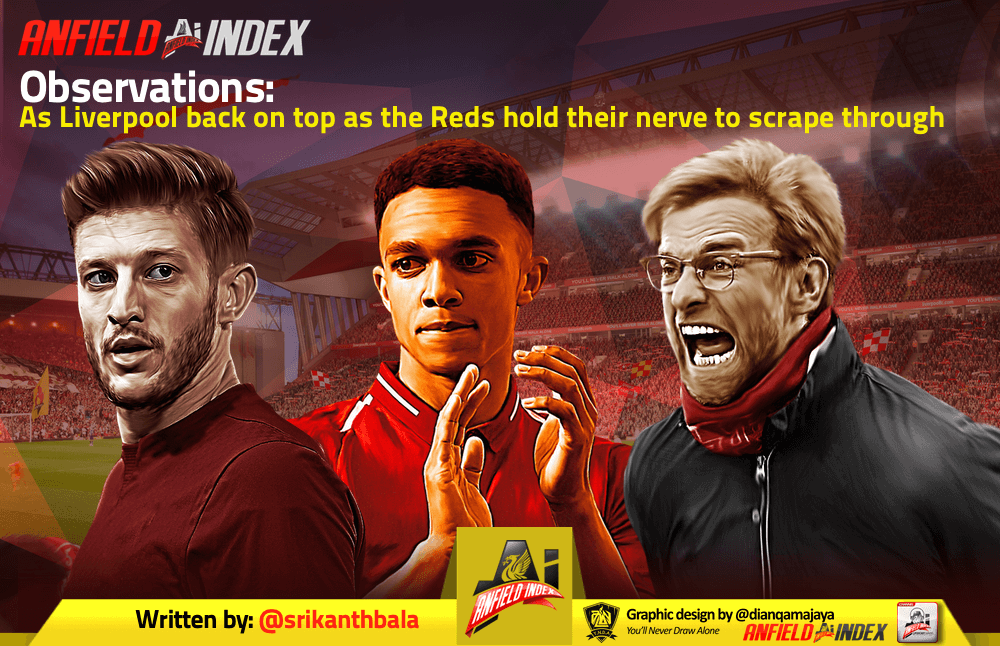 Liverpool back on top as the Reds hold their nerve to scrape through

Liverpool (and Milner) held their nerve as they beat Fulham by the odd goal in three to go back to the top of the table as the last international break of the season looms. Liverpool conceded an unexpected goal and it looked like Liverpool were going to drop points. Fortunately, the Fulham defence is the gift that keeps on giving and Liverpool snatched the three points which they desperately needed.
The key observations from this nerve-wracking game!
Liverpool back on top of the table
This game was all about going back on top of the table and keeping the pressure on City, who were playing in the FA Cup this weekend. City do have a game on hand, but the pressure of points can never be under-estimated, and Liverpool will hope that the fixture pile-up for City in April would favour the Reds. This looks like going to the wire.
Mane's unreal goalscoring form continues
Salah came into this game without a goal in 6 games, with Mane being the goal-scorer during this period. Mane kept up his scoring form with a well-taken goal after a give-and-go with Firmino. He was instrumental for the second goal, with his perseverance and being in the right position enabling Liverpool to win the penalty. He also set up Salah on a couple of occasions as Liverpool looked to bury the game in the second half. Mane's form is enabling Liverpool to paper over concerns with Salah's goal-scoring drought.
Salah's form becoming a concern?
The Fulham blank marks the seventh game in succession where Salah has not scored, his longest such streak since his Roma days. It feels ages ago that Salah needed only one goal to make it 50 goals for Liverpool in the league, but he still is on 49 goals. The positive side is that he is still contribution in open game-play and works ever so hard, but as games go by, the quality of chances which are being spurned is proving to be a concern. Mane' scoring record is keeping Liverpool in the hunt, but they need Salah's goals if the dream is to get over the line.
Milner steps up (literally!)
A late penalty at Craven Cottage brought back memories from 2013-14, with the nerveless Steven Gerrard scoring a nerveless penalty. 5 years down the line, Liverpool are again in the title race, again get a penalty to win the game. Liverpool does not have Gerrard but have Milner, the best one can hope for when it comes to penalty taking credentials. Milner again delivered in a cool and calm manner to put Liverpool ahead. Milner has been unbeaten in the last 50 times he has scored in the league, an unbelievable record.