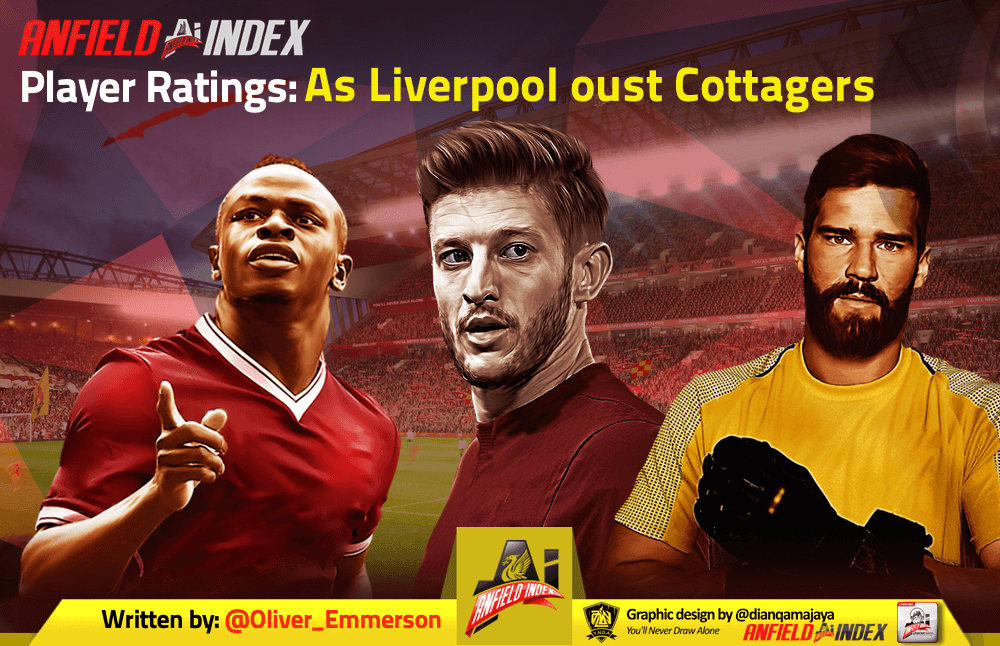 Player ratings as Reds oust Cottagers
HAPPY PADDY'S DAY TROOPS. UP THE REDS.
Alisson (6): I don't know. Who do you blame? Liverpool won though soooo… arsed?
Trent Arnold (6): His crossing is either the best in the league or the worst in the league and I'm completely on board with that until he's 25. Can't be dropped for the remaining league games. 
Joel Matip (6): He's doing an absolute 7/10 job and the moment and that's reflected by getting at least 6/10 every week. Wish he was better at heading the ball into the net though. 
Virgil van Dijk (7): I don't know. Who do you blame? To be honest lads and ladies, I didn't see much of the second half. He fucked up a little maybe, but his smile in the interview after made me smile. So 7/10. Get in!
Andy Robertson (6): Wish he would remember how to be a worldie left-back because all he is at the moment is Leighton Baines minus the set-pieces. 
Fabinho (6): The sight of him getting a yellow actually makes me smile because I know it's needed. 
Gini Wijnaldum (6): Most Gini performance ever and we got three points so I'm on board. 
Adam Lallana (5): Back to the bench. That one game of goodness was fun.
Sadio Mane (9): Our 4th best player or whatever winning us the league? It's what dreams are made of. Great finish. Wins the penalty. Up Sadio, up Senegal.
Roberto Firmino (7): Good assist mate. Missed some of the other stuff you did but I'm sure it was good. Let's have a Samba together? X 
Mohamed Salah (7): You're still our king mate. Still, love you. You'll score one day. Love Olli x