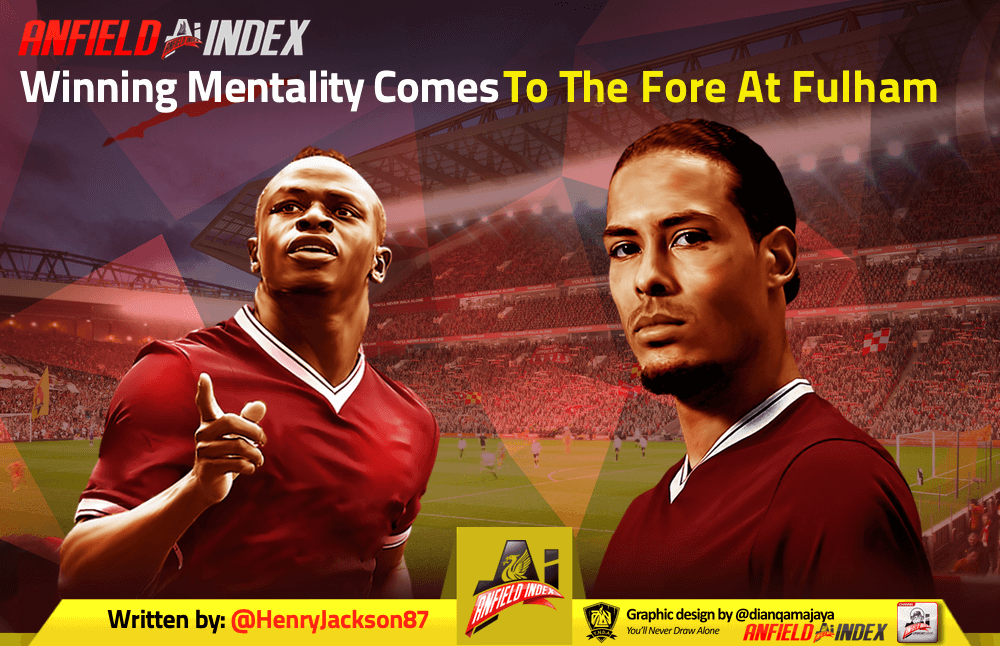 Winning Mentality Comes To The Fore At Fulham

Is it possible to love and hate a football team at the same time?
It was easy to feel that way on Sunday, as Liverpool did their best to throw away valuable points at Fulham, in what would have been their most disappointing result of the season.
Confidence was flowing as the Reds arrived in west London, with the 3-1 win at Bayern Munich showcasing their brilliance under Jurgen Klopp.
A trip to a 19th-place struggling outfit in the spring sunshine sounded pleasant, with three points and a return to the top of the Premier League almost a given.
For 45 minutes the game panned out as expected, with Liverpool bossing possession and eventually going ahead after Sadio Mane's latest strike – his 11th goal in as many matches and his 20th in total in 2018/19.
Then complacency crept in, as well as the frustratingly sloppy end product that has occasionally held the Reds back this season, relatively speaking. They're still on 76 points after 31 matches!
The match started turning before our very eyes after half-time, and if Aleksandar Mitrovic's offside goal was a warning, ex-Liverpool man Ryan Babel's equaliser was an almighty kick to the gut.
Then, something strange happened. Panic didn't set in.
Babel's goal came with 16 minutes remaining – he genuinely looked upset to score it – at a point when Liverpool's Premier League title hopes were in danger of evaporating. In many ways, there would have been understandable reason to see concern etched all over Klopp and his players' faces, but they were measured in their response.
There was no nervousness in the moments after the equaliser, even though culpable duo Alisson and Virgil van Dijk looked fairly disgusted about what had just occurred. Instead, Liverpool bucked up their ideas, kept playing and found themselves back in front with 80 minutes on the clock.
James Milner's penalty was typically nerveless – who else wanted Mo Salah nowhere near that spot-kick? – and they saw the game out in professional fashion.
Yes, the team they were up against are the second-worst in the division, but this was a win that epitomised the strides made by Liverpool this season.
Reds teams of the past, even some of those managed by Klopp himself, would have folded once Babel tapped the ball into the empty net.
A response would have been non-existent and they may even have gone on to lose the game as they recklessly searched for a late winner. But this lot are different. They are the most mentally strong Liverpool team in decades, which is testament to both the job Klopp is doing and the characters he has acquired.
This was the type of win we had to sit through Man United churning out time and time again during their heyday under Alex Ferguson when the inevitability of a winning goal was painful.
Man City have developed a similar mentality, as highlighted by their second-half comeback at Swansea in the FA Cup on Saturday.
The ability to win matches in ugly fashion is an art, contrary to those lazy enough to put it simply down to good luck. This wasn't the first time Liverpool have ground out three points despite not clicking this season, and this new-found skill has given them a good chance of arguably the greatest achievement in the club's history.
The trip to Burnley stands out as one example, on a cold December midweek night when the Merseysiders found themselves 1-0 down after the break.
At one of the most awkward non-top-six grounds in the country, Liverpool never allowed the pressure to get to them, eventually securing a measured 3-1 win. Imagine that happening before.
They were behind at home to Crystal Palace at half-time in January, then level at 2-2, but again they battled hard and picked up a memorable 4-3 triumph.
Liverpool were also made to work extremely hard for victories away to Crystal Palace, Leicester, Brighton and Watford, when maximum points were secured every time.
United got it back to 1-1 at Anfield before Christmas, but rather than wilt with the minutes ticking by, like they would have done previously, they knuckled down and won 3-1, almost without breaking a sweat.
Even the famous 1-0 win over Everton, for all its freakish late drama, showed that this team will now fight until the final kick of the ball.
The most recent Premier League game before Sunday's clash with Fulham, against Burnley at Anfield, showed this winning mentality come to the fore.
Liverpool could easily have felt sorry for themselves after Alisson somehow wasn't awarded a free-kick in the lead-up to Ashley Westwood's goal, but they overcame a deficit and won handsomely. See also: the 5-1 drubbing of Arsenal.
Only time will tell us if the Reds end up winning this league title, but if they fall short, it will because of a once-in-a-generation team they are up against, rather than their own shortcomings.
Liverpool couldn't have done much more than they have – they have acquired more than 76 points in an entire season just four times in the Premier League era, which is a quite remarkable statistic – and their mental fortitude has played a vital role in it.
The Fulham display was far from perfect, as has been the case with a number of performances this season, but they are mastering that ability to get over the line and not panic when the going gets tough.
What a bunch of lads.