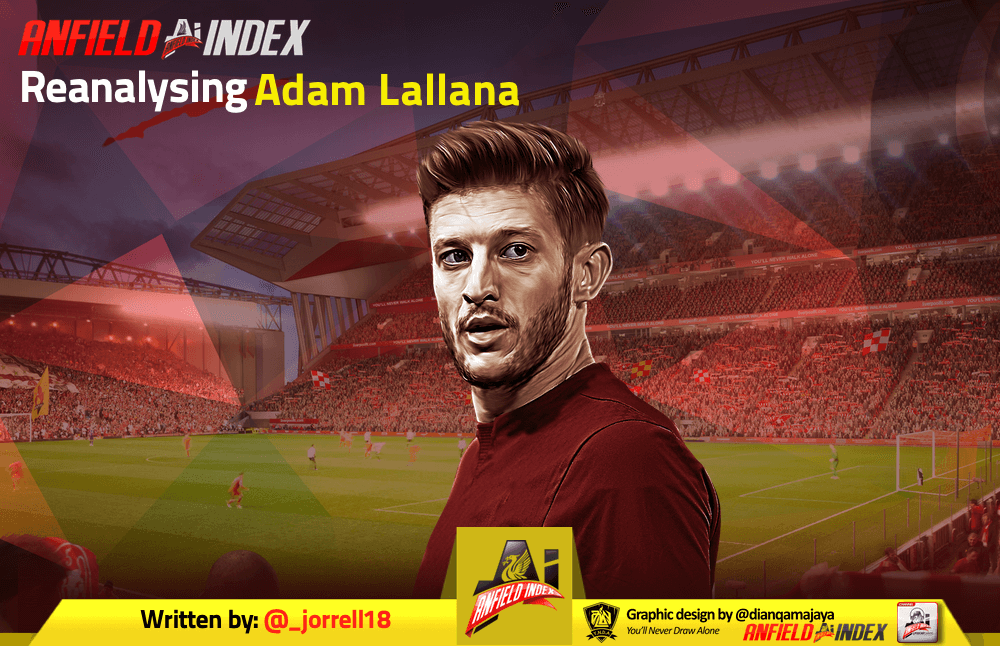 Reanalysing Adam Lallana
In light of how manager Jürgen Klopp has come in and changed Liverpool's style of play, it's come time once again to reanalyse Adam Lallana's role at the club.
Changes changes
Every football fan has seen it before. A new manager comes in and, in most cases, wants to spark some changes in the team. For Klopp, those changes were all highly anticipated. Supporters were referencing gegenpressing and heavy-metal football, and how much better, or at least different, it would make Liverpool.
Since then, the repercussions of Klopp's arrival have been out on the table for all to see – both figuratively and, in terms of the Premier League table, literally.

The changes implemented are also immediately recognisable on the pitch, but not just from overall stylistic differences. Players like Roberto Firmino and Dejan Lovren, already at the club upon the German coach's arrival, have invariably improved during Klopp's tenure. In most cases, players at the club have upped their game while at Liverpool.
An uptick in form
To such an extent, in fact, that for the past two years, opposing teams have been forced to play against Liverpool very differently. Gone are the days when most clubs feel comfortable playing a high defensive line against the Reds.
More realistically, most matchdays see Liverpool players combating against a low block. Opposing teams are taking away space to manoeuvre and limiting the areas for the Reds to run in behind. So fearsome is Liverpool's goal-scoring prowess that teams are very rarely taking the risk of offering too much space.
While opposing team tactics are a great example of how much more prolific Liverpool have become in recent years, they also are part of the reason why including Adam Lallana in the team is a tougher choice than originally anticipated.
Lallana's positives
What Lallana brings to the team has been pretty consistent during his four-and-a-half year tenure at Liverpool. He's got a great first touch, a high engine and general work rate, and he plays good little one-twos with other players in a bid to get in behind. His work rate especially fits Klopp's style – Lallana was and is still praised per appearance on distance covered, total number of presses, etc.
And, to disagree with some critics of Lallana over the years, the England international has showcased himself to be fairly creative as well, though perhaps less in the Mesut Ozil way and more in the Steven Naismith style.
These are all things you'd like to see in a midfielder, no question.
By the numbers
What limits Lallana now, and has limited him for the past two years, is very specifically related to the way that teams have changed how they approach Liverpool over ninety minutes.
The season prior to joining Liverpool, Lallana was averaging nearly two key passes per game for Southampton. Considering that Lallana often played on the left of a 4-2-3-1 that season, those aren't bad numbers for chance creation.
His first season at the club was a little shaky, but so too was Liverpool as a squad. Hardly recovering after a near miss at the Premier League title and the loss of Luis Suarez to FC Barcelona, Lallana's chance creation took a hit in 2014-15.
His 2015-16 season and the following year saw a kick back into form for Lallana. Nearly reaching back into the 2.0 range for key passes, Lallana was seen as by many as a crucial piece of the Liverpool equation for success. His work rate, willingness to press, and runs in behind from midfield were an integral part of Klopp's plans for each matchday.
Skillset mismatch
As mentioned, however, the past two years have been rough on Lallana. His injuries can't be discounted, of course – nearly 40 per cent of the 2017-18 season was spent out of the team with a hamstring problem. Most of the first half of the current season has seen Lallana nursing a groin problem back to full health as well.
More importantly, though, Lallana has been struggling to do what he does best against the opposition because of how deep they sit in defence.
At Fulham, as an example, Lallana spent more time getting in the way of Mohomed Salah and Sadio Mane, whose attempt on goal he blocked and nearly blocked respectively. He made no key passes and managed a dribble or so in 72 minutes.
Why? The deep block that Fulham played for nearly all ninety minutes completely locked down the space that Lallana operates most effectively.
Lallana had no key passes during the match. Some one-twos were attempted, but the coordinating player either couldn't squeeze the ball through some nine Fulham defenders or looked the other direction. Lallana often ended up offside before a successful pass could be made because there was so little space behind the opposition.
His first touch was good, once again, but what happened afterwards was often subpar. His passing was around 78 per cent. Most of Lallana's completed passes were a yard or so behind their target.
Over the course of his limited minutes this season, Adam Lallana has been largely ineffective, or at least inefficient.
Which ultimately leaves his work rate. Lallana ran hard and was involved in five tackles. He pressed centre-backs and full-backs with the same gusto that he closed down Fulham's midfield.
Great. No problems there.
Looking forward
Before Lallana's staunchest defenders or the guardians of English footballers come running, listen: Lallana is by no means a poor player, and referencing his performance at Fulham is just an example, but a good one. 
The 31-year-old has the talent, skillset, and mentality to play in the Premier League, bar none.
But during this campaign's title challenge, and probably beginning early last season, it has become more and more clear that the way Liverpool have transitioned into playing football that no longer suits him.
Nowhere in this article will there be mentioned a course of action. I won't write that Liverpool ought to sell, or wait out his contract, or loan him elsewhere. But it does need to be understood that, in the current system, Lallana has little to no role going forward unless something in his game changes for the benefit of the players around him.