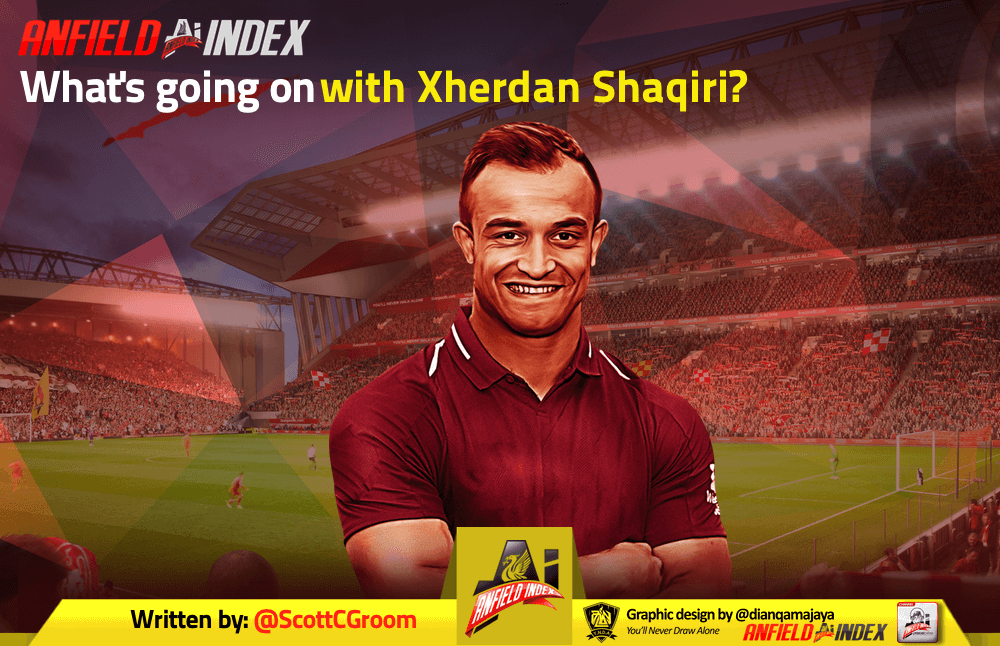 What's going on with Xherdan Shaqiri?
Many thought he was almost certain to start against Fulham on Sunday, but when Adam Lallana was included in Klopp's starting XI, the recent whispers around what is going on with Xherdan Shaqiri grew just that little bit louder.
The Alpine Messi was not so long ago enjoying his best spell since joining Liverpool in the summer, scoring six goals and providing two assists in 11 games over the winter period, but his form then seemed to drop and his place in the team subsequently was lost.
It would be unfair not to mention that Shaqiri has had a couple of injury concerns since, an abdominal strain being the most serious until his recent groin issue, but he hasn't been in the same form since.

The Swiss talisman hasn't featured for Liverpool since they faced Manchester United at Old Trafford back in February, and even that was a short cameo and Shaqiri has since been reduced to a watching brief from the bench.
As mentioned at the beginning of this piece, Adam Lallana has fallen back into favour and has started the last two Premier League matches against Burnley and Fulham – raising further questions as to why Shaqiri has been left on the bench.
Furthermore, when Klopp has decided to make attacking changes, he has opted for Divock Origi or Daniel Sturridge, leaving Reds fans asking what he has to do to win back his manager's favour to get some more minutes under his belt.
Maybe it has something do with the fact that following his purple patch during the winter period, Shaqiri has not been directly involved in a goal in his previous seven appearances, and in those seven games there were some under-par performances.
These performances were nothing like the ones he turned in in the enthralling 3-1 Anfield victory over Manchester United, or the all round glittering performance against Fulham at home. They were devoid of confidence and ideas, he wasn't creative and was a mere passenger as the games simply passed him by.
This could be a reason as to why he's been an unused substitute for the last four Premier League matches.
And to add to his word, the highly anticipated return of Alex Oxlade-Chamberlain is now just around the corner, with Klopp suggesting the former Arsenal man will be "100% fit" after the international break, casting further doubt as to how much game time Shaqiri will get before the end of the season.
There's also perhaps been a case to bring him in for recent games in place of Mohamed Salah who is struggling to find his best form, but Klopp has stuck to his guns and left Shaqiri on the bench.
It all makes for slightly concerning reading, really, especially as Shaqiri was signed as a man who could make a difference when called upon, who could conjure something up whether that be a goal or an assist to change games in Liverpool's favour: but it's just not been happening for him.
This is what the Reds need at this moment in time at such a crucial point in the season. The title race looks like it's going to go down to the wire and the Champions League remains a real prospect, so to not have this extra ammunition from Shaqiri is a bit concerning.
While Chamberlain returning is a huge boost, he'll likely not be at his best until the start of next season again, and Lallana is still regaining full fitness after a long series of lay-offs, so more is to be expected from Shaqiri.
However, in order to show us what he can do, he needs to be given the opportunity – and he's just not getting that right now.
There are probably reasons for this we will never know, but he needs to change something, or show a desire to change, or he faces seeing out the season from the bench, barely getting to stretch those enormous calves of his.