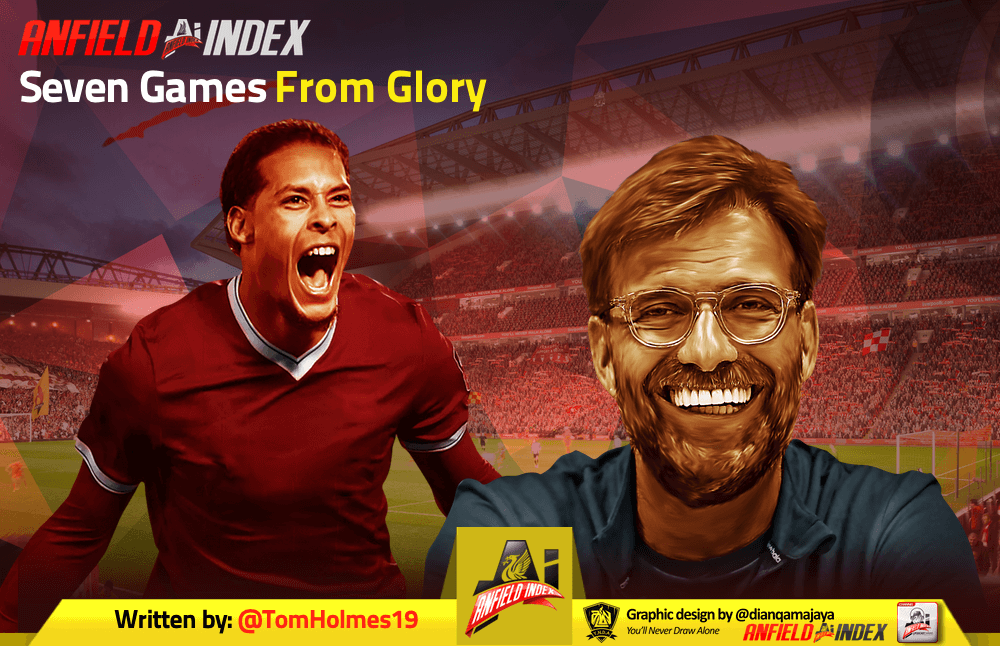 Seven Games From Glory For Liverpool
International breaks are annoying, aren't they?
Fresh off the back of three pulsating Liverpool victories in a week, approaching the back end of the season, ready for the final run-in, and now we get two full weeks of no Liverpool action, and having to watch international teams play largely pointless fixtures against the backdrop of hoping nobody from LFC gets injured.
But this article isn't going to be a gripe at the lack of Liverpool action over the next couple of weeks – we've been there and done that and I'm sure there'll be another one out from someone somewhere soon enough.

No this article is a good chance to sit back, take a deep breath and look ahead to what's to come. Liverpool's form in 2019 has been relatively patchy compared to their incredible finish to 2018, but it's still overall been largely strong, with six wins, four draws and a defeat in Premier League making it 22 points from 11 games, or 2 points per game, along with an FA Cup defeat, but crucially seeing off Bayern Munich over two legs to keep the hopes of a potential League/Europe double alive.
Defensively, Liverpool have had a couple of blips, but have largely been as solid as ever in 2019 so far, keeping six clean sheets in all competitions and conceding less than a goal a game. However, it's been in attack, especially away from home where the issues have been, and the contrast marked. Liverpool's home form has remained strong, with four league wins and just one draw, scoring seventeen goals in the process – coupled with a 0-0 draw to Bayern.
Liverpool's hard-fought 2-1 win against Fulham was the first time in 2019 that they'd scored more than once away from home in the league, and only their second league win away in six games. Granted, the calibre of opposition in those away games was harder, with both Manchester clubs and Everton the opposition, but three goals total in five away games – West Ham and Brighton the other two – is evidence that Liverpool have had a serious issue scoring away from home in 2019.
Part of the issue is the lack of end product from Mo Salah, who has scored one goal in his last eight league appearances with zero assists. With Liverpool drawing four of those games, largely down to a lack of goals, it's fair to say that that's a problem.
I've written before on some of the bigger underlying issues – Klopp's hesitancy to play a progressive midfielder, especially away from home, the issues surrounding injuries to Trent Alexander-Arnold and Bobby Firmino, two vital attacking players, and yeah Mo's lack of quality in the final third when he gets there.
But I want to use this article to look ahead rather than focus too much on looking backwards. There are seven league games left and what's important now for Liverpool is winning them, by any means necessary. If the Reds can manage to get 21 points from their final set of fixtures, then there is a very real possibility of them winning the Premier League title, as Man City would have to win all eight of their remaining games to stop them.
So this is how Liverpool's final fixture list looks:
Spurs (H) – Sunday 31st March
Saints (A) – Friday 5th April
Porto (H) – Tuesday 9th April
Chelsea (H) – Sunday 14th April
Porto (A) – Wednesday 17th April
Cardiff (A) – Sunday 21st April
Huddersfield (H) – Friday 26th April
UCL SEMI (A) – Tuesday 30th April/Wednesday 1st May
Newcastle (A) – Saturday 4th/Sunday 5th May
UCL SEMI (H) – Tuesday 7th/Wednesday 8th May
Wolves (H) – Sunday 12th May
Okay so for clarity I've added the potential Champions League semi-final legs although there's obviously no guarantee that Liverpool get there and assuming that we beat Porto would be overly optimistic. Nevertheless, there is a very real possibility that we will have to factor a Champions League semi-final into our thinking so it's only reasonable to add it to the schedule.
The first thing to note is that Liverpool's two big games are at home. Spurs are in terrible form and Chelsea hopefully won't have picked up much by the time that they travel to Anfield, but nevertheless Liverpool have excellent home form against the top six. This season, they've beaten both Arsenal and Man United at Anfield, and last season they saw off the Gunners and City at home, as well as drawing with the other three. The worry of course, is that those games end up as draws, but four points from those two home games gives the Reds a very real fighting chance across the remainder.
The second thing to note is that scheduling wise, there's no huge glaring issues. The two Friday night games, against Southampton and Huddersfield, both ahead of potential Tuesday night Champions League games, create nice gaps in the schedule, and mean that there's no period where Liverpool have two hard games in close proximity. Even the Chelsea home game, off the back of the Porto home game, are five days apart and both at Anfield, which is a blessing.
One huge benefit in that regard is that Chelsea travel to Prague on Thursday 11th April, three days before that pivotal home league game, which gives the Reds a big advantage, given that they play two days earlier, and are at home.
I mentioned above that away games will be important as that's where Liverpool have struggled and that's very much going to be the case. Southampton, Cardiff and Newcastle however, are not strong teams and the latter will almost certainly be safe when Liverpool play them, which could very well neutralise them entirely.
The issue for Liverpool is that even away games against Fulham and Brighton have been a struggle in recent weeks, and the game against Cardiff will come hot on the heels of an away trip to Porto and it's extremely unlikely Klopp will be able to heavily rotate for that second leg.
Nevertheless, I think that the picture looks promising for Liverpool. Their home games are largely winnable, with circumstances largely in the Reds' favour for their trickier home games, and Wolves on the final day a game that if you need to win a title, one that the home crowd would make winnable on their own. And whilst there are one or two potentially sticky away games, there are no genuinely difficult away games. Bottom line, there are five games that you would expect the Reds to win, and two big home games, one of which Liverpool have a significant advantage from scheduling.
Of course, the real test of Liverpool's credentials is coming. There have been questions over whether this squad can sustain a fight on two fronts and that bend but don't break tactic that Klopp has provided in response has largely worked – albeit with a bit of luck. Nevertheless, if you were going to ask for a way to juggle seven league games with four UCL games, the Reds have got a perfect start to that. The tricky part of course comes if they make the semi-final and have to balance a potential trip to Barcelona as a worst case scenario into the mix, but as mentioned, the away game against Newcastle could hopefully be neutralised if Rafa can lead them to safety before a ball is kicked at St James' Park. And of course, there's every chance that Man United knock out Barca, in which case an away trip isn't really a trip at all.
City meanwhile, have a trickier schedule, travelling to Palace, before playing Spurs three times and travelling to Old Trafford and still having to balance their FA Cup exploits, and they of course could also have to balance a Champions League semi-final with Juventus.
For me then, the critical games are the first game against Spurs, and the trip to Cardiff, which has the capacity to be a really nasty away game, particularly if they're right in the thick of a relegation battle which is the most likely outcome.
Nevertheless, I think two elements are important. The first is that every game has the potential to be a banana skin, but none are incredibly daunting. That will give the Reds every chance of winning seven out of seven, or at least picking up six wins and a draw.
The second element is that Liverpool could do with hanging on until City have dropped points. In that respect, it's potentially frustrating that the Spurs game is next up, but whilst it's unlikely neither team drops points over the next fifteen combined games – and let's be honest it's very likely both drop points in at least one game – the when the points are dropped could be the most important factor. If Liverpool can get a grip on the title race, and City start to fall away, then they could easily prioritise their other competitions, or fall away.
At this stage, it's unlikely either team is going to drop out of the race completely, but the mental edge could go to the Citizens if they can keep Liverpool at arm's length, and if Liverpool lose to Spurs, City could move themselves four points clear.
So, in short: I think Liverpool absolutely have the tools to make a great run at this last set of games. It's extremely important that Mo Salah finds form, but nevertheless, our defence is good enough that expecting five clean sheets is not unreasonable, and that will always give us a huge chance to win games. Liverpool picked up 19 points from the reverse fixtures against these sides, scoring 17 goals and, crucially, conceding just three.
So do I think the double is out of the question? Absolutely not. But do I think that there's still a long way to go, and Man City will not lie down and die quietly? That's also very true. City have the advantage, but it's a slender one, and Liverpool have the quality to hang in there with them all the way. Beyond that, it's all to play for. And we just have to hope that things go our way in the next two months.
Up The Reds. It all comes down to this.