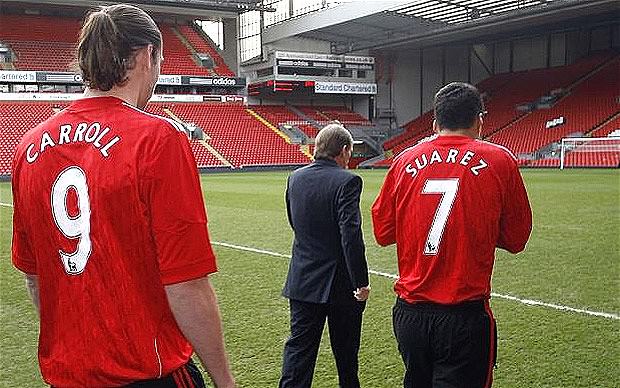 Are Carroll and Suarez finally starting to gel?
It seems strange that having signed Andy Carroll and Luis Suarez during the January transfer window that only now, at the end of October, are we starting to see the first signs of a partnership between the two. That says it all about the bad luck that Liverpool and Kenny Dalglish have had in trying to get both their big money strikers into the team at the same time, but it now seems that the Reds luck has changed and the pair are finally starting to hint at forming the formidable partnership that had fans drooling 8 months ago.
Upon signing Carroll and Suarez appeared a match made in heaven and a throwback to classic Liverpool strike-forces of yesteryear. Andy Carroll was supposed to be the typical powerhouse number 9, battering defenders, winning headers and unleashing unstoppable drives with which the word 'finesse' will never be associated. With Carroll giving the team a presence in the penalty area, Suarez should have, in theory, been able to what he does best which is running into the channels, beating defenders and creating for his teammates but things haven't quite worked out that way.
While Suarez got off to a dream start for the club, scoring on his debut and producing a string of superb performances that cemented him as the Reds' MVP after just a few short months on Merseyside, Carroll was forced to bide his time on the sidelines as he recovered from an injury he suffered whilst playing for Newcastle. Kenny Dalglish insisted that Liverpool had bought Carroll for 5 years and not 5 games, but secretly he must have been as frustrated as Andy and the fans at not being able to unleash his £35m man on Premier League defences.
It is that frustration that may have led to what Dalglish has since admitted was a rushed return from injury from Carroll and it was obvious after his first few games in a red shirt that he was a still a long way from fitness. There were moments that suggested Carroll could have a big future for the club, such as his two goals against Manchester City, but generally the big Geordie's first half season was a bit of a disappointment as he played alongside Suarez just a handful of times.
Already people were starting to doubt whether the the Carroll/Suarez partnership and the number 9 himself would ever live up to the hype, but it was obvious to all those who had seen Andy at his best that he just needed a big pre-season behind him and a run of games alongside Suarez for us to see him banging in the goals. But despite working hard to get into the shape of his life, Carroll has been in and out of the team so far this campaign, with Dalglish often leaving him on the bench and sometimes not playing him at all.
While Dalglish may have been justified in his decisions there is no doubt that the inconsistent selection affected Carroll's progress but despite the fact that the goals are only just starting to come, stats show that his performances have been up to par for a while now. As you would expect Carroll has been dominant in the air, winning 38 of his 66 aerial duels which is crucial if he is going to be the player Liverpool bought him to be.
Another aspect of being a good target man is being able to receive the ball, hold it up and lay it off, and Carroll's stats are equally impressive, with the forward completing 30 of his 34 lay-offs. Considering a lot of the balls played up to Carroll are hopeful at best, he has done well to maintain respectable passing stats with a completion rate of 68% (completing 140 out of 207) but more telling than how many passes he has completed is where he passed the ball most.
With Carroll more often the furthest man forward and the target for many a long ball, you would expect the majority of his passes to be played backwards as he looks to bring others into play. Interestingly though, 91 of Carroll's 207 passes were played forwards compared to 57 backwards, which suggests a player who is far more comfortably receiving the ball with options in front of him than always having his back to goal with teammates 10-15 yards behind him. It's becoming more and more obvious that Andy is much more than a static Kevin Davies-style player.
Clearly more goals are all that are needed for Carroll to become a top striker for Liverpool and with Suarez alongside him he will never be short of chances to fill his boots. Indeed the Uruguayan has been somewhat of a creative colossus so far this season, making 18 chances for his teammates and going on 20 successful dribbles. Much of Suarez's success comes from his movement and the way that he drifts into wide areas to find space, but this can often come at the expense of goals if there is no one else in the box. Even Suarez cannot do everything and it is important that he and Carroll interchange so that if one moves wide the other is in the box and vice-versa.
Some may have questioned Carroll's ability to play in a fluid pass-and-move side but he has surprised fans with his willingness to drift wide left and run in the channels, as the heat-maps show. His crossing ability has also come as something of a shock with the big-man delivering inviting balls into the box on more than one occasion.
Carroll's desire to drift out to the left is equalled by Suarez's desire to move out to the right-wing, which gives the team a great balance and if the two can continue to find each other the way they did against West Brom as well as improving in front of goal then Liverpool's £58m strike-force may start to look a bit of a bargain. With both players approaching top form and looking confident this Saturday's home game with Swansea could be a perfect opportunity for the duo to flourish. Let's just hope that Kenny starts them together again!
You can follow me on Twitter @MattKenny89