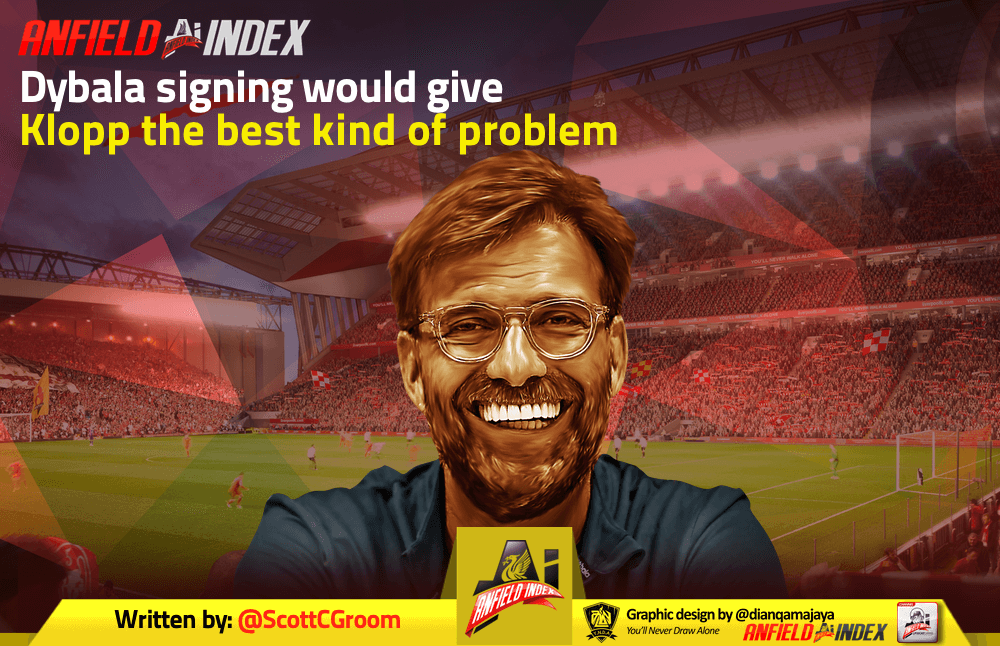 Dybala Signing Would Give Klopp the Best Kind of Problem
The transfer rumour merry-go-round is already in full swing and we haven't even got into April yet.
As ever, Liverpool are being linked with a whole host of names to strengthen their squad next season, and one name that keeps coming up is that of Paulo Dybala of Juventus and Argentina fame.
The 25-year-old is undoubtedly a huge talent and would be a welcome addition to any side, and he is a man that has been continually linked to a move to Liverpool over the past 18 months.
It would certainly be a landmark signing for Jürgen Klopp, making a real statement that world-class players are more than happy to make the switch to Anfield to join his revolution.
Yet whether or not this will happen seems unlikely, not only for the amount of money Juve would demand for Dybala's services, thus relinquishing a large portion of the available transfer budget.
However, it is common knowledge that the Reds are most likely going to have an attacker on their shopping list this summer, so someone of Dybala's quality would be a very welcome addition to the squad.
Some have asked the question as to where he would fit in, but that could be asked of any attacker that joins Liverpool's ranks due to the prominence and influence of Sadio Mané, Roberto Firmino and Mohamed Salah.
What people may be failing to realise is that having this amount of quality to choose from, to rotate and to tinker with is still a luxury that isn't afforded on Klopp.
Look across the M62 at Manchester City – they have world class players in every single position, with players like Leroy Sané, Gabriel Jesus and Rihad Mahrez sitting on the bench most weeks ready to come on and make an impact when they're called upon.
Should Liverpool need to shuffle the pack, especially to bring on an out-and-out striker, their options are limited to Divock Origi and Daniel Sturridge, with Rhian Brewster, set to be added to that list next season when he returns to full fitness?
Add to that list Adam Lallana and Xherdan Shaqiri and you have Liverpool's rotational forwards and while it could certainly be full of worse names, it could also certainly be full of better talent.
This is where someone like Dybala, or someone of his level of talent, fits in perfectly.
To maintain title challenges and to be big players on the European stages for seasons to come, Klopp needs to keep competition for places rife in his squad. What is the point of relying eternally on his current front three because we have been very fortunate up until now to not have either of them pick up serious injuries? What happens if that were to happen next weekend?
Of course, there's the flip side of this equation and you have to consider how players will feel coming to Liverpool knowing that they're likely not going to be a permanent fixture in the side and will need to be patient and play their role as part of the wider squad.
Not everyone will be satisfied with that, but having someone of the talents of Dybala to call upon in whatever capacity necessary make a Liverpool an even more dangerous side to come up against.
It's a dilemma that managers, Klopp included, would love to have, to be spoilt for choice in terms of which dangerous attackers to start with week in, week out, so why shouldn't the Reds be targeting such prestigious talent?