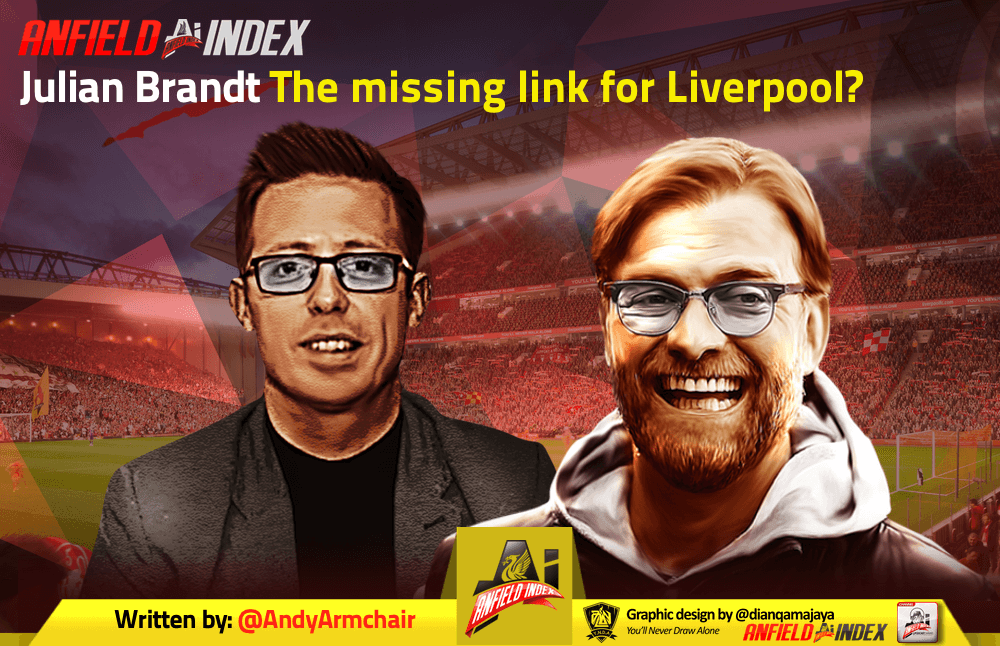 Julian Brandt - The missing link for Liverpool?
It was clear last summer that Liverpool were in search of a creative midfielder. Nabil Fekir was identified as the man to fulfil that role but, as we all know, that deal fell through. Despite having a much-improved defence and showing signs of increased maturity to their play, a lack of creativity from the Liverpool midfield has been all too apparent at various times this season and the answer to that problem could well be Bayer Leverkusen's, Julian Brandt.
Born 2nd May 1996 in Bremen, Germany, Julian Brandt is the eldest of three brothers in a family with strong football connections. His younger brothers Jasche and Jannis also played at youth level (Jasche is on the books at Werder Bremen) and their father Jürgen, a former lower-league striker, was a coach for local club SC Borgfeld and acts as an agent to Julian.
Indeed, Jürgen was Julian's coach when he played for home town Borgfeld's youth team. Aged thirteen, he moved onto another local side, FC Oberneuland, in order to play at a higher level and was soon spotted by VfL Wolfsburg scouts. Brandt was a huge fan of Wolfsburg midfielder Diego and enjoyed a successful couple of years at their academy, scoring an impressive 35 goals in 67 games.
His talent had again not gone unnoticed and it was Bayer Leverkusen who came in search of the young winger, securing his services for a reported fee of €350,000 in January 2014.
Brandt quickly made the step up to senior level at Leverkusen and scored his first Bundesliga goal a month before his 18th birthday. His first full season saw him slowly establish himself as a regular starter and it was during that 2014/15 campaign that he first caught my eye.
This pacey young winger, who was tall and strong but had quick feet was beginning to attract more attention. Jürgen Klopp is known to be a long-time admirer of his talents, dating back to his days at Borussia Dortmund.
At this stage it's an important thing to consider here that this admiration goes beyond Brandt's talent, it's also down to his personality and character. A testament to his family upbringing is how humble and grounded an individual he is; he is mindful of becoming arrogant or boastful and has spoken of the importance of being polite and positive.
You will not see him driving flashy sports cars or wearing outrageously expensive clothing, he remains down-to-earth and true to his roots. Once he had earned enough money as a professional, he bought his family a bigger house close to the one in which he grew up. I mention this because these individual traits fit with the ethos of Liverpool Football Club and Jürgen Klopp.
Meanwhile, it was during the 2015/16 season that Brandt became an integral part of an exciting Bayer Leverkusen team under Roger Schmidt. A run of 6 goals and 5 assists in 9 games at the end of that campaign helped to ensure his team finished 3rd in the Bundesliga.
The following season was a difficult one for his club that saw a change of manager and star names Hakan Calhanoglu and Javier Henandez depart. A 21-year-old Brandt was forced to take on greater responsibility for his team and it's this level of maturity that belies his tender years.
The 2017/18 campaign saw the emerging talents of Leon Bailey and Kai Havertz get more of the attention, but Brandt still weighed in with 12 goals and 7 assists, putting him just behind leading goal scorer Kevin Volland. It culminated in Brandt being called into the Germany 2018 World Cup squad, where his brief outings were one of the few positives for the national team.
This season was initially not the most productive for Brandt in a struggling Leverkusen team. However, the winter break saw Heiko Herrlich replaced by Peter Bosz and the former Dortmund and Ajax boss moved Brandt into a slightly deeper role. This has proved to be a stroke of genius from Bosz and Brandt immediately took to this advanced central midfield role, where comparisons to Kevin De Bruyne were soon made.
Those comparisons go well beyond any physical similarities, the composure, vision, technique, power and attacking intent are strikingly similar and the increased influence De Bruyne has been able to enjoy since making that switch to central midfield himself.
De Bruyne was rightly praised for his midfield performances last season, scoring 8 goals and registering an impressive 16 assists in the Premier League for Manchester City. That gave De Bruyne a ratio of 0.43 assists per game from midfield and to put Brandt's 6 assists in his 9 games so far from midfield equate to an incredible 0.67 assists per game.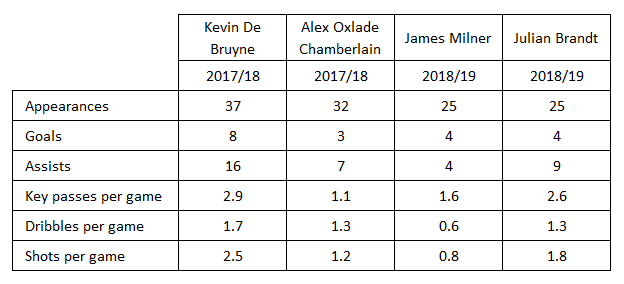 Liverpool's most progressive player from central midfield this season has been James Milner and Alex Oxlade Chamberlain was praised for offensive qualities he added to midfield last season. The table above compares some key stats for them in those respective campaigns, alongside Brandt and De Bruyne, and illustrates just where Brandt sits in company perhaps more familiar to most fans.
Here's another opinion to consider, because Anfield Index Pro's Dave Hendrick had the following to say on Brandt:
"I've been a fan of Julian Brandt for about 4 years now and, after a couple of up and down seasons, he's really starting show what he can do on a consistent basis. He's the closest thing to Kevin De Bruyne going and I think he has the talent and creativity to reach a similar level under the right manager.
He actually reminds me a lot, in terms of his dribbling, of Michael Laudrup. He has incredible close control and can change speed and direction effortlessly. He's a big unit, standing 6 foot 1, and powerful, but also graceful. He's got really quick feet and is comfortable going either way. He can beat players so many different ways: with pace, with power, with a bit of skill, with a change of pace or with a devastating body swerve.
He's a perfect fit for this Liverpool team and if the rumoured buy-out clause is true, the Reds would be crazy not to try and get him. His versatility, creativity, natural inclination to work hard and his potential make him a 'can't miss' prospect in my opinion. There's no downside to signing Julian Brandt."
High praise indeed from Dave, who's proved to be a shrewd judge of a player. That buy-out clause that Dave mentions has been reported in the German media to be somewhere in the region of €25m, a relative snip in today's market. When you factor in the squad spending requirements likely facing Liverpool this summer (a centre-back, left-back, forward and possibly a right-back too), £22m for a player the calibre of Julian Brandt becomes an even more attractive proposition.
In an interview with DW's Jonathan Harding 2 years ago, Brandt told him: "You can take the step (abroad), but I don't think you have to. Those that back themselves to do it have nothing in their way. I don't think it's a bad thing to try and find your feet abroad."
Understandably, he has been linked with a summer move to Bayern, but perhaps Klopp can convince him to "find his feet abroad". With his character, talent, physical attributes and that rumoured buy-out clause, Julian Brandt could just be the missing link for this Liverpool team.