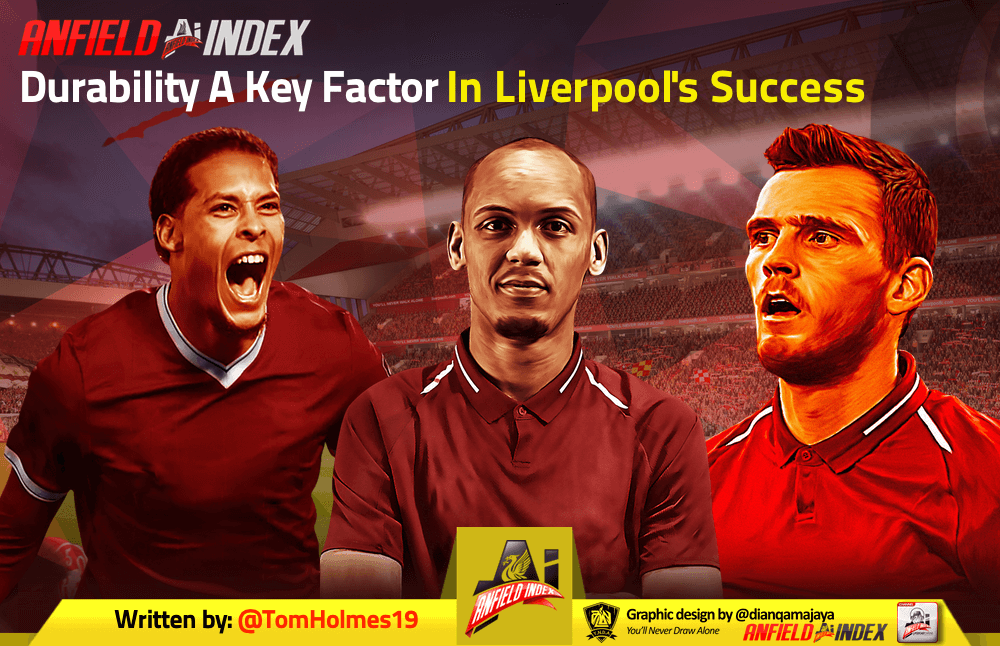 Durability A Key Factor In Liverpool's Success

When you look at Liverpool's success so far this season, one of the key reasons that the team has played consistently well is the lack of injuries to key players. Joe Gomez and Trent Alexander-Arnold aside, of Liverpool's main starting XI (or starting X plus one if we're being fair), nobody has picked up anything more than a minor niggle this season.
And some would say that in that respect, Liverpool have been very lucky. Going through the team, there have been no serious, crippling injuries that have really hurt the Reds, with even Gomez's injury largely swallowed by decent form from Dejan Lovren and Joël Matip. However, whilst luck certainly plays a part in that, a big part of Liverpool's increasing success under Klopp has been in buying and integrating key players who generally don't get injured.
To prove that, I wanted to run through the Liverpool team and demonstrate that these are majoritatively players who have no significant injury history. As Si Brundish is keen on saying, availability is an underrated skill in football, but one of the most important – and a key part of being an elite player is not having a serious injury history. Of course impact injuries happen, but largely, the biggest indicator of future injuries is past injuries. So let's look at this Liverpool team in a bit more detail.
So I mentioned that Liverpool have essentially ten starting players, and that's been the case for about four months now. The back five of Alisson, Trent, VVD, Gomez and Robbo picks itself, the front three is obvious and in the midfield, both Gini Wijnaldum and Fabinho have established themselves as the first picks in that area this season.
And as mentioned, two of these ten players have had injury issues this season – Joe Gomez sadly has a serious injury history which means he's unlikely to escape a career of setbacks; whilst Trent Alexander-Arnold has had a couple of injury problems this season meaning he's only started 20 of the Reds' 31 league games.
However, if you look at the other eight, not only have they not had any major injury concerns this season, but the vast majority are yet to suffer a serious injury in their careers, which is a major boost for Klopp, and in a lot of cases, one of the reasons that the German would have been keen to bring them in.
Starting with Alisson. Admittedly this is only his second full season as a top level keeper, and keepers don't tend to get injured as much anyway, but not only has the Brazilian played every minute in the PL and UCL for Liverpool this season, but he also missed just one Serie A game last season for Roma with a minor injury. A good start.
Moving into the defence, and whilst Trent has had a few issues this season, his man on the opposite flank, Andy Robertson, is as durable as they come. Robertson has started 29 of Liverpool's 31 PL games this season, only missing games against Burnley and Cardiff. In his career, Robertson has been fit consistently, missing four league games in 16/17 for Hull with a calf strain his only injury of note. He played 33 games in the PL for Hull that season, and 42 in the Championship the year before. It took him a while to break into Liverpool's starting XI last year, but there were never any injury concerns.
And then there's the colossus at the heart of the Reds' defence – Virgil Van Dijk. VVD has been another ever present in the Premier League this season for Liverpool, forced off early with a rib injury against Saints in September, but back for the following weekend against Chelsea. Last season was patchier for VVD, as it took him a while to return to Southampton's starting XI and his transfer saga meant that he missed a few games over Christmas, but he still played in two solid runs of games, one for LFC and one for Saints. In fact, the only major injury VVD has had in his career was the ankle problem that ruled him out from January 2017 until the end of that season. However, he played at least 34 league games in the three season prior to that, either for Saints in the PL or Celtic in the SPL. And with one serious injury in his career, that's still one more than most of the people I'm discussing here.
Moving into the midfield, and one player who has also only had one serious injury in his career is Gini Wijnaldum, who had a serious back problem back in 13/14 that saw him miss the vast majority of that season. However, since then he played 33 games for PSV in the 14/15 season, was an ever present for Newcastle in 15/6, missed just two games for LFC in 16/17 and last season featured in 33 league games, again without missing any games through injury so much as rotation. This season, Gini is yet to suffer an injury beyond the niggling problems a few players had in January, meaning that he's started 26 of Liverpool's games this season, and come on as a sub twice more.
So Fabinho. This is a player whose injury history appears to be non-existent – according to Transfermarkt he's not picked up a single injury in his career. Whilst it's unlikely he's never had any niggles, the simple fact is that this season he's played 22 of the last 23 league games after Klopp gave him the first eight games to bed in. And in the past four seasons with Monaco, he's started at least 34 league games on every occasion, meaning that he's not picked up anything beyond a niggle in five years. That's handy.
And then there's the front three. Sadio Mané is the member of the front three with the worst injury history, and here worst is absolutely a relative term. He's started 28 PL games this season and come on as a sub in another, meaning he's missed just two games with niggles. Last season, Sadio missed nine games in total, but was rested on a handful of occasions and of course sent off against Man City, meaning that he was only side-lined for a few games by a minor hamstring injury in October 17. The season before saw him pick up a knee injury that ruled him out of the last eight games of the season, but that's as bad as things have ever been for Sadio, playing at least 30 games in each of his previous three seasons, with no injuries to note.
Moving on to Bobby Firmino, who is famously hard to kill. After nearly being blinded against Spurs, he returned a few days later to score the winner against PSG, and the injury against Man United that saw him return for a sub appearance a week later against Everton. But Bobby is not a player with a major injury in his career, a few minor niggles meaning that he's started at least 30 league games in each of his last 8 seasons, including this one.
And finally, Mo Salah. The shoulder injury he picked up in Kiev aside, Salah is yet to be injured playing for Liverpool, with 36 league appearances last year and 31/31 so far this. He picked up a couple of small injuries with Roma but still featured in 65 league games across his two full seasons there.
So between eight of our core ten players, they've been missing through injury on just five occasions this season and have featured in 231 of the available 248 games collectively. With Fabinho strategically missing the first eight games of the season, that's 231 out of 240. Over their careers, these eight players have picked up just two serious injuries between them. Joe Gomez is 21 and has had four.
So what does that mean for this team? Well seven of those eight players were recruited under Klopp, with Edwards also behind the acquisition of Bobby – and five of those have been in the last two years. The vast majority of Klopp's signings, particularly in the last couple of years, have not only been class players who are major additions to our starting XI, but durable ones. Klopp can afford to have a smaller squad because he can trust that the vast majority of his starting XI simply won't get injured.
Where there are injury worries around the squad are majoritatively both players that were signed before Klopp joined – Henderson, Lallana, Sturridge and Lovren – and areas where the team has a bit more depth. In central midfield for example, Klopp now has not only two durable options in Fab and Gini, but also has Milner, Henderson, Lallana and Keita to choose from for the third spot, as well as the ability to rotate his two favoured DMs.
The one area that is still a worry is the centre-backs, where Matip and Gomez in particular have both been very unfortunate since joining Liverpool. However, with three injury-prone central defenders vying for one spot, it's yet to be a serious issue for Liverpool. Right-back has been a similar issue at times this season, but Trent is a young player who hasn't suffered a serious issue, so hopefully he can hit the levels some of the other starters are hitting in a few years.
The one enigma that doesn't necessarily fit the pattern is Alex-Oxlade Chamberlain, a player who had a serious injury history when Liverpool picked him up. However, what that says about him is that Klopp considered him to be worth the gamble – and that he's seen as a player with a serious future at this club. Whether his latest injury scuppers that future remains to be seen, but it's clear from all of the club's PR around him that he's still seen as an integral part of the midfield when he regains fitness over the summer.
The point of this article was to look at our core players in a bit more detail, to illustrate that a smaller squad depends on having a starting XI that doesn't really get injured. Obviously there's nothing you can do about impact injuries, which do happen, but by buying and cultivating players who tend to avoid muscular injuries, you can build a squad that has a real sense of durability about it.
So, whilst risk can't be completely eliminated in a contact sport, and luck will always play its part – it's not just down to luck that Liverpool have eight players in their starting line-up that they can rely on week in week out. And that's one of the keys to building a successful team.