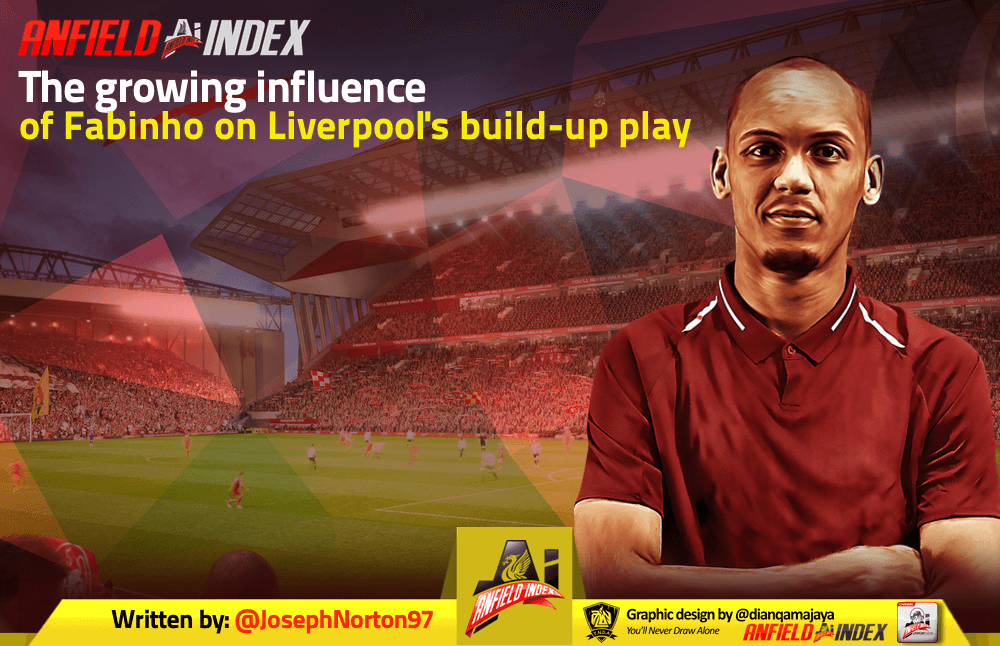 The Growing Influence of Fabinho on Liverpool's Build-Up Play
Liverpool dominating possession but failing to break down a well-organised defence became an all too familiar tale last season. From bore draws at home to Stoke and Manchester United to an away point at Everton, a lack of progression and intelligence in our build-up play was a frustrating trend we just couldn't shake off. Although, in recent weeks, goalless draws to Everton and Manchester United have ensued, these kind of performances and results have become a rarity rather than the norm. It would be irrational to place this transformation solely at one man's door, however, Fabinho's influence on our patterns of play and progression from midfield cannot be ignored.
Initially only trusted to be deployed in a midfield pivot, the Brazilian has grown into the season since his £44 million summer move and now shines in almost every game he takes to the field. Having earned himself a run of regular starts, Liverpool's number three is showing our fan base what his game is all about: progression, awareness and physicality. For many fans it is Fabinho's defensive qualities which have caught the eye – it is hardly surprising considering the tackling exhibition he put on in his breakout game against Red Star Belgrade. However, for me, the most impressive element he has brought to the side is his influence on the Reds' build-up play.
Many people think a number six has to be involved in every aspect of the build-up but a lot of the time a player in this position can have a bigger influence when they are not actually on the ball. Although Fabinho is comfortable receiving the ball in almost any position, he recognises the moments when he needs to create space for his teammates. This clip from the Fulham game is a perfect example of this. It would be very easy for the Brazilian to drop in between Matip and Van Dijk and demand possession. Instead, he recognises his two centre-halves are very comfortable on the ball and can see the whole picture in front of them. By holding his position he buys Matip time as Mitrovic is pre-occupied with the midfielder. This allows our centre-back to drive a cross-field ball to the marauding Andy Robertson.

Jordan Henderson also plays the number six role well – especially in games which involve a high number of turnovers. These sort of matches allow his all-action approach to come to the fore. One weakness of Henderson's though is his awareness. He is often too keen to stamp his authority on a game that he drops deep and picks up possession in areas his centre-backs should be trusted to have the ball. If he were playing in a side where his defenders were not particularly good in possession then constantly looking to dictate the play would not be a problem. But as we've seen this season, Gomez, Matip and Van Dijk are all comfortable on the ball and capable of instigating attacks. Because of this, the number six's role in the build-up becomes more intricate. Of course, a lot of the time a player in this position should make themselves available for a pass but equally as important is the positions they take up – both in relation to their teammates and the influence it has on the positions the rest of the team take up. 
Fabinho is often very good at occupying positions which have a positive effect on the team. When the Brazilian operates in the inside left channel, it allows Robertson to push high and Mane to drift inside. This rotation also allows one of the two other midfielders to drop in centrally, freeing up at least one player who hasn't been tracked by the opposition. We can see our midfield maestro taking up this kind of position in our home game against Burnley – albeit from a free-kick.
Gini Wijnaldum is occupying a very similar position on the right-hand side which means the knock-on effect it has on Trent and Salah is mirrored. Although this kind of movement may seem quite subtle the impact it can have on our build-up and the opposition's defensive structure is not to be underestimated.
If we take a dive into the numbers we can see the full extent of Fabinho's productivity. Although the Brazilian has a slightly worse xGBuildup90 of 0.39 when compared with his teammate Jordan Henderson and Fernandinho – a man many would say is the best number six in the league – who have stats of 0.51 and 0.66 respectively. This calculation isn't always the best measurement for demonstrating the full influence a player has on the side as everyone who has had a touch in the build-up to a goal is given the same value no matter how big or small their contribution was. Liverpool's number three has an xA90 (the sum of expected goals off shots from a player's key passes per 90 minutes) of 0.07 which is marginally lower than Fernandinho's at 0.10 but better than Henderson's 0.03. Out of the three, the Brazilian does have the highest KP90 (passes that lead to a shot per 90 minutes) with 0.83, compared with Fernandinho's 0.78 and Henderson's 0.50. Fabinho has also registered two assists, which is one fewer than Fernandinho but two more than our skipper – demonstrating his effectiveness in the final third.
Although the Brazilian took his time to settle into the side and gain the trust of Klopp he now looks a vital part of Liverpool's spine. His defensive prowess is there for all to see but his influence of the Reds' build-up play should not be overlooked. Fabinho's growing influence is only going to benefit this team which is primed to conquer a number of Europe's elite clubs in the months and years to come.