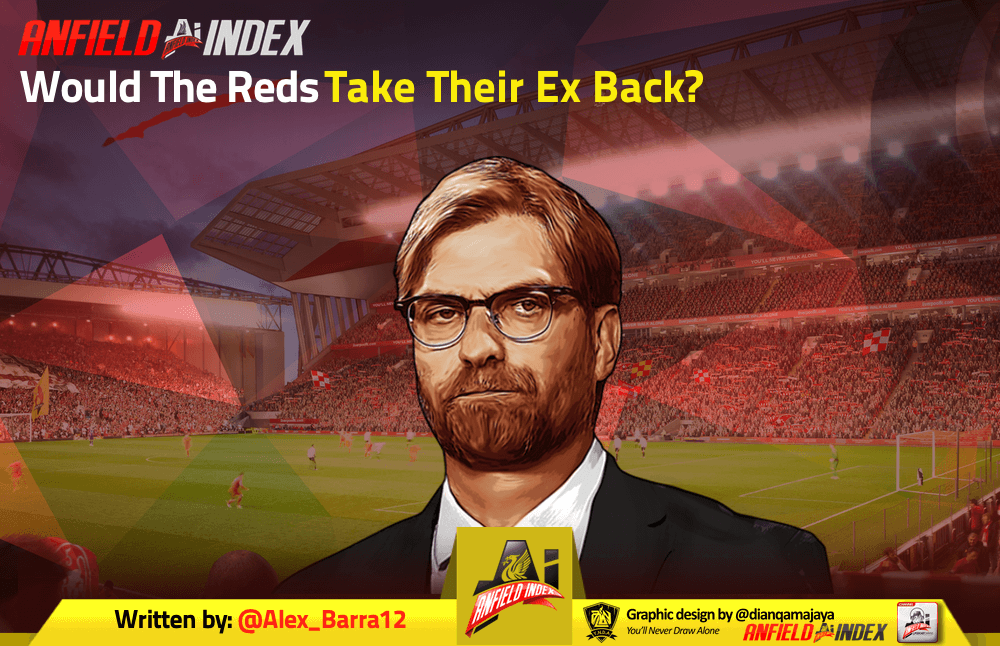 Would The Reds Take Their Ex Back?

Never go back…
It's a sentiment echoed by many Liverpool supporters when it comes to those cherished heroes who stabbed them where it hurts most.
As Karl Coppack put it in a piece for this very website, the mental calculation is a very simple one regarding the investment a fan puts into a player: "I'd subscribed to his life. I'd committed. He owed me."
And Phillipe Coutinho betrayed that commitment, he'd taken the investment of every Liverpool fan and thrown it into the mud as soon as his dream move to Barcelona came around. He didn't just say "I'm sorry, but I've always wanted this, I need to go" – he agitated for it, committed acts of treason (a bit strong, perhaps) and turned his back on the hundreds of thousands of Reds that cheered his name to go advance his career.
For many, it stung the same way as a relationship turning sour. It stung like a girlfriend going away, seduced by the misty eyes and dashing jaw of a dark-haired Spaniard.
What made it all the more painful was this wasn't the first time. A few years ago, another relationship ended the same way, to a Spaniard, that same dark hair and misty eyes luring another wonderful, delightful girlfriend away from a good life on the banks of the Mersey. Only, that girlfriend was as far out of Liverpool's league as is possible to get; one could begrudgingly accept that Liverpool would lose their Uruguayan one way or another.
The Brazilian was different. Coutinho hit where it hurt most. He broke the contract, the one that said: "We invest in you, we give you everything, we chant your name and we make you feel like something greater than human, and you do right by us." And he didn't do right by Liverpool.
That. Stings.
Former Liverpool player Danny Murphy suggests that Liverpool fans "would make it perfectly clear [Coutinho returning] wasn't acceptable and would force the club to pull the plug."
But would they really?
Though sentimentality is king in football – it's the entire basis of the sport; of narratives and agendas and chants and goal celebrations – an objective perspective would suggest that Coutinho's move was entirely logical. He's South American, holding Barcelona in an almost deified esteem, and was always transparent that he would one day end up in Spain. Liverpool extorted Barcelona for all they had and then some; there's no way £142 million was reflective of the Brazilian's true value, even in the current football climate: taking advantage of Neymar's quest for legacy in Paris, and reinvested that into forging one of Europe's best defences.
It also transpired that Liverpool no longer needed their prized Brazilian. Or, it seemed that way (and still does). That isn't the issue, rather the way he forced his way out of Liverpool – the messiness of the breakup so to speak – was acrimonious.
Yet, here's where the sentimentality starts to crack. Because objectively, Coutinho's departure might not have weakened Liverpool, but it did strip them of an asset that had contributed heavily to their rise under Jürgen Klopp. Liverpool lack goals from midfield and they never did properly replace Coutinho's presence in the lineup. The Fab Four became the Fab Three, and with Coutinho's departure came the Goliath at the back Virgil van Dijk, a move that probably bolstered Liverpool's chances at the Premier League title and changed the way Klopp operated.
And yet… what if they had their Brazilian back?
Football is a theatrical portrayal of life's many truths; one of which is a desire for an undying love: a love for a football club. Love is a tricky thing, clouded by lots of emotion and trust, and just going back to loving someone isn't easy.
Just ask Juventus.
Leonardo Bonucci, the man who once said he'd be captain of the Old Lady one day, turned Judas. He went and captained Juventus' great rivals AC Milan, and even had the audacity to celebrate in front of his old fans, hand on his adopted club's crest, when he scored in front of them.
Now, twelve months on from his stay at Milan becoming tumultuous, he on his way to the Champions League quarter-finals with the club he says he loves and has done much to win back their trust. When he returned to Juventus' training ground, he was asked by the ultras "How will you apologise for your betrayal?" Bonucci's answer?
"I do not have to answer in words."
So, he answered on the pitch. Perhaps this is the issue, the fact that trust can never really be the same as it was before, but effort counts.
Fernando Torres donned a Chelsea shirt and turned his back on the fans who sang his name, and yet days ago there was a chorus of birthday wishes from those who share this writer's opinion: 'no matter what you did, this was always your home, and you were always our love.'
Has Coutinho earned that same kind of love? Would he be welcomed back with open arms? Almost certainly not.
But, should he score a goal that cements Liverpool's place at the top of the table, or pick out another beauty against Manchester United, would Liverpool fans not celebrate? Perhaps they would, perhaps it wouldn't matter; because nothing Coutinho does could ever wipe the slate clean.
It's a roundabout conversation, given there seems to be little evidence Klopp wants to reunite with his Brazilian magician, but…what if? He is, undoubtedly, a missing piece to a Liverpool team that desperately needs goals from midfield and would be a welcome tonic to help the front three. Maybe pragmatism really would be enough.
After all, even Judas got forgiven.