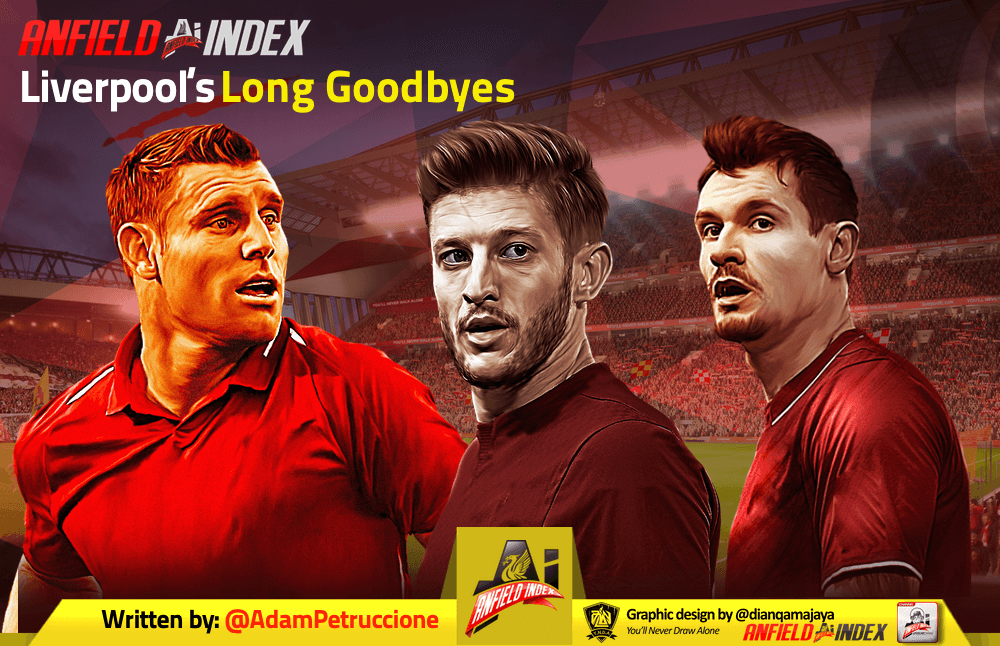 Liverpool's Long Goodbyes

One of these days summer will actually come. It may feel like we'll be forever chasing City, one point behind, in a perpetual spring where the temperature never climbs above frigid. But the calendar is in-fact progressing. We know that we're not stuck in a time-warp because Joe Gomez and Oxlade Chamberlain are apparently ready for action.
Some morning soon you'll actually look out the window and see the sun and it will be time to consider Liverpool's summer signings, but this year the more important item on the agenda will be the club's outgoings.
Though they have been part of the most successful three year stretch in The Reds' Premier League history, several of Brendan Rodgers' old guard can see the end of the road. James Milner is 33, Simon Mignolet is 31, Adam Lallana will join him in May, Dejan Lovren will be 30 in July, Sturridge will finish out his 20's in September and Jordan Henderson looks much more comfortable playing against tiny Baltic nations of late than he does against the biggest clubs in Europe.
Those six were part of a core that couldn't bring Liverpool back to the heights on their own but provided a platform for star players to resurrect The Reds of old. As Liverpool continue to climb towards football's pinnacle, the competition for places in the squad becomes more and more fierce. The time for role-players is in the rear-view. It would be one thing if this sextet were the most consistent, dependable group in the squad, but they are the opposite of that in terms of on-pitch performance and physical fortitude.
It could be argued that this summer is actually a couple of windows too late for Klopp to make his move. The "Brexit midfield" has blocked the path for Naby Keita and Fabinho's minutes while Marko Grujic is taking the Bundesliga by storm. Dejan Lovren and Daniel Sturridge have only lost value over the course of the season as injuries and ineffectiveness have left them on the fringes of the team.
Bizarrely the manager seems to favour this group on the occasions that they are actually healthy. The toughest task yet in the young tenure of Michael Edwards may be to force Jurgen Klopp's hand and remove these choices for him in the summer. Even without considering any big signings, the Academy is bursting at the seams with talent that appears ready to contribute. In a scenario where a healthy Joe Gomez is left to focus on centre-back, Ki-Jana Hoever would fill out a foursome quite nicely. Marko Grujic is being targeted by clubs all over Europe to play in the middle of the park for them. We could do a lot worse than a rotation of Fabinho, Keita, Wijnaldum and Grujic in our midfield. What would we do without Milner's versatility? Rafa Camacho and Yasser Larouci can provide fullback or wing depth if called upon.
In goal, Liverpool has a stable of prospects, any of which would, at a minimum, provide massive wage relief, allowing the club to spend those funds elsewhere. And finally, Rhian Brewster, who Jurgen Klopp fought to keep at Liverpool a year ago, should get a chance to show if the wait has been worth it.
Despite what the manager's poker-faced statements about limiting summer expenditures, you can be sure there will be additions. But it is how we clear the decks for those new signings and our existing talent that will determine how far Liverpool will go in coming seasons.