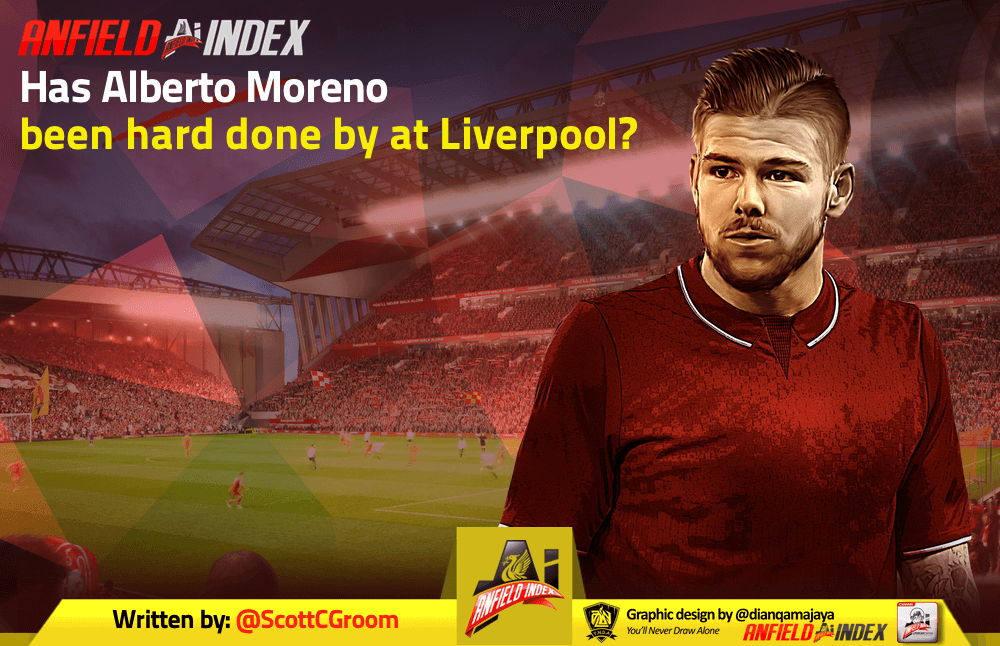 Has Alberto Moreno been hard done by at Liverpool?
Widespread reports in the media this week have been linking Liverpool's much maligned left back, Alberto Moreno, with a long anticipated move away from Anfield.
The Spaniard was pictured during the international break with former Red and fan favourite, Lucas Leiva, in Rome, adding fuel to the fire that he was set for a switch to Lazio in the summer.
However, there could get be a twist in the tail as Catalan giants Barcelona are now rumoured to be touting for Moreno's signature on a Bosman deal, viewing him as ideal cover for Jordi Alba.

Moreno's future certainly lies away from Liverpool, given how far down pecking order he has fallen given the numerous chances he has spurned under both Jürgen Klopp and Brendan Rodgers, and the fact that he spoke candidly and aggressively against his employers during the January transfer window.
So now, the end is ny for Moreno, but in some ways, has he been a little let down by his bosses at Liverpool?
I appreciate on the face of things that this must sound like a totally ludicrous statement given the amount of times Moreno was given a chance and threw it away. Lest we also forget the times when his performances were so costly to his side; the Europa League final in 2016 quickly springs to mind.
Time after time, Moreno's defensive frailties were exposed, and often because of his desire and tendency to drive forward and leave his flank without cover.
Perhaps that was an indication as to where things were going wrong for him – was he under utilised or play out of position?
Although Moreno was purchased from Seville as a left back, could it perhaps be stubbornness on behalf of Rodgers and Klopp that they didn't see that he was better suited to a less defensive, or even a completely attacking one.
His attacking skill was clear to see, look at his goal against Spurs at White Hart Lane in 2014 as a prime example of this.
Moreno picked the ball up in a deep position, drove at the Spurs back line, leaving defenders in his wake before slotting home a precise finish past Hugo Lloris.
At this point, Kopites were right to be excited about their latest acquisition, thinking that he could be a real asset to contribute towards their dynamic, attacking style of play under Rodgers.
This was before the mistakes came when carrying out his defensive duties: the reckless tackles, the bad positioning, the giving the ball away.
Whereas at the other end of the pitch, he was always quite affective: full of pace, good on the overlap, decent deliveries into the box. Sounds like the traits of a winger to me.
This is where I think that Moreno has not so much been let down, but rather not really given a chance to shine and show his true talents.
Maybe this is why Barcelona are rumoured to be sniffing around him, as the defensive aspect of their game is minimal and he could be better utilised as an attacking threat.
Perhaps that is where his future lies, as a winger, and perhaps then we might see a different side to him. That's an interesting thought considering the fact that he will be remembered at Anfield as a perfectly likeable member of the squad, but someone who wasn't up to the standard expected.
That being said, how come he could now be off to Catalonia?