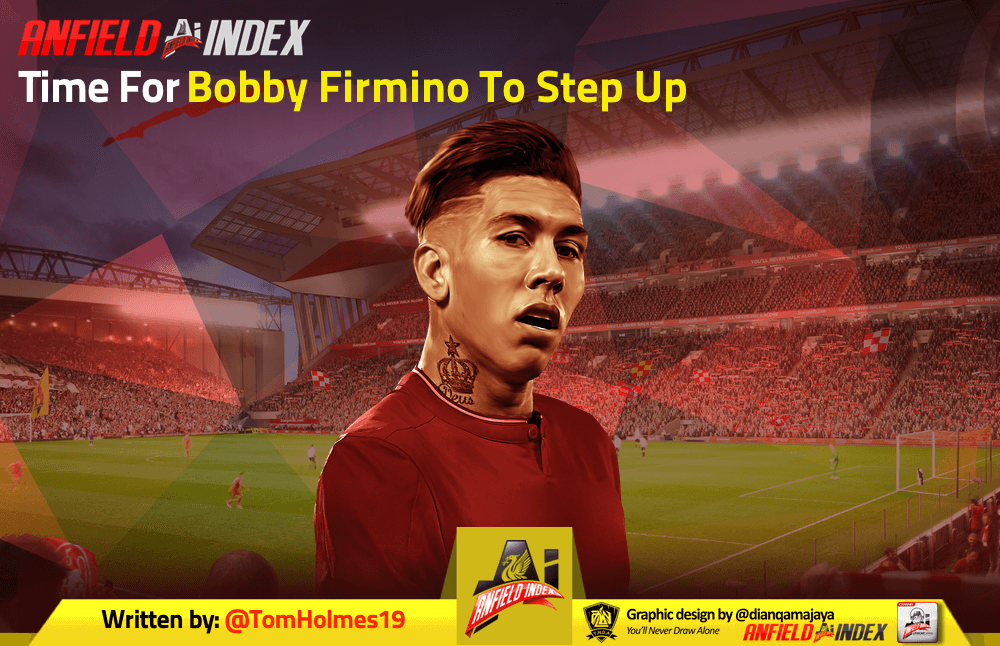 Time For Bobby Firmino To Step Up
With seven games to go in the Premier League, and at most five games to go in the Champions League, Liverpool are reaching the crunch. And when you're at the crunch, you need your most important players to step up. And one of those players is Roberto Firmino.
Bobby is a player who has gone somewhat under the radar this season but remains widely considered one of Liverpool's most important players – a term that I'm convinced has lost all meaning in the last twelve months unless applied to Virgil Van Dijk or Mo Salah. Last season, Bobby contributed 25 goals and 14 assists across the PL and UCL, but his overall contribution was more than that, as he led the press, worked hard defensively and contributed to Liverpool's build-up play.
This season however, there's a sense that Bobby isn't quite functioning in the same way, and there's a lot of potential reasons for that. With 11 goals and five assists in the Premier League, there's no doubt that his bottom line Premier League numbers will end up being similar to the 15 goals, seven assists that he contributed last term, although his Champions League campaign has been decidedly poorer this year, with just two goals to show so far.

Nevertheless, Bobby's numbers aren't necessarily the issue, so much as, in my opinion, his consistency. Liverpool undoubtedly looked like a side missing him against Everton and Man United, where he was relegated to half an hour in each game due to injury. However, they also looked like they missed him in games against West Ham and Leicester, games in which Bobby played the vast majority of the minutes.
Bobby has been a player this year that just hasn't quite found his mojo consistently, whether that's because Klopp has altered his role, or because the team isn't playing well. His season got off to a solid start with crucial goals against Leicester and Spurs, and two assists in his first five league games, as well as a crucial goal against PSG.
But it would be over two months before Bobby contributed to a goal again, before halting his slide with a handy last minute goal against Watford, before making a critical contribution as a substitute against Burnley.
Over Christmas Bobby bolstered his numbers with four goals in two games against Man City and Arsenal, showing that he's still got an important role to play in this side, particularly against top teams – five of his eleven goals have come against the top six in the PL. But since then he's scored just three times, twice against Burnley and once against Palace.
And Bobby's game, as I've mentioned above, is about more than just end product. For long swathes of October and November he wasn't just failing to score, he was struggling to make a positive impact on the team. Most of the time, Liverpool's defensive solidity and different way of playing meant that Bobby's contributions were not needed, as the Reds won four of the seven games he failed to score in. But equally, admittedly in the big games, Liverpool drew 0-0 with Man City, 1-1 with Chelsea and 1-1 with Arsenal.
Part of the issue was Firmino playing off Salah in Klopp's experiment with the 4-2-3-1, which mostly worked but sometimes didn't. Regardless of whether the system itself worked, it's hard to argue that it got the best of Bobby, who contributed just two goals and one assist in the fourteen games between Liverpool's 2-1 win over Spurs in mid-September and the 5-1 win over Arsenal in late-December, although in his defence he did create a handful of big chances that weren't converted.
But the last few months have really summed up the issue that Liverpool face in this team, with and without Bobby Firmino – and the inconsistencies that he brings. Against Brighton he was anonymous, then he scored a crucial goal against Palace. Against Leicester and West Ham, as mentioned, he was not good, but then made a big contribution against Bournemouth.
Liverpool then missed him badly against United and Everton, but barely noticed he was gone as they trounced Watford. His return to the side was marked by two goals against Burnley and then a nice assist for Mané's goal against Fulham but his overall performances in both games was a mixed bag – against Fulham especially despite his assist he was absolutely awful.
Now one point that it's absolutely fair to make is that Bobby's form has tended to match that of this Liverpool team as a whole this season, particularly in 2019. The systematic shift towards a more defensive structure this season under Klopp has had a slight effect on the attack, and Bobby is one player who is possibly feeling the strain of that a bit more.
That said, Bobby has always been a player who thrives when the team are doing well, and makes a big contribution towards that, and when the team have struggled, he's rarely been a player to stand up and be counted.
This season, we're seeing that change slightly. Liverpool have been explosively good this season on a number of occasions where Firmino either hasn't really contributed or hasn't been playing – so there's an increasing lack of reliance on Bobby in this attack (albeit given that he plays nearly every game it's almost impossible to extrapolate a Liverpool attack without Bobby contributing to it in some way).
But there have also been performances such as the Arsenal game and both matches against Burnley, where Bobby has taken on the responsibility of delivering when his team has needed him to. Firmino might not have delivered as consistently this season, but he's still capable of contributing when his team needs him to.
Which brings me back to another point I want to make about the attack. When you have players as important to the team and as good as Bobby Firmino is – or as good as Liverpool fans suggest he is – then you need them to stand out even when the team is struggling and that's largely something that Firmino has struggled to do in recent weeks.
So going into a pivotal period of the season, Liverpool need one of the key cogs in their attack to start turning with earnest. Bobby has been a mixed bag in 2019, as a few of Liverpool's players have, but given that he's supposed to be the glue that holds our attack together, he needs to start producing more consistently.
I have every faith that Bobby will be able to step up in the most important part of the season and turn what has been, overall, a fairly solid season for him, into a great one.