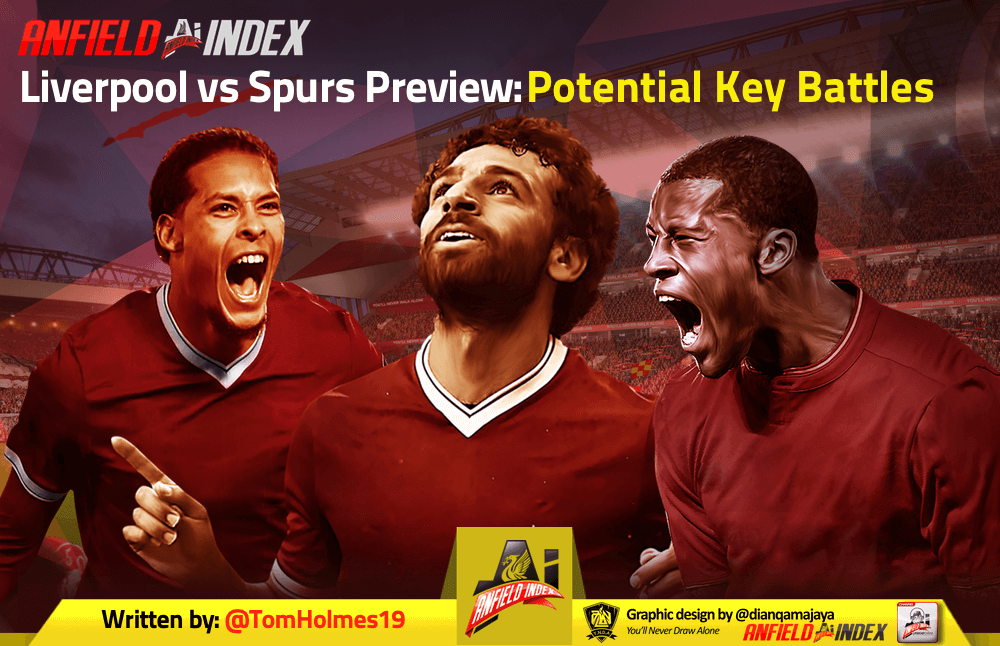 Liverpool vs Spurs Preview - Potential Key Battles
With the international break, and the yawn-inducing two weeks without Liverpool Football Club, almost over, the focus shifts back to the title race, and to plausibly Liverpool's hardest remaining game as they face Tottenham at Anfield on Sunday.
So what are some of the key battles ahead of that critical fixture?
Virgil Van Dijk vs Harry Kane

Arguably the league's best striker against the league's best centre-back. There's no doubt that Kane is the focal point of this Spurs attack with 17 goals, and he's caused Liverpool endless problems in the past, scoring three goals in two games against them last year. However, Van Dijk is having an incredible season and has shut down better strikers than Kane, which means he'll be vital to preventing Spurs' top scorer from influencing the game. Silencing Kane goes a long way to silencing Spurs and VVD was bought to revolutionise the defence in just this sort of game.
Gini Wijnaldum vs Harry Winks
In a game like this, the midfield is always essential. However, the way that Spurs have played in recent weeks, their midfield is basically Harry Winks. Winks is an absolutely pivotal player to the way Spurs are currently operating, with their bypassing of midfield only possible with him holding it together. Likewise, Gini Wijnaldum is the man who is Liverpool's controller, and the tussle between him and Winks for control of the game will be hugely important. Gini though, has a great record against Spurs, scoring in the game against them earlier this season and a huge part of the 2-0 win over Spurs in 16/17.
Tactically, this will be the crucial battle for me, but I also think that Liverpool will win that battle, which leads me onto my next point.
Sadio Mané and Mo Salah vs Kieran Trippier and Danny Rose
These two battles are very, very important, but it seems fair to put them together. With Aurier injured, it's expected that Trippier and Rose will line up in a back four, which would see them directly lining up against Salah and Mané. And these are clearly Spurs' weakest areas – full-back has always been a vital part of their set-up but increasingly it's been a problem, especially defensively.
So Liverpool have the chance to isolate an in-form Mané, who scored twice in that aforementioned 2-0 win against Spurs' weakest defender Trippier, which could also neutralise him as an attacking weapon, given how strong Sadio is at tracking back. Moreover, Salah has wreaked havoc on Spurs before, with three goals in the two games against them last season, and both Rose and Ben Davies have demonstrated that they would struggle to cope against the Egyptian.
Spurs could, of course, switch to a back three, but I suspect that that would be even worse for them, as Liverpool thrive against sides who play a back three, and it would allow Robertson and Alexander-Arnold to pin Rose and Trippier, whilst Salah and Mané would be able to isolate Spurs' centre-backs.