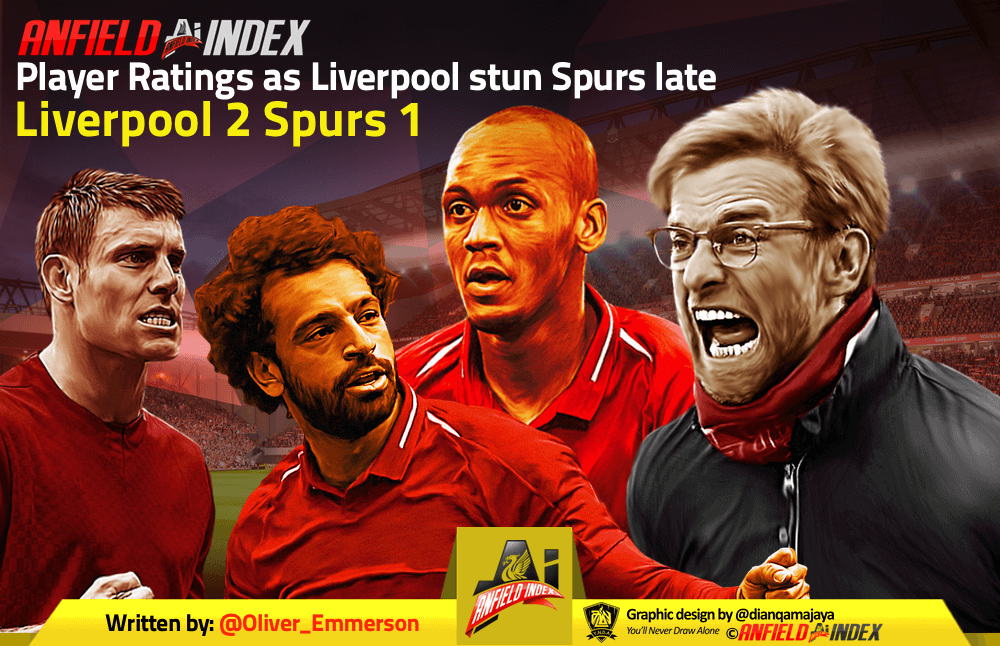 Player Ratings as Liverpool stun Spurs late
With arguably one of Jurgen Klopp's worst performances as a Liverpool manager and one of his team's worst performances of the season, the Reds still managed to come away with all three points on Sunday afternoon.
Beating Tottenham 2-1 thanks to Toby Alderweireld's late own goal, Klopp's men climb back to the top of the table for a few days at least.
Here are your ratings.
One king imperious, another uncomfortable
Alisson (5): Looked shaky after the Fulham incident, passing was off and nearly turned a save from a Kane shot into an assist for Eriksen. Couldn't do anything about the goal but he'll still likely be disappointed with his game.
Trent Alexander Arnold (6): Was given the freedom of Anfield for half an hour and looked excellent before dropping off in levels a little as Spurs shifted shape. Brilliant ball to Mo for the winner nails it first time under pressure.
Joel Matip (6): Did well aerially and didn't let Kane bully him but was caught in the wrong position once or twice, gets roped into ball chasing when Spurs execute the break that sets Sissoko and Son through.
Virgil van Dijk (9): Absolutely masterful from the best centre-back in the world. If the Fulham incident left Alisson shaky, it did the opposite to Virgil. Was phenomenal for 75 minutes before going up another notch with that world-class bit of defending to cut off Son and narrow Sissoko's angle.
Andy Robertson (7): Raaaaaaah that cross for the opener is peachier than a peach. Ridiculous really. Lands it perfectly between the defenders and onto Firmino's head. Marvellous. Another one ahead in the assist competition and all that.
The midfield collective
Jordan Henderson (5): Worst I've seen him play in a couple of months. Passing was off, didn't regain the ball well, positioning was terrible. Should've stood over Kane for the free-kick. Liverpool instantly better when him and Milner went off.
James Milner (4): See Henderson's comments but change it to 'when him and Henderson went off'. Even the standing over Kane bit.
Georginio Wijnaldum (5): Good for half an hour, bad for half an hour and then confused for half an hour as his position kept switching.
The moment to spark Mo?
Mohamed Salah (6): Poor again for most of it to be honest, yet makes the vital contribution at the end. If that's a moment that leads to something easing in his head and he relaunches his season for the last couple of months, it'll be huge for Liverpool.
Roberto Firmino (7): Cracking header for the goal, played some great passes into Mo and Sadio at 1-0 when Liverpool had chance to counter.
Sadio Mane (6): No continuing of the goal streak, could maybe have had one if Salah was less selfish. Still, not a poor performance by any stretch.
Substitutes
Fabinho (8): Played 15 minutes and was marvellous enough to be Liverpool's second best player of the day. His first few touches shifted the momentum in the game, was brilliant up to and including the timewasting shithousing in stoppage time.
Divock Origi (6): Honestly what has Shaqiri done?