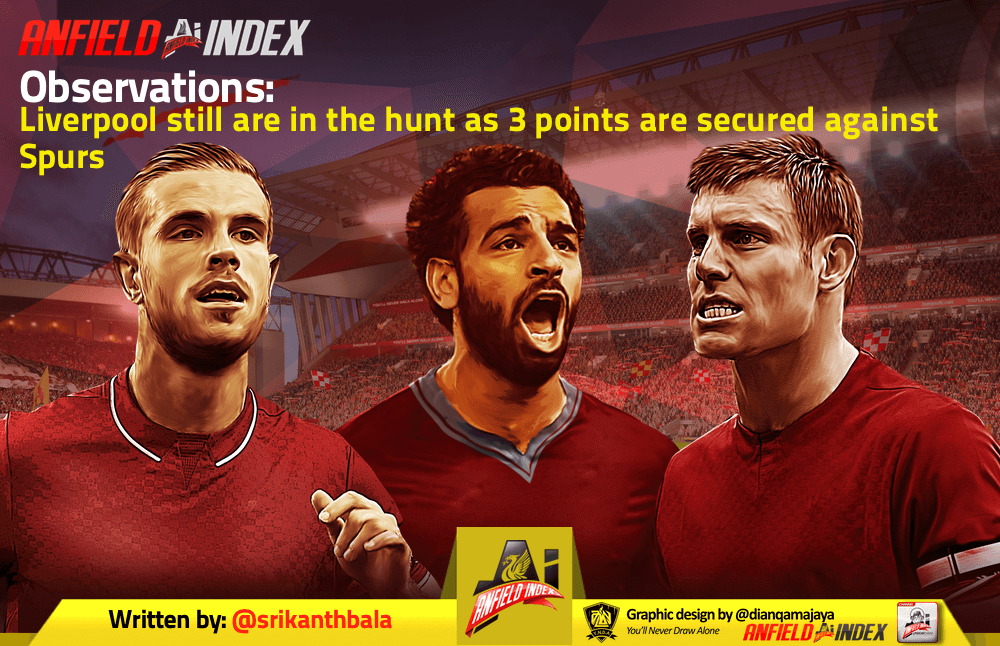 Liverpool still are in the hunt as 3 points are secured against Spurs
It was a rather windy day at Anfield, but no wind could have competed against 50000 people exhaling a sigh of relief right at the end as Liverpool secured three points in rather fortuitous circumstances. As they say, it doesn't matter how they come, till they come.
The key observations from the game are as follows.
That midfield is no longer surprising
A big game against a top 6 opposition means fans usually crave for a dominant midfield (both in an attacking and defensive sense), but Klopp always relies on his trusted (favoured? biased towards?) trio in such games. As the season has gone by, the expressions of anger, disgust and perplexity have gravitated towards a sigh of acceptance. We, as fans might dream of a different combination, but we know what line up Klopp is going to go with.
Liverpool take advantage of the Spurs setup
Spurs had a setup with a back three in defence. Liverpool have always enjoyed playing against a 3 man defense and today was no different. Liverpool constantly switched the ball to either ends and with the advanced positioning of the fullbacks, Spurs were forced to retreat into a back 5. This meant that the Spurs midfield was stretched and Firmino dropping deep caused them issues to space and numerical superiority. The 15 minute phase post the Liverpool goal was great to watch tactically as Liverpool systematically broke down Spurs. Spurs got back in the second half with a tweak to their back three which enabled them to get back into the game.
Liverpool's helter-skelter defending
Liverpool struggled defensively quite often today. Matip's unfortunate slip (What is with title races and slips?) meant a reshuffle in defence with Van Dijk going wide and Trent cutting in. There was a lot of last ditch defending and Liverpool were repeatedly exposed on the counter attack late on in the game. Liverpool were lucky today, but they need to watch out.
A big moment for Salah and the title race
Salah's lack of goals has been dissected enough during the international break and it was no surprise that he kept trying hard to score one (even at the cost of passing?) during the game. Though he did not score tonight, his perseverance, something which has never been lacking, was rewarded and his assist should boost his confidence. It should prove to him that he can still affect where Liverpool finish in the league and he would need no bigger motivation.
As for Liverpool, dropping points was out of the question. Only a win would have done, and it is that desire which ultimately got the Reds over the line. Each game is a final and Liverpool need to keep the pressure on for as long as possible, until one team cracks.