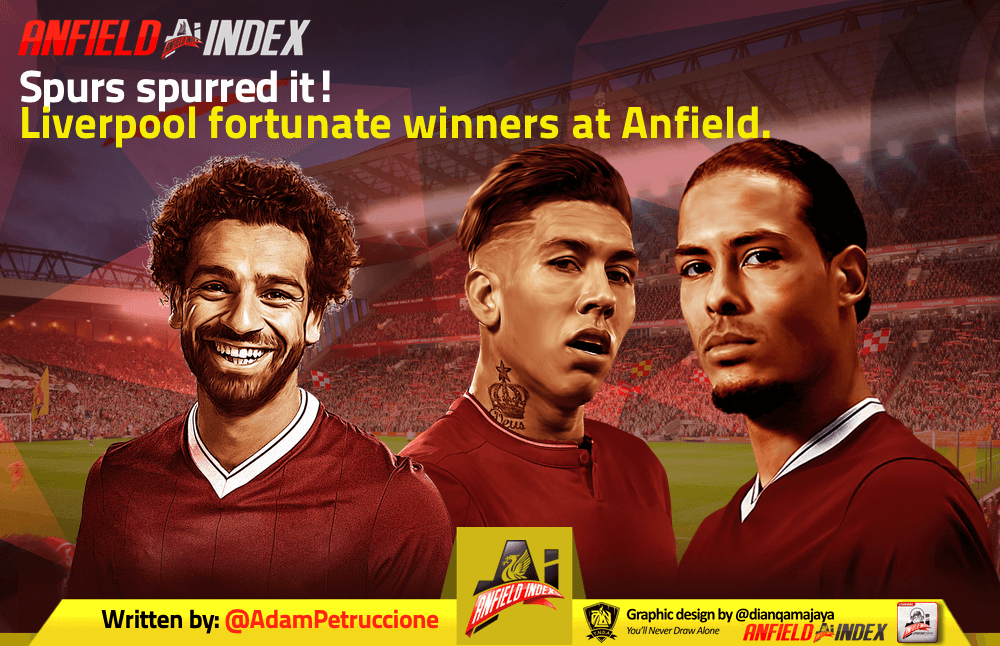 Spurs spurred it! Liverpool fortunate winners at Anfield.

Were you worried? Ye of little faith.
Jurgen Klopp left his summer midfield acquisitions on the bench, leading to plenty of pre-match consternation. James Milner started in midfield along with Jordan Henderson and Gini Wijnaldum, leaving all of us to wonder what on earth was wrong with Naby Keita, Fabinho and Shaqiri.
Going off of the assumption that Jurgen Klopp isn't trying to throw the league away like we did the domestic cups, one would have to guess that the goal was to press Spurs aggressively from the opening whistle.
In a match like this it's always fun to watch what players have an extra gear and against Spurs, Trent Alexander-Arnold who looked to understand the importance of the moment. A great recovery tackle in the 5th minute bailed out Matip for roaming too high. He nearly volleyed a ball home in the 18th, just missing the bottom left corner, and in the 34th the young fullback nearly scored from a corner.
But, it was the opposite fullback who created our opener. Robertson floated a perfect ball to Bobby Firmino, who had a helluva first half, himself. The Brazilian made a great run and headed perfectly, taking a crouching tiger stance mid-air and firing past Lloris.
Liverpool dominated play from there for a solid 20 minute stretch. Mané had some close calls, firing just wide on similar opportunities from the top of the D in the 19th and 36th minute.
In the second half Robertson had to bail us out at the other end, getting in the way of an Eriksen shot after a scramble, ruining a massive chance for them. Spurs dominated the action throughout the second half. Who would have thought that Gini, Milner and Henderson through age, overuse and injuries, would fade down the stretch?
Jurgen, as always, waited on his substitutions while Pochettino radioed down to the Tottenham bench as Spurs staff comically passed the phone around to each-other. Whatever Poch said must have worked, because Spurs were in almost immediately off of a diagonal ball to Lucas Moura.
Finally, Jurgen Klopp sensed the seriousness of the moment, mercifully bringing Fabinho and Origi on for Henderson and Milner. Liverpool didn't turn the tables on Spurs exactly from there on, but the changes made a significant difference. Fabinho gave The Reds much more control in midfield, though Mo Salah was taking some desperate chances to get us back in front.
With dozens of negative tweets in draft and the minutes running out, Liverpool were firing cross after cross into the box, and faith was fading, when one final try fell to Mo. The Egyptian headed sharply enough directly at Lloris that he couldn't catch it cleanly and a glorious deflection spurssed off of Alderweireld's leg for an own goal.
2-1 Liverpool. A turnaround so miraculous you expect Brexit to be solved by sundown.
Is it written in the stars, Reds? We sure do make it difficult, but with six matches left, why the hell not?
Up The Jammy Reds!