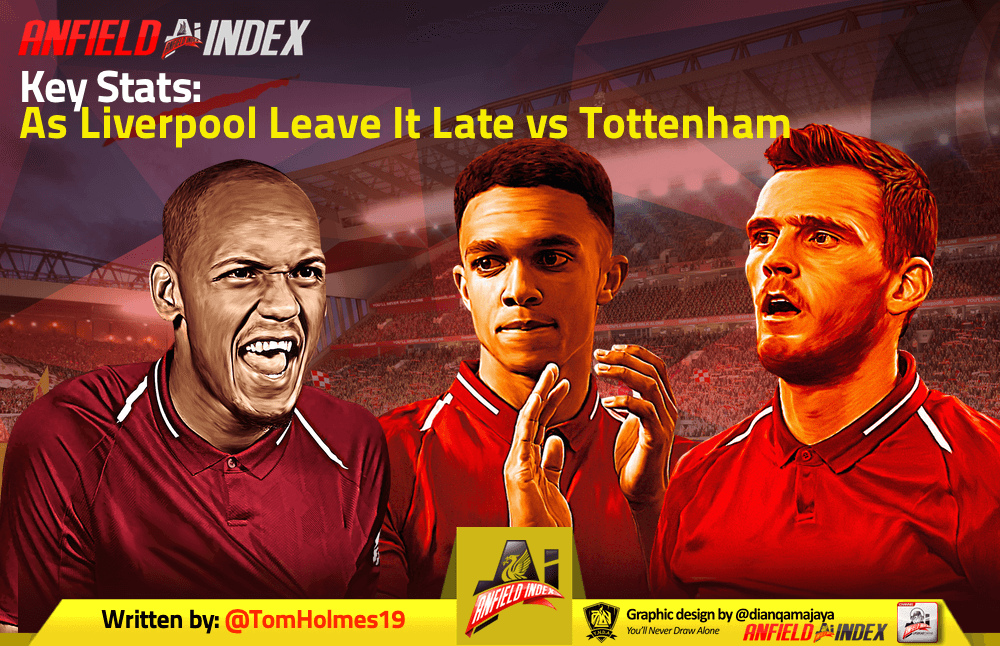 Key Stats as Liverpool Leave It Late vs Tottenham
Liverpool went back to the top of the Premier League table with a pulsating, dramatic late 2-1 win over Tottenham Hotspurs, courtesy of Toby Alderweireld's late own-goal. But what were the key stats from an incredible game at Anfield?
Full-Backs The Stars Again
How many times this season have we said it, but Andy Robertson and Trent Alexander-Arnold were absolutely vital for Liverpool as they saw off Spurs. Robertson notched his 9th assist of the season, creating his 11th big chance for Roberto Firmino with a wonderful cross. Robbo now has 6.38 xA this season, the 10th highest in the PL and the second highest for a full-back – although he does have the highest open play xA for a full-back. Only Eden Hazard, Christian Eriksen and Ryan Fraser have more assists this season.
On the other flank, Trent might not get an assist for his role in the winning goal, but he certainly created it with a delightful floated cross. He was dangerous throughout off set-pieces, and ended up with two shots and two key passes on top of his 5/7 tackles. This season Trent has six assists and seven big chances created – only Robbo and Salah have created more for LFC. His 5.76 xA has come at a rate of 0.26 xA/90, with only Milner and Salah of Liverpool's players averaging higher.

Fabinho Critical As Reds Lose The Midfield Battle
Liverpool's Premier League and Champions League record without Fabinho playing at least 45 mins is as follows: 13 wins, 3 draws, four defeats, 35 goals scored and 15 goals conceded. Liverpool's record with Fabinho? 15 wins, 5 draws, 49 goals scored, 12 goals conceded. That's the difference between 2.1 points per game (a top-four side in essence) and 2.5 points per game (a title winning side).
This one might count in the win without Fabinho column, but just barely. Spurs shaded possession, Liverpool shaded the chances, but overall the second half performance was poor. A fair comment to make would be that Liverpool have played plenty of tricky games without Fabinho, including PSG, Napoli, Spurs and City twice, but equally, Fab played both games against United, against Arsenal and against Bayern, out of position some of the time.
Late Goals And Anfield – What A Combination
Anfield has become a weapon for Liverpool to use this season, as they have won now 14 and drawn just twice, with three fixtures left at their home ground (Chelsea, Huddersfield and Wolves). The atmosphere was absolutely incredible as the supporters lifted their team, and Liverpool now have the joint second longest home run in Premier League history.
Moreover, as this table from Opta shows, Liverpool love a late goal, having scored stoppage-time winners than any other Premier League side. There will be very few, to be fair, that meant more than this one.