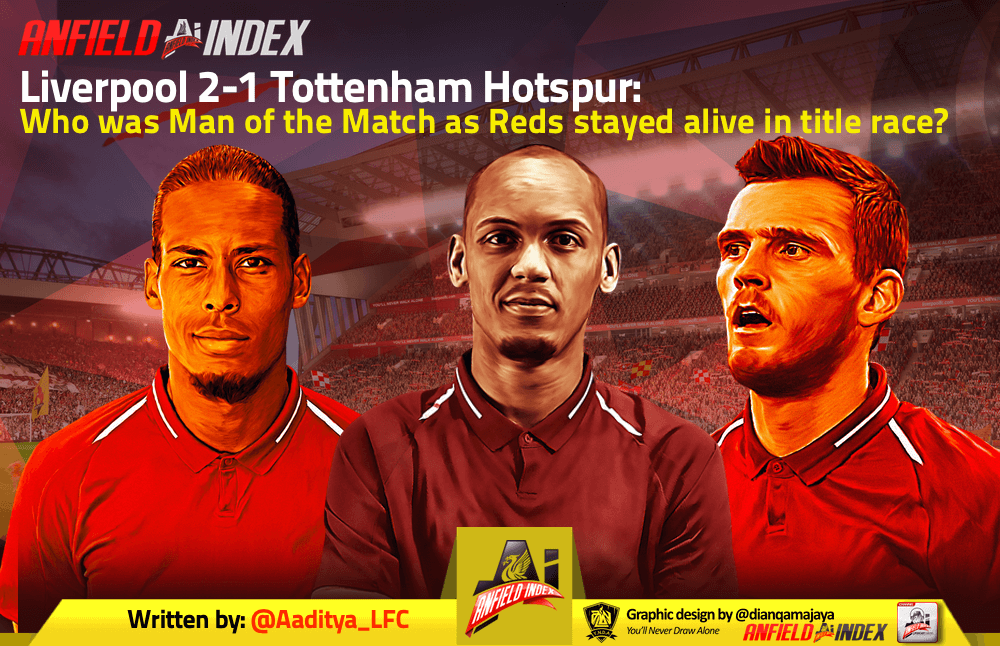 Liverpool 2-1 Tottenham Hotspur: Who was Man of the Match as Reds stayed alive in title race?
And, breathe! How did Liverpool win that one? Why did Liverpool win that one? Ah no, we're not going to go there.
By hook or by crook, Liverpool won! They beat Tottenham Hotspur 2-1 at Anfield to keep themselves firmly lodged in the Premier League title race, and putting the ball in the Manchester City court, ahead of their game against Cardiff City in midweek.
How they did it, no one knows. The start was superb, it was controlled, it was menacing, it was everything that Jurgen Klopp would've wanted it to be. It even had a goal, something the Reds had been struggling to do in the "big" Premier League games in recent times – with 0-0 draws coming at Old Trafford and Goodison Park recently.
In the 16th minute, the start was rewarded, as Roberto Firmino headed in a perfect Andy Robertson cross. All good, then? Not quite.
In a few minutes, Liverpool's day was to go pear-shaped, at least in terms of the performance. Everything went south. The midfield… That dreaded midfield.
They failed at the very thing Klopp picks them in the side for – the industry. Sometimes, aimless running about is classified as "hard work". That was the only sense in which the midfield worked yesterday for Liverpool. They were poor in possession, poor positionally off the ball, awful in regaining possession, and most importantly, lacked the smarts for what could have been the moment on which the season twisted, then.
Let's cut to the chase, then. There were only two real contenders for Man of the Match – one a distant second to the actual best player for Liverpool on the pitch. Andy Robertson only keeps adding to his stock as the best full-back in the league. Yes, the Spurs goal came from his side, but that was down to Henderson and Milner lacking the smarts to stop Harry Kane from taking the free-kick quickly.
That assist, though! Inch-perfect and Bobby even had the time to dab mid-air while putting the header in, and past Hugo Lloris in the Spurs goal.
The best player on the pitch, though, was the best centre-back in world football today. Virgil van Dijk was commanding. If anyone thought the mistake against Fulham or the shaky game for the Netherlands against Germany would dent his confidence in any way, they were wrong.
Alisson Becker's shaky kick in the first half enabled Tottenham to play Kane in behind the defence, but Van Dijk got there is a flash to get a superb block in on a goal-bound shot from Tottenham's top-scorer.
In the second half, though, Van Dijk kept Liverpool in the title race – a moment that could yet be looked back upon in mid-May as one that won Liverpool the title. A superb break from Spurs with a round of one-touch passing ended with Moussa Sissoko through on goal, and Son Heung-Min right by him. Van Dijk was alone, against two attackers.
Yet, he goaded Sissoko along. "You will not play this to Son," he said, "You will take this shot on, on your weaker left foot."
He didn't commit himself, yet he wasn't passive. He blocked out the obvious pass to the more dangerous attacking player in that situation and gambled on Sissoko fluffing his lines. He gambled on probability. Alisson's still boss, and he had a better chance of saving a shot from Sissoko's left foot than one from Son.
In an instant, Van Dijk made the calculation, and Sissoko duly obliged to prove him right, blazing a left-footed shot well over the Brazilian's bar.
Five minutes later, Lloris had a moment of madness, and Toby Alderweireld gave Liverpool a lifeline. Liverpool had won.
Van Dijk kept the Reds in it, then Spurs proceeded to hand the Reds a lifeline. Liverpool are still alive. Virgil van Dijk has kept them alive, as he so often has throughout this season.