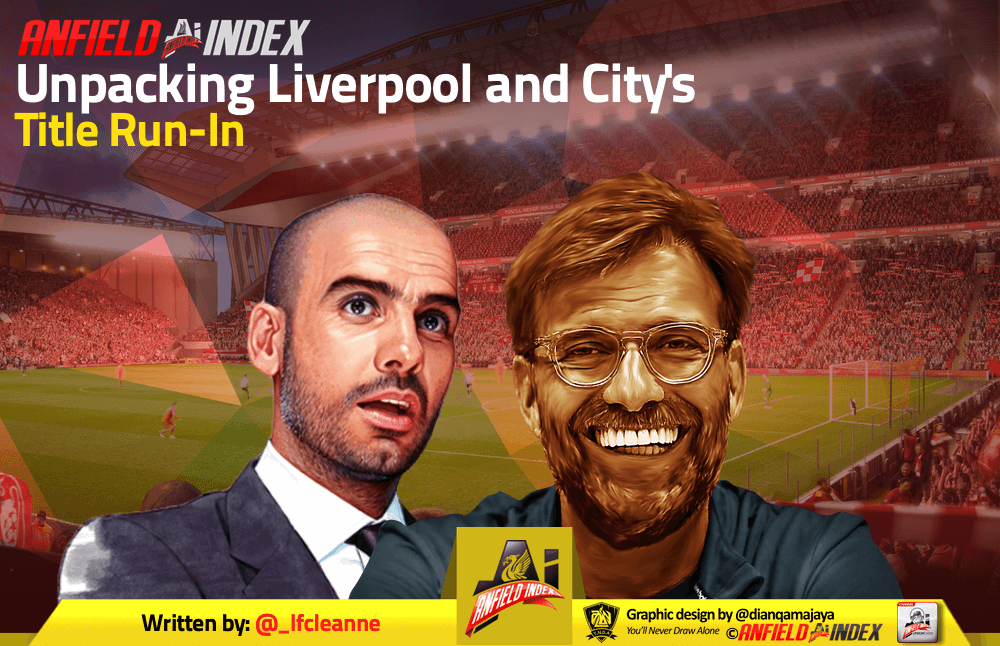 Unpacking Liverpool and City's Title Run-In
It doesn't matter how they go in at this stage of the season, it just matters that they do.
Toby Alderweireld's own goal in the 90th minute gave Liverpool a potentially pivotal three points on Sunday, ensuring they returned to the top of the Premier League with six games left to play. The Reds, who have played one more game than title rivals Manchester City, were far from their vintage selves and looked for all the world as though they would be dealt a crippling blow to their hopes of a first title in 29 years when Lucas Moura cancelled out Roberto Firmino's opener.
A draw would've put Liverpool one point ahead of City, gifting Guardiola's side additional breathing room for an enthralling looking run-in. Equally, but for a fine piece of defending from Virgil van Dijk to stifle a two-on-one situation, the Reds could've found themselves a point behind having played one more.

The margin for error was minimal. Whether you think Liverpool got lucky or dug deep to show the powers of recovery that Klopp has instilled this season, the result keeps the Premier League race wide open heading into April.
The next month would appear to be crunch time for both sides, both of whom will be embroiled in their respective Champions League quarter-final clashes while City must also contend with an FA Cup semi-final against Brighton.
Here, I take a look at the run-in and just where the title could be won or lost for both sides.
Man City vs Cardiff & Southampton vs Liverpool
While unexpected defeats for City against Newcastle and Crystal Palace have proven that there are no easy wins in the Premier League, their game against Cardiff would appear to the closest thing. Having been on the end of suspect officiating at the weekend, Neil Warnock has publicly suggested the Bluebirds will field their Under-23s and focus on the games to come, with anything but a convincing home win set to be one of the shocks of the season.
Meanwhile, Southampton will come into the game in 16th place having achieved back-to-back wins against Tottenham and Brighton. They have shown their threat in recent weeks, with a narrow defeat against Manchester United a warning shot against complacency for Jurgen Klopp's side. However, given Sadio Mane's present form and the likely return of Fabinho after a laboured midfield showing at the weekend, you'd fancy Liverpool to come through unscathed, playing catch-up on Saturday's fixtures knowing full-well that any slip-ups at this stage could spell the end of the road.
Crystal Palace vs City & Liverpool vs Chelsea
If there's a weekend you'd pinpoint as being decisive, it's this one. Crystal Palace have already overawed City this season, snatching all three points at the Etihad in one of the shocks of 2018/19. Blessed with the pace and trickery of Wilfried Zaha and Mitchy Batshuayi, they're capable of getting at the incredibly high line instilled by Guardiola while Roy Hodgson will be desperate to rack up some more results to secure top-flight survival.
Chelsea's trips to Anfield have delivered monumental blows to Liverpool's title hopes in the past, but with Maurizio Sarri handed a get out of jail free card against Cardiff, it seems he'll cling on to his job for this one. That'll bode well for the Reds given the incredible level of inconsistencies on display since the former-Napoli man took the helm. Where Jose Mourinho produced one of his 'tactical masterclasses' in 2013/14, it's hard to think a man under such immense pressure and scrutiny from his own fans can inflict similar damage. Get past this hurdle and Liverpool will fancy themselves.
Man City vs Spurs & Cardiff vs Liverpool
A contrasting week for both teams, Manchester City's harder fixture-list could show with Tottenham inches away from grabbing at least a draw at Anfield on Sunday. While undone by a calamitous moment at the back, Spurs proved they have plenty in the locker to cause teams problems and Guardiola will be more than wary of their threat on the counter-attack via Heung-min Son. Harry Kane's form and the creativity of Dele Alli and Christian Eriksen make this a feisty clash on paper and one that could well see City drop points.
There should be few problems for Liverpool though, with Cardiff likely to be dead and buried by this point. To put it bluntly, should they fail to get the three points they probably don't deserve to be Champions.
Manchester United vs Man City & Liverpool vs Huddersfield
Another crunch tie for Manchester City and a relatively routine looking one for Liverpool. Klopp's side have struggled to break down teams at times this season, with the reverse fixture a prime example, but should they be in the ascendency at this stage, you'd fancy momentum and a soaring Anfield crowd to carry them through. After all, Huddersfield have already been downed.
United are in the thick of a feisty looking top-four clash and the fans would love to mark their resurgence under Ole Gunnar Solskjaer with a win against their local rivals. There's likely to be little room to think about its ramifications for Liverpool; United are desperate to get back into the thick of the action and having a major say in the title race by downing their 'noisy neighbours' would be another mark of the progression made since Mourinho's departure.
Burnley vs Man City
A hard game to call given Burnley can be quite hot and cold, but Turf Moor is never an easy place to go and they're capable of causing City some problems, particularly from set pieces. Liverpool will have to wait patiently in the wings to see what awaits, but you'd anticipate a routine win for the Citizens.
Manchester City vs Leicester & Newcastle vs Liverpool
TV schedules could yet play a pivotal part in the title race given potential Champions League fixtures for both sides mean the order of the penultimate game hasn't been decided. At this stage it'll depend a lot on whether it remains a two-horse race or whether one team has already been dealt a killer blow, but you'd fancy both to pick up all three points. It's hard to see Rafa Benitez standing in the way of a Liverpool win, particularly given his team are well clear of the relegation scrap.
Brighton vs City & Liverpool vs Wolves
Personally, I think the title will have been decided by this stage. Manchester City's gruelling fixture list and excursions elsewhere will take a lot out of them and while they have the necessary depth to content with it, Liverpool will have their sights firmly fixed on the ultimate prize. Sunday's win showed just what it means to Liverpool fans and the powers of recovery Klopp has instilled alongside a mental fortitude to keep pushing until the very end will hopefully see them go all the way.