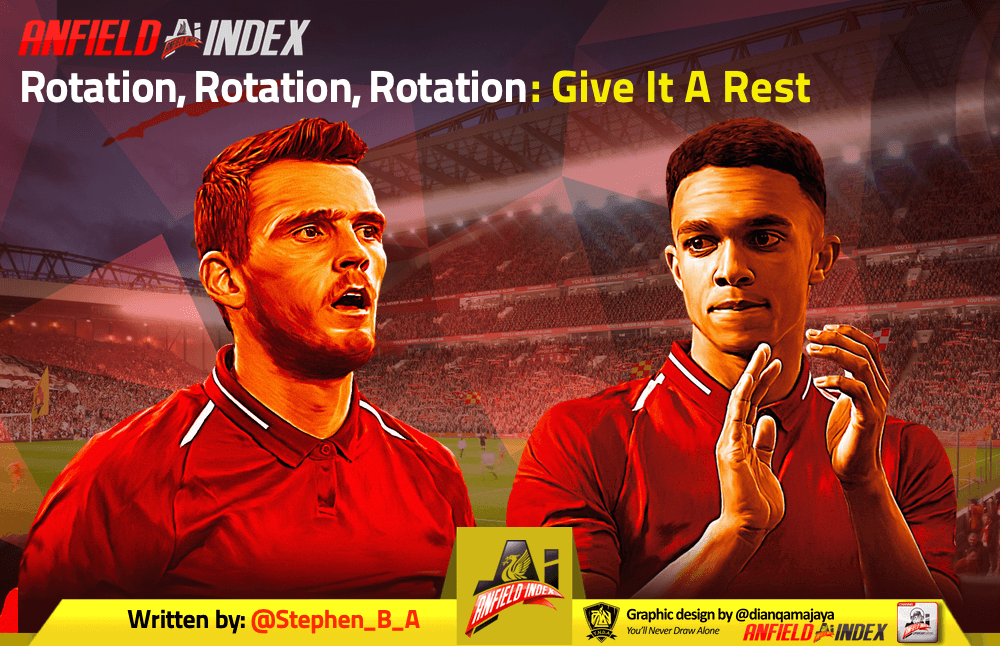 Rotation, Rotation, Rotation - Give It A Rest

A change is as good as rest is how the saying goes, but with a maximum of eleven games to go and only four-midweek matches, is it time for Klopp to give it a rest with his rotation game?
The run-in could favour Liverpool, with City having Chelsea, Spurs and Man Utd still to go, while our biggest game is surely against Chelsea at home. Therefore it's surely time for Klopp to pick his best XI in every game — a hope our luck remains on our side!
Klopp's rotation has played dividends in some ways and has been enforced in others. So far there have been 15 different midfield variations during the season for starters. However, going into the final stretch of the season, with the Premier League title still possible and a Champions quarterfinal next week, Liverpool only have six players currently exceeding their career max.
So… with a squad approaching full fitness and can Klopp afford to keep his rotation game to the bench and pick his strongest team to bring home the double?
Goalkeeper:
I've been following Liverpool since the mid-'90s, and this is the first time in my lifetime that I can genuinely say the club have a world class 'keeper to choose from. Alisson is not only the best 'keeper since Reina's pomp, but he also has the potential to be the best ever at the club. Thanks to Roma's Champion's League run last year he still has minutes to burn as is tattooed onto the team sheet.
Centre Backs:
The first half of the season we witnessed the developing partnership of VVD and Joe Gomez. Could we have a first choice pairing for the next 7-8 years here? Definitely. Should we bring Gomez back in? Definitely not! Not only will Gomez need to play himself back into form, but Matip's unspectacular form has also been solid and this isn't the time of the season to break up a successful partnership. I hope Joe comes on in dead rubber fixtures to build up his fitness, but Virgil van Dijk and Joel Matip have to see the season out.
Full Backs:
One of the easiest conversations to have. Not only have Trent and Robertson had phenomenal seasons and showcased themselves among the best full-backs in Europe, but they are also basically the only ones left at the club. Sorry, Albie…
Both Trent Alexander-Arnold and Andrew Robertson are exceeding their career maxes already. By the season's end, they are likely to be around the 140% mark looking at the graph above. Are we playing a dangerous game here? Yes. But both players are essential to Klopp's team and have to balance out the midfield's lack of creativity on a regular basis.
Centre Midfielders:
The most rotated area of the pitch for Liverpool this season. Though Klopp loves to play the combination of Gini, Hendo and Milner in big games, Fabinho has proven a game-changer against both Bayern Munich and Spurs. The Brazilian HAS to start every game, and unless we're cruising 5-0, play every minute. During Sunday's game Spurs had more than double the passes of Liverpool until Fabinho came on, and from that point, Liverpool dominated the ball.
Gini Wijnaldum is having the season of his Liverpool career and has to be a starter too. Yes, he's over his career minutes, but Klopp can rotate by bringing Henderson into games with 25-30 mins to go when Gini needs a rest.
Milner is probably the other starter, and unlike last season, his minutes are a little over 70% of his max – a sensible move at this point in his career. Klopp clearly trusts him and he covers both fullbacks overlapping runs well. He can also come off when a game in under control or before he looks like he's running in treacle.
Our captain is no longer the first choice on the team sheet. Jordan Henderson has only started in half of the Premier League games so far this season, Naby Keita only 12. One of these players looks to be finishing his career at Liverpool as a solid squad player, the other is yet to settle. Hopefully, Keita can get on the pitch as a match winner in the remaining games but he doesn't look likely to lead the charge.
The elephant in the room is Alex Oxlade-Chamberlain. Some Liverpool fans would have you think his return will signal the second coming of Steven Gerrard. However, after a year out he's going to take time to get back up to speed and in form and we can't drop this pressure on him. If he gets 15-30 mins a game in five or six matches this season we should all be happy.
Front Three
Not only do the front three pick themselves, both based on quality but also their importance to the system, but our backups have proven to have big moments from the bench.
Sadio Mane is on the pinnacle of becoming world class, he's scoring for fun and could write his name in Liverpool history this year. Mo Salah might not be matching last years numbers, but he still boats 24 goal involvements (goals or assists) in the Premier League this year — on a par with Eden Hazard and more than Harry Kane.
Bobby Firmino showed his class again on Sunday with his goal, and both Klopp and the fans trust him. Shaqiri had one of the memorable moments of the season coming on against Man Utd and winning us the game, and Divock Origi — wow, just wow — scored the most iconic goal of the season and has been a menace in recent weeks whether coming off the bench or starting.
1,000 Minutes to Glory
If Jurgen Klopp and his squad can navigate the next 1,000 minutes of football we could be welcoming a double winning team back to Anfield this summer. Now's the time to stop the rotation, trust the stars in this team (and our lucky ones) and make the final push to becoming League and European Cup winning heroes.
#MakeUsDream