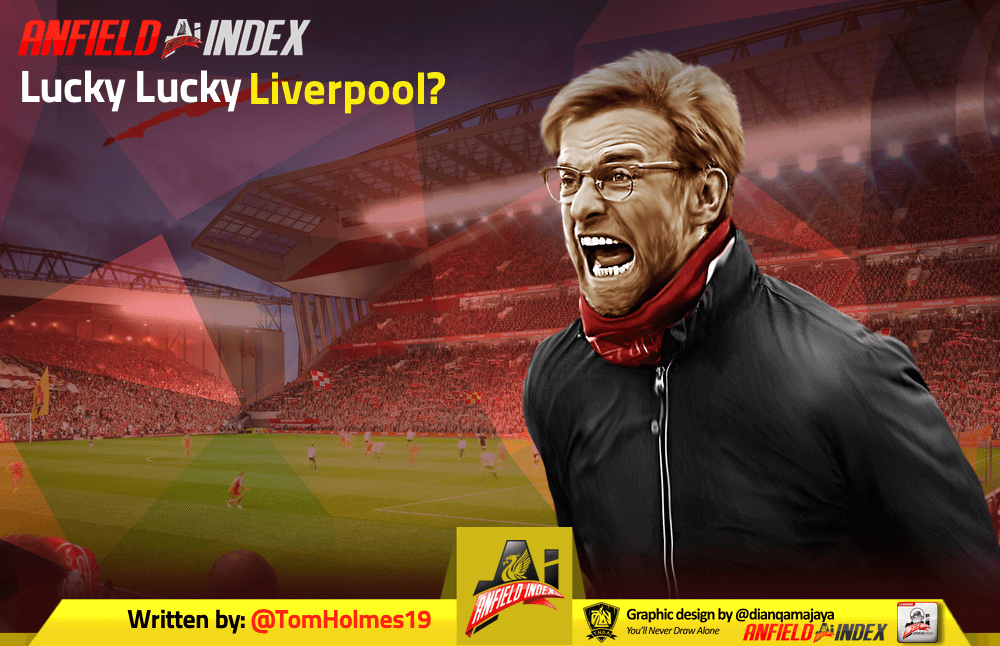 Lucky Lucky Liverpool?

Lucky, lucky Liverpool eh? Comments about all the circumstances in which luck has favoured the Reds this season are out in force after their late goal against Spurs, courtesy of Hugo Lloris punching the ball onto the back of Toby Alderweireld, and there are a lot of frustrated opposition fans, as well as journalists, keen to jump on the Reds' lucky streak.
First things first, we were lucky against Spurs. No two ways about it. On balance, the second half was very poor and Spurs had the opportunities to win the game before they threw it away – even if the underlying numbers all suggested a draw was the fair result.
However, in this article, I'm looking to examine whether or not Liverpool have been lucky, whether that actually means anything, and whether or not they can luck their way to the title over the final run-in. There are a few things I want to look at, so let's start at the beginning.
Are Liverpool Lucky?
In short? Probably. Between refereeing decisions, goalkeeper errors and late goals, there certainly is a stream of evidence starting to ramp up that Liverpool have had a lot of luck this season. Of course, that's partly recency bias, as Liverpool have scored two late winning goals in their last two games from goalkeeping howlers, on top of Tom Heaton's abject display for Burnley.
It also helps the argument that some of Liverpool's luck, such as Divock Origi's late winner against Everton, has been extremely high-profile and tends to stick in the mind.
That being said, the Reds have absolutely had their share of bad luck, and it has absolutely contributed to Liverpool dropping points. Mané had a legitimate goal ruled out in the draw against Arsenal, Keita should have had a penalty in the 1-1 draw with Leicester, and of course, not only did the ball stop 11mm short of crossing the line against Man City, but Vincent Kompany inexplicably avoided a red card in that game. City went on to win 2-1 and keep the title race alive. Not to mention the fact that Liverpool's worst form of the season came directly after a bout of nasty food poisoning hit half of the squad.
One other element that maybe means people forget some of Liverpool's bad luck is that, as top teams do, often when Liverpool do get unlucky or have bad decisions go against them, they simply win anyway. Both games against Burnley this season saw Liverpool go behind in shambolic circumstances, only for Klopp's side to take luck out the equation by summarily scoring seven goals in the two games against them.
So overall, I would certainly argue that it's fair to argue that Liverpool have probably been luckier than unlucky, and certain instances probably weigh the balance of luck in their favour, but it's definitely not as unbalanced as some are suggesting.
The next point is of course that Man City themselves have hardly been unlucky, benefiting from some dodgy decisions of their own, notably recently in games against Bournemouth, Watford and West Ham, as well as bad defending throughout the season, which leads me nicely onto my next point.
When you consider the quality of the Premier League, you have to accept that there are a lot of not very good teams. Liverpool are miles better than 14 of the other sides in the Premier League and less good but still better than four more. Man City are also better than 18 other PL sides.
And when you play against significantly worse teams and they consistently make bad decisions, huge errors, or gift you goals, that's because that they're just not very good. Man City have steamrollered plenty of teams this season, who have just turned up and played badly for 90 minutes. Liverpool have benefitted from their opponents producing individually awful moments, and in turn, have also generally given away less cheap goals through bad errors. Getting goals through your opponents being bad and not conceding sloppy goals isn't lucky – although the timing of it definitely can be and certainly, the level of some of the errors has been fortunate. But in general, beating teams who are worse than you because they make mistakes is generally just being a better football team, and it's a huge part of winning the league.
This definitely plays into the argument of making your own luck, and the old idea that teams who have more quality do tend to get luckier. Hugo Lloris, for example, is a goalkeeper who makes too many big mistakes on a routine basis for it to be pure luck that he conceded yet another really sloppy goal due to his own error. The timing of the goal is fortunate, but it wasn't surprising.
Moreover, Liverpool have scored quite a few "lucky" goals this season by putting crosses and headers into dangerous areas of the box and then flooding that area with players. Whilst Lloris might have needed the intervention of his own defender to score, goals against Palace and Burnley for example, are situations where Liverpool gambled on a mistake, put the pressure on and took full advantage. On a similar note, the Reds no longer allow such pinball scenarios in their own box very often, and as such have worked to minimise the risk of bad luck in their own box.
One sign of "luck" is when a team significantly out-performs its xG, something that Liverpool have not done for a significant period this season. Liverpool haven't won a single Premier League game this season with a lower xG according to Understat, although there were 3 occasions (Spurs being one of them, Leicester and Huddersfield the others) where they won with an xG that was higher by less than 0.5xG – 0.25 higher against Leicester, 0.02 higher against Spurs and Hudds. In terms of draws, Liverpool were "lucky" to get a draw against Man City (with an xG difference of -0.64) and Leicester (an xG difference of -0.55) and unlucky against Everton (an xG difference of 0.57) but the rest were fairly even. As such, there isn't really any evidence of Liverpool consistently out-performing their underlying metrics in terms of results, although they have been in terms of goals scored and conceded.
Does It Even Matter?
I mean this is probably the broader question. Does anyone really, other than Man City fans, Man United fans and Everton fans really care that much about Liverpool being lucky? Do Liverpool fans care about being lucky? And does it really matter?
I suppose the answer to the middle question is dependent on whether our luck is sustainable, something I'll talk about in a minute. As for the first question, that's not really my place to say I guess. But as for the latter question, I think the answer is, not really?
Here's the rub. You don't have what's shaping up to be a 90 point season without a bit or even a lot of luck. You generally don't tend to win the title without a lot of luck, even if you're an elite team. To talk briefly about injuries, title-winning teams tend to be the ones who suffer the least injuries of the contenders. City, with their £500m squad, are whining Liverpool haven't picked up injuries, despite two of Liverpool's starting XI missing large swathes if not all of the season with injury. But Leicester wouldn't have won the title without a lot of luck around injuries, nor would Chelsea the last couple of times they won it. More importantly, you can mitigate against injuries by buying players who don't get injured, something Liverpool have done in earnest.
You also don't tend to win the title without some help from referees, as Sir Alex Ferguson's Man United will surely be aware of, as evidenced by the sheer shock when a post-Fergie United started conceding penalties at Old Trafford.
In a low-scoring sport such as football, luck does tend to play a much bigger part than in other sports, and that's just a fact of life. Does it mean that teams who win the league with a bit or lot of luck need to have an asterisk next to their name? Does anyone doubt the legitimacy of Leicester's title win? Do we need to do a tally at the end of the season as to which team got which points through sheer luck and start deducting them to find the true winner?
It's something of course that a lot of fans do internally, and a lot of them will even vent it. Sometimes, by and large, it's justifiable because it can be frustrating. I myself consistently found myself griping the fact that Liverpool were shorn of ten plus points last season due to dodgy refereeing.
But that doesn't mean that anyone outside of the most partisan fans actually cares and it doesn't make it any less petty, and if we're being honest, a bit silly. It's nowhere as bad to be lucky as it is to, for example, commit fraud to lie about your wage bill or sponsorship money to artificially inflate your spending to avoid breaching rules around how football clubs should be run.
The history books don't remember who got the luckiest, they only remember who won.
Is Liverpool's Luck Sustainable? 
Well as I stated above, Liverpool have largely been lucky on xG terms only a handful of times all season, so in that respect, absolutely.
A broader question over whether Liverpool's performances in the last two months suggest that they can keep winning enough games to get over the line, even with the help of luck, is an entirely different question, but overall I would say that there's plenty of evidence to suggest that six more wins are very doable. Five of Liverpool's games are ones that they shouldn't need much luck to win, against Southampton, Cardiff, Huddersfield, Newcastle and Wolves – four of the bottom seven teams in the PL. Moreover, those are games where being superior tends to lead to more luck, as I've argued above.
As for the Chelsea game, yeah okay we might need a bit of luck there, but if you said to me Liverpool need to get lucky in one of their next six games then yeah, I would argue that that's sustainable.
More broadly, is six more games of good luck too much to ask for? Probably not to be quite honest. Lucky streaks can last longer and have lasted longer, especially when mitigated by some of the factors that I've mentioned above. Of course, we might have a bit of a luck equaliser in the last six games, but it's fair to note that bad luck might not be enough to stop us beating the likes of Cardiff or Huddersfield, again as mentioned above.
So to summarise – Liverpool have been a bit lucky, but it doesn't really matter that much, and overall if they can get over the line, it'll be because they deserve it, not because they were the luckier team.