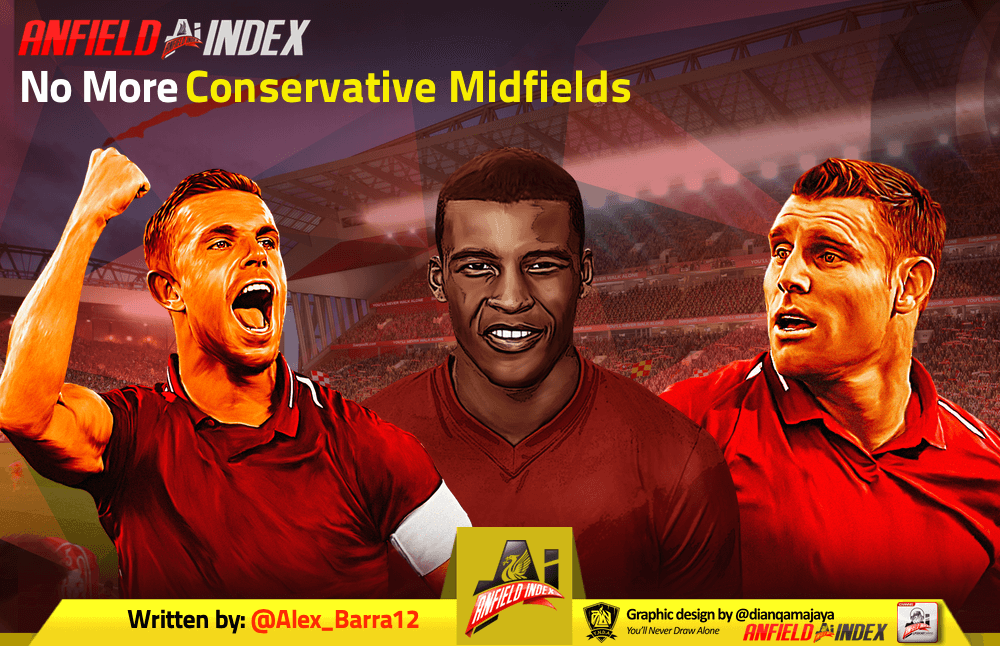 No More Conservative Midfields for Liverpool
This title race is killing you, admit it.
All the times Liverpool were buried in sixth, meagre and irrelevant seem like the golden days of old compared to the ninety-minute-long heart attack Liverpool fans are forced to endure on a weekly – sometimes bi-weekly – basis. Bring Hodgson back, for God's sake.
Seeing as that's unlikely, and seeing as Liverpool are firmly stuck in a title race in which they have to make up the ground, the nerves have manifested in other ways as each matchday comes to the fore.

Who's going to start in midfield? How conservative will Liverpool be in the middle? Will Naby Keita finally be unleashed? What kind of offence did poor Xherdan Shaqiri cause to Mr Klopp? Will Adam Lallana make any more game-changing tackles and get praised as the second coming of Ronaldo?
The midfield is the constant point of contention, and it's not just lately where that's been the case. Of all the good Jürgen Klopp has done for Liverpool in this enthralling race to the Premier League title and corresponding Champions League campaign, he has shown a reluctance to take a risk in midfield.
However, now going into an all-or-nothing stretch of eight games, it's high time for Jürgen Klopp to start being a bit brave and a bit bold.
Nobody can say Liverpool haven't been lucky, yet nobody can argue that Liverpool don't deserve to be here. Here's why.
Both Liverpool and Manchester City have beaten Fulham over the past week. The players on City's bench included John Stones, Leroy Sane and Riyad Mahrez. The players on Liverpool's bench, when they beat Fulham, included Divock Origi and Dejan Lovren – both of whom are perfectly serviceable backups.
The combined cost (in transfer fees) of Manchester City's bench when they beat Fulham amounted to £235 million.
The combined cost of Liverpool's bench when they beat Fulham amounted to £75 million.
Liverpool are fighting the gargantuan arm of a country's financial might. No amount of luck will begrudge them this title race, no amount of fortune will defy the fact that they deserve to be exactly where they are.
And so, if Liverpool are going to go out, it should be going out swinging, doing everything in their power to clutch that elusive title. Not by playing three midfielders who lack much in the way of creativity.
The ideal to Klopp's conservative midfield selection, as former Anfield Index contributor Josh Williams puts it in this piece for the Liverpool Echo, is to ensure the fullbacks get the space they require to be Liverpool's main creative outlets. However, as has been seen multiple times since the end of 2018, Liverpool suddenly become rather easy to stymie when Trent Alexander-Arnold or Andy Robertson have off-days.
Meanwhile, a gallery of potential weapons awaits on the bench, waiting to be unleashed. Including one Brazilian weapon that ought to be in Jürgen Klopp's hands every week – at this point, Fabinho should only ever be on the bench when he's in need of a desperate rest.
The evidence is, first off, in the run-in to the Champions League final last season. Liverpool's victory over Roma was, at the time, something of a masterclass, yet the prevailing trend of the game followed the whole campaign: Liverpool's forwards either had to act on the counter or do a lot of the creating for themselves. When they didn't, they had the bounding energy of Alex Oxlade-Chamberlain driving into the box late.
Then Ox went down, and the second leg was a much cagier affair.
The midfield that was so celebrated only ever really played when Liverpool were at their worst in the run-up to Kiev. Then, when that trio of Wijnaldum, Milner and Henderson were deployed in Kiev, they were completely outclassed.
It was the kind of instance, for example, that would make a club spend £90 million on two shiny new midfielders: one defensive, one offensive. One tackler, one ball-mover.
Now, it's high time that Klopp made use of them. For as good as Liverpool have been at grinding out the victories this year – and this season for that matter, there's still the small matter of being stymied if things go awry. The fact is that nobody else in Liverpool's squad offer what Fabinho and Keita do: Fabinho has made more tackles per game this season (2.1) than any of his midfield cohorts, while in two seasons at Leipzig Naby Keita completed more dribbles (2.6 on average) per game than Milner or Gini Wijnaldum combined.
It's curious that in Liverpool's biggest game under Klopp – the semi-final first leg against Roma – the German boss saw it necessary to play Alex-Oxlade Chamberlain, the man who can run with the ball, and yet rely entirely on width to create this season. That's not to say it hasn't worked – look at Liverpool's position on the table – it's only to say that in a title race where everything hangs on the finest of precipices, it's worth taking the chance to get the Reds into a groove.
Tactically, the more conservative midfield trio – so long as it involves Fabinho – makes sense, locking down the midfield and engaging in pressing. However, with Liverpool's remaining fixtures continuing two teams in the top 8 (Chelsea and Wolves) it stands to reason that locking down the midfield won't be all that important. Then, in those big games, a creative presence – a bit of boldness – might be exactly what Liverpool need to break apart Chelsea and Wolves.
In the recent games where Liverpool have been neutered, the conservative midfield has featured. Against Everton, it was Henderson, Wijnaldum and Fabinho. Against United in that awful 0-0 draw, when United barely had a midfield after the series of injuries, Klopp persisted with the same trio. In the 2-1 loss to City, Milner came in for Fabinho, while the 2-1 loss to PSG in the Champions League group stage saw that same midfield.
It stands to reason that were it not for Hugo Lloris, Spurs would be a game added to that, where Liverpool lost their creative ability around the thirtieth minute and didn't regain it until the final 10.
Klopp has something to lose and will, therefore, go with what he trusts. That is entirely fair. However, the reality is that Jordan Henderson has done nothing in the past six months that show he's all that trustworthy, not when compared to Fabinho and his composure. Naby Keita has done nothing to show anything, really, because Klopp hasn't given him much of a chance and injuries have curtailed him, while Xherdan Shaqiri could well still possess the catalyst to change a game that saw Jose Mourinho sacked at Anfield.
(Stats via WhoScored unless otherwise stated)