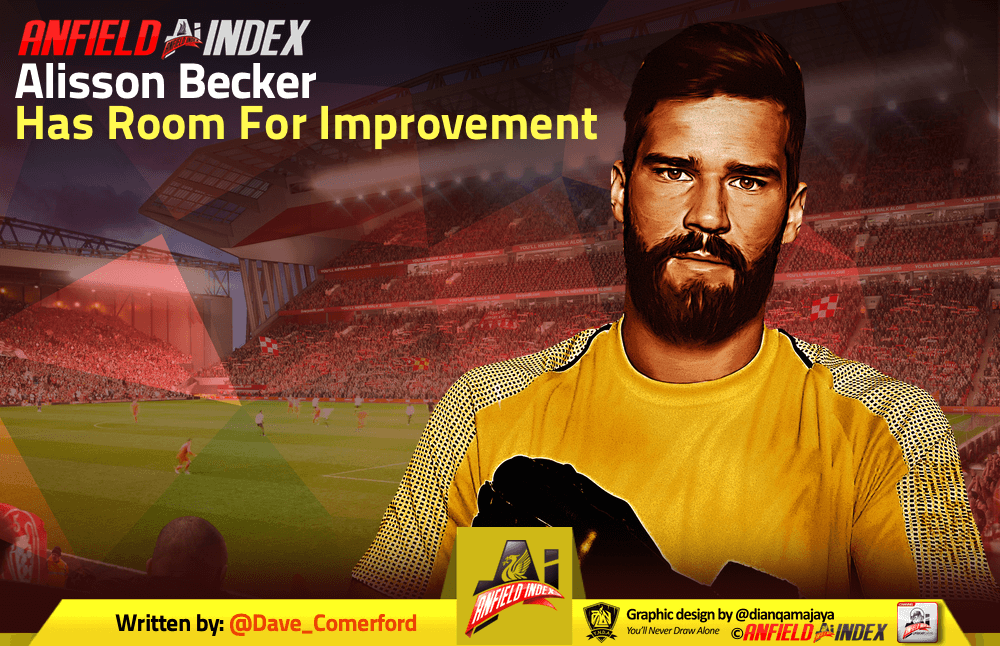 Alisson Becker has room for improvement
After year upon year of painful and debilitating mediocrity between the sticks, Liverpool have felt the benefit of a top-drawer pair of hands this season.
Alisson Becker has justified his (at the time) world-record price-tag but that does not mean he should be considered immune from criticism.
Let's start by acknowledging just how good he is.

The statistics illustrate this nicely. Alisson has 17 clean sheets in the Premier League, two clear of his nearest rival Ederson, he has conceded only 19 goals – fewer than anybody else – and has the highest save percentage of any goalkeeper in the division.
Then there are the big, big moments he's produced. Moments which we might look back in the coming months as decisive.
Perhaps the three most notable are his close-range reaction stop to deny Andre Gomes in December's Merseyside Derby (in the midst of an alarming onslaught), his intervention to thwart Jesse Lingard at Old Trafford in February (I've not seen a 'keeper better at the feet of an attacker) and of course his sprawling save in the dying stages against Napoli which prevented Liverpool from miserably crashing into the Europa League.
It's also worth emphasising Alisson's psychological impact on this Liverpool team. The anxiety which characterised Simon Mignolet and Loris Karius' displays ran through the side and through the crowd, but now, also thanks to Virgil van Dijk, Liverpool have a mighty defensive foundation upon which they can rely when under pressure.
You often hear defenders talk about the importance of trust in their goalkeeper, and they'll surely have supreme confidence in Alisson.
We all agree, then, that Alisson is seriously good. Indeed, most of us agree that he is amongst the top five goalkeepers in the world, and many would legitimately rank him higher.
But still, I think he needs to improve.
It's always difficult for a goalkeeper in that their mistakes often prove more impactful than their moments of brilliance, and as a result, they are the focus of attention.
Thankfully for Alisson, on the few occasions, he has made errors, his title-chasing team-mates have ensured it counted for little, but they're nevertheless worth looking back on.
There have been 'should do better' moments as well as clear blunders.
In the first category you can pick out Max Meyer's goal in the 4-3 win against Crystal Palace – Alisson got a big palm on the ball before it found the net – or Burnley's second in our recent 4-2 victory – a tame effort from Johann Berg Gudmundsson.
In the second are three big errors. First, there was the game at Leicester in September, when Alisson was inexplicably dispossessed just outside his penalty area and gifted the home side a route back into the game, then there was United at Anfield in December, when he fumbled a cross and Lingard picked up the scraps (although he was a tad unlucky the ball bounced off his knee as he tried to gather) and most recently there was what felt like a catastrophic mistake at Fulham, a lapse in communication which could well have had significant ramifications in the title race.
Some believed Van Dijk was equally to blame for that one, but as I see it he was looking to shepherd the ball back to Alisson rather than attempt an awkward clearance and the 'keeper never came. Babel was then able to nick in between the two and score as Alisson failed to get it clear.
Officially, it was his third 'error leading to a goal' of the season – only Jordan Pickford has made more.
This article was actually prompted by Alisson's nervy performance against Spurs last weekend. He cut an uncharacteristically nervous figure – understandable perhaps in the circumstances but still concerning – and his distribution was much more erratic than usual.
He was also fortunate that Andrew Robertson was on hand to produce a stunning block when he parried Harry Kane's effort into a space filled by Christian Eriksen.
I feel compelled to emphasise here that Alisson has saved Liverpool some crucial points, whilst arguably costing us none.
But the more important point is that he shouldn't be insulated from criticism. Our fanbase seems to have put certain players on a pedestal, and while that's a marker of how good they are (and of the scarcity of world-class players before Klopp), the danger is that the player is lulled into complacency, especially when, in Alisson's case, there's realistically no competition.
Yes, what matters is whether Jurgen Klopp chooses to criticise them, but you also have to consider the atmosphere created around the player.
When you're competing with the best (as Liverpool certainly are), players need to be, and feel, under intense scrutiny if they are to unlock their highest level. The right mentality for this level is to always strive for more.
This applies to everybody in the squad, not just Alisson. Robertson has made one or two errors of late (see Leicester and Bayern), Mohamed Salah has to work on his mentality and Van Dijk, the best defender in the world, has publicly spoken of his desire to keep improving.
Demands need to be higher than ever at this point, given that perfection may well be necessary for Liverpool to win the Premier League.
So if you somebody on social media criticising Alisson or any other top player for that matter, don't be outraged. It's all part of the effort to maximise the frightening potential of this team.
Alisson is undeniably a world-class goalkeeper, even though he is relatively new to the top level, and could well enjoy the best part of a decade among the elite cadre of goalkeepers.
If he wants to be the best in the world (and he's good enough to have the ultimate expectation placed on him), there are weaknesses and lapses to be ironed out of his game.
This season has been a case of heroics aplenty, just with slightly too many mistakes.