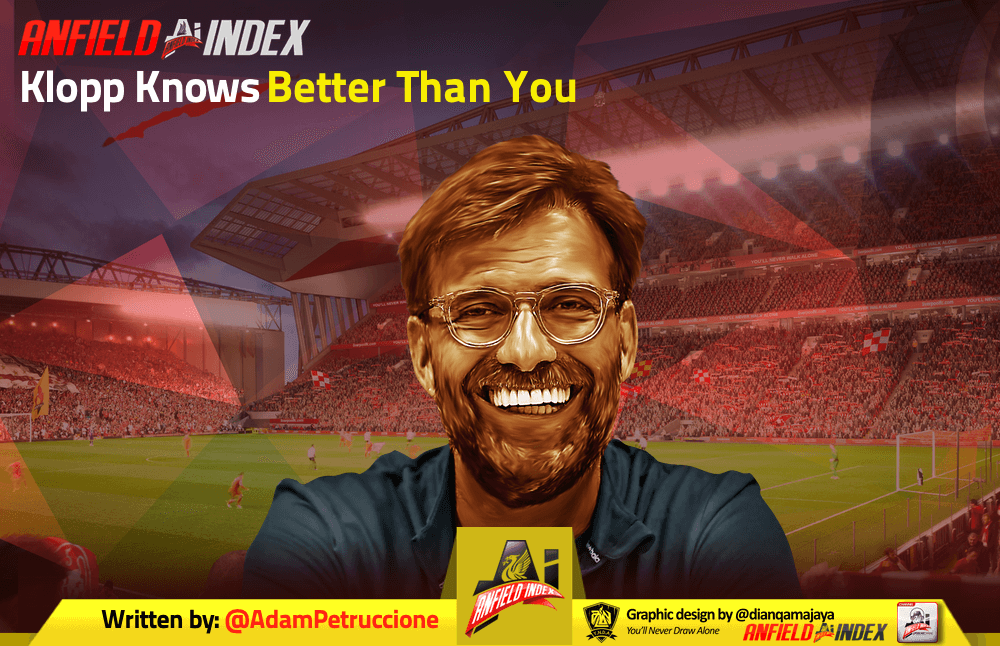 Klopp Knows Better Than You
The manager knows better than you.
That is often read as a conversation ender when it should be the beginning.
Liverpool have a detail-oriented, world class manager who makes decisions that do not fit with popular opinion among casual fans, nor do they comport with the analysis of those who spend ungodly amounts of time collecting statistical minutia on our beloved Reds. The discussion often feels like, "what is Klopp thinking?" in a purely negative sense, especially an hour before kick-off when those line-up cards come out. However, after everyone takes a breath, it's really "what is Klopp thinking?" out of admiration for the man.
All artists want to know why Picasso chose a particular shape. All aspiring architects want to know why Frank Lloyd Wright chose particular angles, and we'd love to know why Jurgen Klopp makes his decisions in order to have that insight from one of the best in the world as a reference point the next time we watch a football match.
THE *#@?!% MIDFIELD
The adjective doesn't really matter. Everyone has a different one to describe the three-man combo of Jordan Henderson, James Milner and Gini Wijnaldum. We're all very familiar with what that midfield three looks like and the feeling that it gives us on match-days. Perhaps Jurgen Klopp is a fan of the Real World/Road Rules Challenge and he has an unchangeable belief that the veterans will always out-duel the hapless rookies.
Liverpool have oscillated between a 4-3-3 and a 4-2-3-1 this season. @EBL2017 analyzes the strengths and weaknesses of each system:

-Advantages of the 4-3-3 in gegenpressing

-The role of pitch size / playing home vs. away

-Why Keïta has struggled so farhttps://t.co/zcTdbAqvJ3 pic.twitter.com/1qOUbK39SN

— Breaking The Lines (@BTLvid) April 3, 2019
Breaking the Lines (@BTLvid) just released an article laying out the manager's tactics in fantastic detail. They point to the late goal conceded against Burnley as evidence as to why Naby Keita has been left looking in the window of our title race like a sad puppy dog. Moments before the goal, Keita pushed up, Fabinho stayed back and the resulting gap allowed Burnley to progress the ball freely, ultimately leading to Gudmundsson's goal.
But, Keita isn't Liverpool's only meandering midfielder. The article also states that James Milner has problems maintaining his position, which begs the question, why can't Keita play in the advanced eight? If Fabinho and Wijnaldum are assumed to be the best pair, is it not an option to play Keita with them? Is that too much change from last season to this? Enquiring minds want to know, Mr Klopp.
Liverpool's system does not take an Einstein to operate within, but there are specific triggers that lead to team pressing. Typically the Reds try to force the ball out to a fullback and then press as a collective to win the ball back from there. If the people's midfield of Keita, Wijnaldum and Fabinho haven't been able to learn that dance over the course of a year, one wonders if they will ever be able to pass Klopp's test.
Based on what we've seen, Klopp prefers to reintroduce midfielders who have been out of the team for months and years rather than Keita who has been training with Liverpool since the summer.
FALSE NARRATIVES
Most Liverpool supporters would assume that Henderson, Milner and Wijnaldum must be our best pressing unit since they tend to be chosen in big matches against opponents who will play the ball out against us. Those who review the team every week, frame by frame, still have questions though. "They aren't the best pressers in this side, those three. They are the easiest to surpass in this team," Gags Tandon – AIPro Under Pressure Podcast.
Against Spurs, the Reds ran for an incredible 118km combined, which usually translates to a successful pressing performance. The problem was that for all of that chasing, we really weren't able to get there, especially in the second half. "We were chasing shadows," remarked Tandon.
With all of that acreage covered, it's no shocker that the midfield was shattered in the second half. So, why did the manager wait until 76' to relieve Milner and Henderson? Liverpool's staff surely has all the data in the world at their finger-tips. Jurgen Klopp trusts analytics, so he must be going off of something that has not been brought to the surface as of yet. Or, perhaps Klopp simply believes that a tiring player who is used to the pace of a tense Premier League match is better to leave on the pitch for ten extra minutes rather than bringing on someone who will not be immediately accustomed to the tempo.
When Fabinho did come on, he did change things in a massive way, controlling the midfield, keeping Spurs at bay on his own to the point where he probably woke up only able to murmur the words, "hodor, hodor… hodor?" Fabinho's presence (10 presses in 19 minutes at 90% efficiency with 4 possession wins, Dan Kennett – AIPro Under Pressure) released Gini further up the field and kept Liverpool's shape intact, even with four forwards on the pitch. Is that an option that Klopp simply wants to keep in his back pocket, should we need it? If the Fabinho/Gini combo is good enough to rescue us, why not use it more regularly so that we never need rescuing in the first place?
TO KLOPP'S CREDIT
In a season that raises so many questions regarding our midfield and the substitution patterns of the manager, the German can always point skyward and just answer, "scoreboard." Liverpool will eclipse their highest points total in the Premier League by some distance barring some kind of calamity. Two wins and two draws would eclipse the 2008-09 side of Torres, Gerrard, Xabi, Masch and Reina. There are three more matches at Anfield in the league to make it two full seasons without a loss at home. We've already scored more goals (46) at home than we did last year when we had the best attack in the world.
https://twitter.com/jimmypreece75/status/1113443830911598592?s=21
This season has been incredible. To call our manager world class doesn't really do him enough service. We're watching Van Gogh lay down a layer of paint, Tesla sketch out an invention, and we get to converse amongst each-other, asking what the thought process was behind each individual move in real-time. No matter the outcome we'll look back at this season and appreciate what we witnessed.
Plenty of people may feel like their belief, publicly stating their support no matter what enhances their experience of being a Liverpool supporter. And they're not wrong. But, getting into the details and analysing how one moment links to the next, what the reason behind each move might be; for a lot of us, that's what being a supporter, what enjoying this most fascinating of seasons is all about.
Up The Implausible Reds