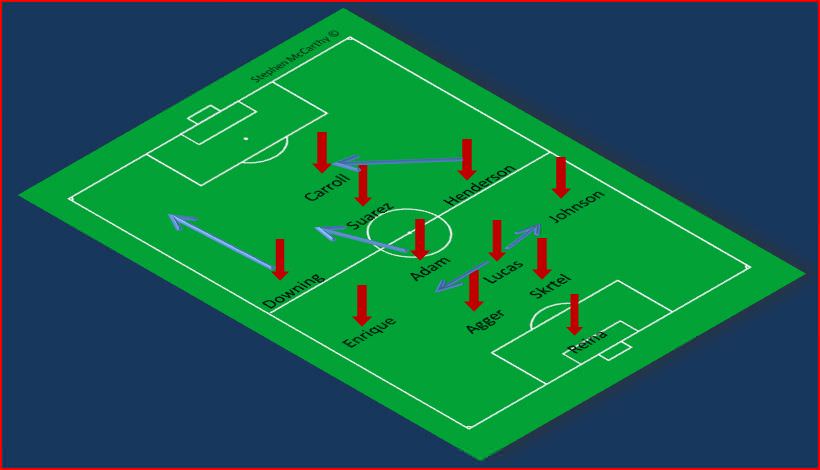 Liverpool V Swansea | Football Is A Simple Game? A Tactical Preview
The great man Shankly once said "football is a simple game based on the giving and taking of passes, of controlling the ball and of making yourself available to receive a pass. It is terribly simple". Was there a truer word ever said? This week is Liverpool V Swansea City, two sides who really like to get the ball down and pass and move. In Kenny Dalglish and Brendan Rogers we have two managers who try to instill a certain footballing philosophy into their respective clubs and it promises to be a cracking game on Saturday.
Liverpool go into the game on the back of an impressive 2-0 win against West Bromwich Albion at the Hawthorns with both Andy Carroll and Luis Suarez starting to perform in a partnership. Our last 5 reads WDDWW, and despite the draws we haven't actually lost in the last 7 games. Our last loss was back on 18th September, that 4-0 drubbing against Tottenham. We sit sixth in the table on 18 points, one point from Chelsea in third and 4 points from this seasons surprise package Newcastle in third. A lot has been said about our ability to concede goals this season, however, when you look at the table only Manchester City (8) and Newcastle (7) have conceded less goals than us (10) this season. The more worrying area would be the amount of times we have drawn from winning positions in games at Anfield. Sunderland, Norwich and Man United have all come back to snatch a point from us when 3 points were in our grasp. Our home form is something we need to start rectifying soon if we are to challenge consistently at the top end of the league this season.
Swansea go into the game on the back of a 3-1 home win against Bolton. As impressive as it was its worth noting that Swansea were only 1-0 up before Bolton had Gardner sent off in the 48th minute. So you would expect them to go on and win the game from such a strong position. Swansea's last 5 read  WDLWL – so despite how well they are doing this season, a little bit inconsistent in the form table. Swansea are 10th in the league with a very credible 12 points and are by no means the shrinking violets you might expect having just being promoted. However, their away is very poor this season, playing 5, losing 4, and drawing 1. A major caveat however is the fact that 3 of those away games have been at Chelsea, Arsenal and Manchester City. So maybe not a fair reflection of how their away from will pan out this season.

Swansea Scouting Report
So let's take a look at how Swansea may line out, their formation and some of their key players. Swansea have consistently play a 4-2-3-1 formation this season with a slight variation. They line-up as a 4-2-3-1 but in reality when the game kicks off and gets going they drift into a 4-1-2-2-1. Take a look at my attached graphic.
These are the Swansea players average position for their game against Chelsea this season at Stamford Bridge. Britton provided the cover in front of the two centre backs with both Allen and Gower further forward linking up with the centre forward. Both full backs provided width and surprisingly their average position for the game was just on the halfway line. Quite attacking for a team playing Chelsea away.
Both Sinclair and Routledge played further forward tucked in playing dual roles in trying to provide some width and linking up with Graham when they could. This system will allow Swansea to be quite attacking when they have the ball, also when losing possession they can revert to a 4-5-1 with Sinclair and Routledge dropping back into more orthodox winger roles when needs be. I expect Swansea to play this system against us. It allows them to try to control the midfield, with Britton at the bottom of the inverted triangle both Allen and Gower have a man they can use with little 1-2 passes and create passing triangles around our midfield. Britton also gives them some insurance in front of the back four in case they get caught out too far forward. Expect Gower and Allen to be the playmaker's in the team and expect them to be on the ball a lot throughout the game.
As far as Swansea's proposed line-up and formation I believe they will start Graham up front with both Sinclair and Dyer either side of him in as an attacking line-up as we will see all season at Anfield. They are not a team who like to sit back and soak up pressure. They will try to control the ball and possession, but not necessarily the territory. A lot of their build up play will be triangles between Britton the back four, retaining possession and waiting their moment to pass the ball forward and start attacking. See my graphic below for Swansea's probable line-up.
So let's take a look at some of Swansea's key men and see how they may cause us problems. It is clear that they have a front five; four of them being midfielders that are quite forward thinking. Along with Britton who holds in front of their back four they are the key players that enable Swansea to play the passing game they are so accustomed too. So how do their stats break down so far this season. Take a look at my stats table below:
The green areas are the best stat for any given statistic on the left hand side. Obviously the more green areas the more a key player we are dealing with. It is clear from the table that Gower is the player that we most have to watch out for when it comes to crosses and setting up goals. He's a total of 18 accurate crosses for the season, 13 more than the next man which is Sinclair at 5. You can also see that including assists he has created a total of 23 chances this season. Far more than any of his team-mates on the table. Graham as you would expect from a centre forward dominates the goals column with a shot every 37 minutes and a shot on target ever 68 minutes. The other most notable stat in the table is the impressive open play pass completion percentage. Britton has an incredible 94% pass completion for the season so far with Allen close behind with an impressive 91%. So not only do we know Swansea like to pass the ball, but they are also very accurate with their passes. Which brings me nicely onto my next point.
I referred to Swansea's ability to pass the ball above but I also noted that they like to pass the ball around the back four and generally in their own half waiting on the right moment to pick to start an attack. So do the stats match that hypothesis. Take a look the at the 2 graphs below which show Swansea's pass statistics for the season.
As displayed above Swansea are right up there when it comes to attempted open play passes this season. 3rd in the table attempting an incredible 5216 passes this season. Only Chelsea and Manchester City have attempted more passes this season. Swansea have even attempted 847 more open play passes than us this season. Very impressive stats. But you can attempt all the passes you want, its how accurate these passes are that are the most important statistic.
As you can see from the table that Swansea are right up there when it comes to their pass completion percentage. Joint third in the table with Arsenal on 85% is a fantastic stat for a team just promoted to the Premier League. So you can see what Liverpool will be up against on Saturday. We cannot sit back and let Swansea pass the ball around or we may be in for a very long afternoon.
On a final note when it comes to Swansea and how they might approach the game against us on Saturday. I have mentioned a couple of times how Swansea like to play the ball around their back four. An interesting stat I came across is Swansea's pass breakdown. Their percentage of passes that are backwards is higher than any other team in the Premier League this year. See my graph below:
Along with Wolves and Aston Villa a total of 18% of all of Swansea's passes have been backwards so far this season. Compare that to Everton at the other end of the scale at 13% and you begin to see the difference. Something we really need to be aware of for Saturday's game.
 Liverpool Formation/Tactics
I think as the season progresses it's become quite clear what formation and tactics Kenny likes to play. We very rarely veer from an out and out 4-4-2/4-4-1-1. And besides from a couple of games when we played too many long balls to Carroll when he played, Kenny will stick to his Liverpool mantra and philosophy of pass and move football. So what will the line-up be on Saturday? See my teamsheet graphic below for my take on it.
With Steven Gerrard out with an infection, it's likely Jordan Henderson will come in on the right hand side and replace him. Henderson will play his usual tucked in role with Downing providing the width on the opposite side. The only other worry we have is that Jaime Carragher looks like being injured for the game. If so, I expect Daniel Agger to come in at centre back and he will provide a much needed passing dimension to our back four. So with our teamsheet selected how should we approach the game. I believe we need to play a high defensive line to squeeze the game in the midfield so has to put a lot of pressure on the Swansea players.
Swansea as seen above like to pass the ball, so we need to get tight to them high up the pitch and don't allow them to stroke the ball around their back four as the also like to do. The high defensive line coupled with Suarez and Carroll putting in a shift up front and not allowing their centre backs any time to dwell on the ball should see us in good stead throughout the game. I fear if we slack of and allow them time and space the game having lulling periods were we end up chasing shadows across the pitch. Putting severe pressure on the Swansea players will go a long way to us winning the game. We need to get plenty of tackles in and disrupt their flow of play. I believe tacking and 50/50 duels are their weak points and an area we can really exploit. Take a look at the table to see my point.
The graph above shows that Swansea have the lowest tackle success rate in the league at 69%. Whereas our tackle success rate is at 75% and Everton's at the top at 81%. I feel if we can put the tackles in this area we can dominate the midfield thus dominating the game. Not only do Swansea have a low tackle rate success but they also do not come of well when it comes to the amount of ground 50/50's they put in.
Swansea are second from the bottom of the total ground 50/50's they have been involved in, as shown in the graph above. Is this a symptom of their passing game or does it point to a more underlying problem of not actually liking a tackle. I believe it is a bit of both, and again if we can get our tackles in and win our 50/50 duels then it will also go a long way to winning this game.
But that's not all. I believe Swansea are very susceptible to aerial balls. One of the reason's I believe Andy Carroll should start this game is because of the oppositions weaknesses in the air. Their centre back and their team as a whole have a very low aerial duel % win ratio. As you can see from the table below Swansea have an extremely poor record at winning their aerial 50/50's. At 30% it is by far the worst in the league this season. Newcastle are next on that list with 44%, so an incredible 13% behind even them. So as a team we know they have a poor record in this area. So how can we exploit this? Or more importantly can Andy Carroll exploit this.
So if we can get Henderson, Downing, Enrique and Johnson into advanced positions down the wings and get crosses into the box to Andy Carroll we can try to exploit this weakness. We are second in the above table with 57% of all our aerial duels won. That is a 27% difference between ourselves and Swansea. So the stats show there are a considerable difference. But putting into practice may be a lot harder. In my final table below you I compare our centre backs with Swansea centre backs and Carroll to see maybe if there is a mis-match somewhere in Swansea's defence that we can take advantage off.
As you can see both the centre backs of Swansea have a very poor ground 50/50 win percentage and aerial 50/50 win percentage. At 38% and 29% respectively for Monk and Williams that is quite poor compared to Carragher and Skrtel at 62% and 81%. When you put Andy Carroll into that mix against the Swansea centre back pairing he comes out with 58% aerial duel 50/50 ratio. So quite a big difference there. This area, along with maintaining our tackles, high line and pressure on the ball are the areas we need to concentrate on in the game. If we can concentrate on these areas and take our chances I believe we will win the game on Saturday.
Here's to 3 points and a win.