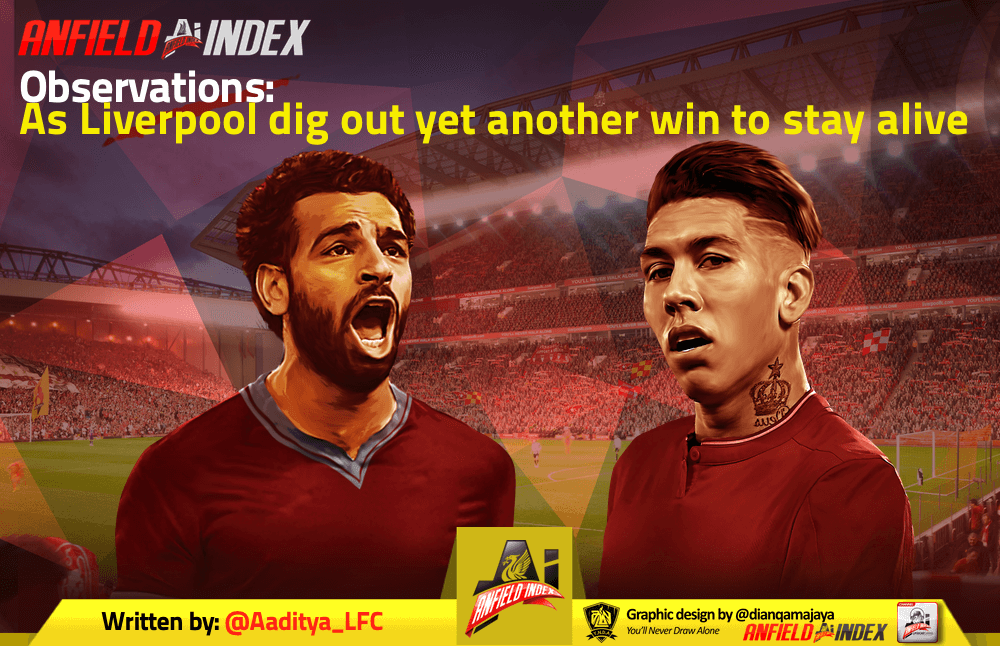 Observations as Liverpool dig out yet another win to stay alive

It was nervy. The tension was rattling. It was not a nice feeling. With time dwindling, Liverpool had little margin for error. Liverpool didn't err. The tension was broken through. The nerves were all settled. From the South Coast, the Reds will head back to Merseyside with three points.
Here are the key observations from the game.
Horrific Start
Well, it would have been nice to see Liverpool have more control of midfield, right from the get-go, but Pierre-Emile Hojbjerg and Oriol Romeu made it so hard for the Reds' midfield to put their stamp on the game.
Hojbjerg, in particular, was superb. He was strong in the tackle, showcased a neat passing range, and drove forward from midfield, whenever the opportunity was afforded. Gini Wijnaldum looked knackered, Naby Keita looked overawed and Fabinho looked uncharacteristically sloppy.
At the back too, Trent Alexander-Arnold and Joel Matip were doing nothing to ease the nerves of those around them, and all-round bad defending from the whole unit gave Southampton the lead.
It was far from the ideal way to start, but it might have also acted as the kick up the backside that was needed for Liverpool. From midway through the first half onwards, the Reds largely controlled the game, and did really well, creating chances, being compact in defence, and troubling Southampton.
Of ducks and breaking them
Well, the pattern to the goal scorers on the night was nice, wasn't it? Naby Keita scored his first for the club. Mo Salah scored his first in nine games. And, according to Salah, Jordan Henderson scored his first "in twenty years." Not quite, Mo. First in 19 months, more like.
But in the context of the game, and the larger context of the run-in, these were three priceless goals. Salah has been maligned recently, he says he hasn't been bothered by the lack of goals, but who was he kidding? Of course, he would have been. That goal could be a massive positive impact on his form during the run-in. Keita's bedding-in has been a well-documented struggle, but he too will receive a huge boost from that header.
And then there was Henderson… His energy in midfield helped Liverpool maintain a much more relentless high tempo, and that eventually wore Southampton down.
Roberto Firmino
Someone on Twitter pointed out a Luis Suarez resemblance to that Firmino performance tonight. And he is right. Firmino was relentless, he was clever, he created chances.
You know Firmino won't stop running, in general, but that build-up to Henderson's goal is him in a nutshell. He bust a gut to get to the ball and keep it in play. Then, he showed patience and skill to ensure he was manipulating the ball waiting for the runners to arrive. And when Henderson arrived, Firmino laid it on a plate for him to score.
He created three chances from open play, more than anyone on the pitch. It's nice to see it all clicking again for Bobby.
The substitutions were necessary
Gini Wijnaldum looks gassed and could do with a breather. Trent Alexander-Arnold looked nervy and flustered in the face of pressure – Klopp said that could be down to tiredness too.
So in that context, it was absolutely necessary that the manager made the early substitutions. He made them early, and he made the right ones, too.
You can say what you want about Henderson and Milner, but they are two real leaders in this squad. Milner calmed things down on the right side of the defence, and Henderson brought energy and passion in midfield.
In the end, Klopp was justified as the skipper popped up with a crucial assist and a goal too.
Never say die…
Liverpool have been behind in seven Premier League games this season. They eventually drew at Stamford Bridge and lost at the Etihad, but they've won the remaining five.
The spirit and attitude that this squad has really is a far cry to other Liverpool sides of recent times. They may or may not win the league, but it sure has been a season to savour.
There are a lot more nerve-shredding moments coming, a lot more nails left to be bitten, a lot more tension to come. One thing's for sure – this squad is not going to back down. It may be a tough watch at times, but in the end, maybe, just maybe, it might all be worth it.