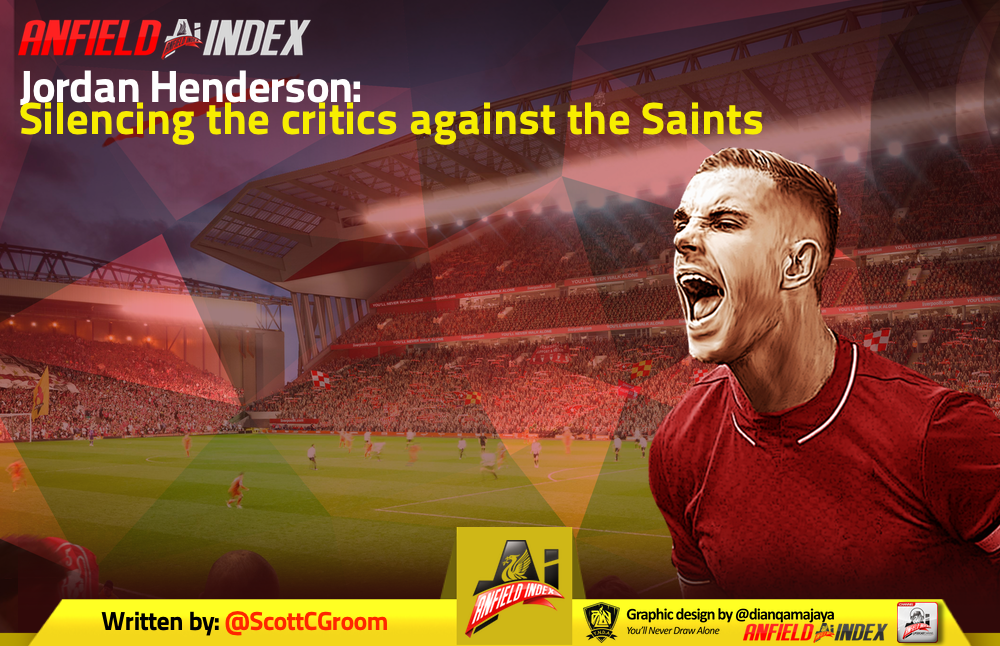 Jordan Henderson: Silencing the Critics Against the Saints

Jordan Henderson. A name that instantly divides Liverpool fans. But it's a name that will certainly be ringing out on the terraces for the coming days after his inspirational substitute appearance against Southampton.
The skipper is always a controversial topic of conversation but his performance at St Mary's was one that showed what he is all about and what he brings to this Liverpool side that Jürgen Klopp values so highly.
Many will have raised their eyebrows (myself included) when Klopp opted to bring on both Milner and Henderson at the 60-minute mark, especially as the skipper was replacing Trent Alexander-Arnold, who had looked a real threat all evening.
But Henderson changed the game for Liverpool in dramatic fashion.
His tenacity, work rate and shrewd decisions on the ball gave the midfield an extra bit of cut and thrust that it had been lacking a little in order to get the decisive goals and seal all three points.
Much has been made of the impact that Fabinho has had on this Liverpool team since his arrival last summer, but against Southampton, the big number 3 probably had one of his worst games in a Liverpool shirt – which inadvertently highlighted Henderson's impact on the game.
There were times where Fabinho was skipped past too easily by Southampton's midfield and he was culpable for not tracking back the runners which led to Shane Long's opener.
Yet Henderson provided the dynamism that many thought Fabinho would exert onto proceedings, and unlike the Brazilian, his use of the ball was far more economical on a night where Fabinho struggled to find his range.
This is not me suggesting that Fabinho is poor and Henderson is superior, as they're both wonderful players. But, what it does do is highlight that sometimes bringing in someone from outside of the horribly named 'Brexit midfield' is not always the answer as the victory on the south coast proved.
It was also Henderson's header that set off Mohamed Salah on his blistering run that resulted in his 50th Premier League goal that made it 1-2 on the night, and then, of course, there was Henderson's goal itself.
He tore up the pitch late on to smash home a Roberto Firmino cross and the celebration itself told a story.
The captain wheeled away in front of the Liverpool fans holding his hands to his ears as if to ask the haters where their jeers and criticisms were in that moment before he was mobbed in pure passion by his teammates.
You could sense just how much it meant to him in that moment, and it provides him with the most tangible evidence to silence his critics of late, who never seem to go away but do not deserve the column space this week.
It was a captain's performance from a man whose attitude never waivers, whose passion never dies and whose commitment is always evident. He gets so much more criticism than any Liverpool player I can recollect, but it's so unwarranted.
This is the man that Jürgen Klopp wants as his leader and a man who he trusts. We all trust Klopp, so why don't we trust Henderson?
He brings so much to this team and yes, in some games we may need to turn to other players to make the difference, but Henderson's role in this squad is a vital one and I for one am thrilled for him that he put in such an impactful performance against the Saints.
It was almost Gerrard-esque the way he grabbed the game by the scruff of the net and changed Liverpool's fortunes, don't you think?