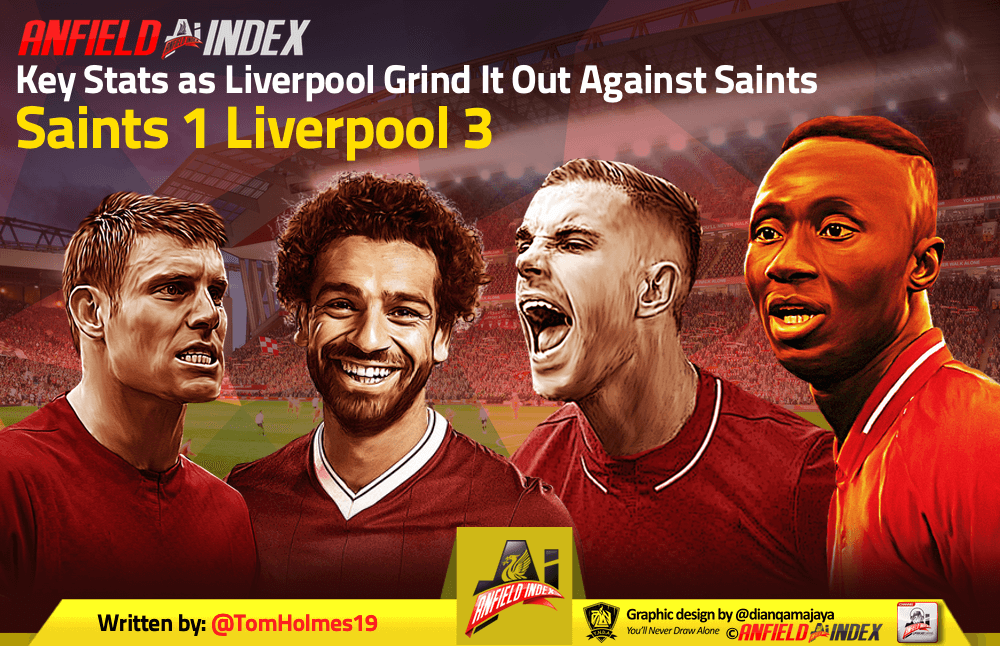 Key Stats as Liverpool Grind It Out Against Saints
Liverpool kept the title race well and truly alive with another late winning goal, courtesy of the genius of Mo Salah. The 3-1 win over a strong Southampton side on the south coast takes Liverpool back to the top of the Premier League, so what were the key stats from an incredible night at St Mary's?
Bobby Firmino Is Back
Just a couple of weeks ago, I was questioning whether Bobby Firmino could deliver big time in the run-in, and on the evidence of the last four games, he absolutely can. In his last four league games since returning from injury, Bobby has a goal contribution in every game, three goals and two assists, both assists from big chances.

Again in this game, Firmino was probably man of the match – grabbing an assist for Henderson's third goal. Firmino ended up with three key passes (the most from open play), including a big chance for 0.70 xA, the highest in the game. He also completed four dribbles, which considering the two teams completed eleven between them (LFC 6 and Saints 5) is very impressive. Bobby also had five shots of his own including a big chance that was blocked. Not only was it a complete striker's performance, but he also chipped in defensively with a couple of big defensive headers, two tackles and even blocking a shot.
Speaking of Back…
This was a game of firsts, as from Liverpool's perspective, three lads who needed a goal scored one. Naby Keita scored his first Liverpool goal and was superb overall, as he also created a big chance and should have had a penalty. Jordan Henderson also scored his first goal of the season, as well as his first assist, making his first goal contributions in over 45 games and 18 months, following an assist for Salah against Spurs in the 4-1 defeat at Wembley. His last Premier League goal was against Leicester in September 2017.
And of course, it was Mo Salah's first goal in seven Premier League games since his goal against Bournemouth in early February. Arguably just as importantly, it was the first league game in which he created a big chance since Man City on 3rd January. Despite not scoring in two months, Salah is still the fastest Liverpool player to 50 Premier League goals, and the third fastest overall. You could see what that meant to him.
And most importantly of all, this was the 11th winning goal that Mo has scored in the PL this season, the most in the Premier League. He remains one of the best forwards in the league, as only Aguero and Hazard have more combined goals and assists. What a player.
Liverpool Subs Show Their Spirit
Bit of a collection of stats in this section to show that Liverpool have developed steel, a never-say-die attitude, but also a bit of praise for Jürgen Klopp for his substitutions. This game delivered a great spirited hat-trick – a come from behind win, a late winning goal, and a goal from a substitute, three elements of Liverpool's season that have been vital.
The Reds have scored seven goals from losing positions this season, having been behind in seven games. They've come from behind to win against Burnley (twice), Crystal Palace, Arsenal and now Southampton, also coming from behind to snatch a point at Stamford Bridge. Of course, they did lose at the Etihad, but still managed to come from behind in that game. That's 16 points from 7 games or an 87 point season from losing positions. Not bad lads.
In terms of late goals, the Reds are becoming the kings of this, if indeed they weren't already. They've scored 21 goals in the last 15 minutes of matches, and this was the third game in a row that they've scored a late winner, having also scored late on to secure the points against Burnley.
And it's also the second time in three games that a substitute has scored a goal, as Henderson followed up Milner's penalty against Fulham. All in all, Liverpool's substitutes have scored 11 goals this season, with plenty of important goals in there.
It doesn't matter how you win, all that matters is that you do.