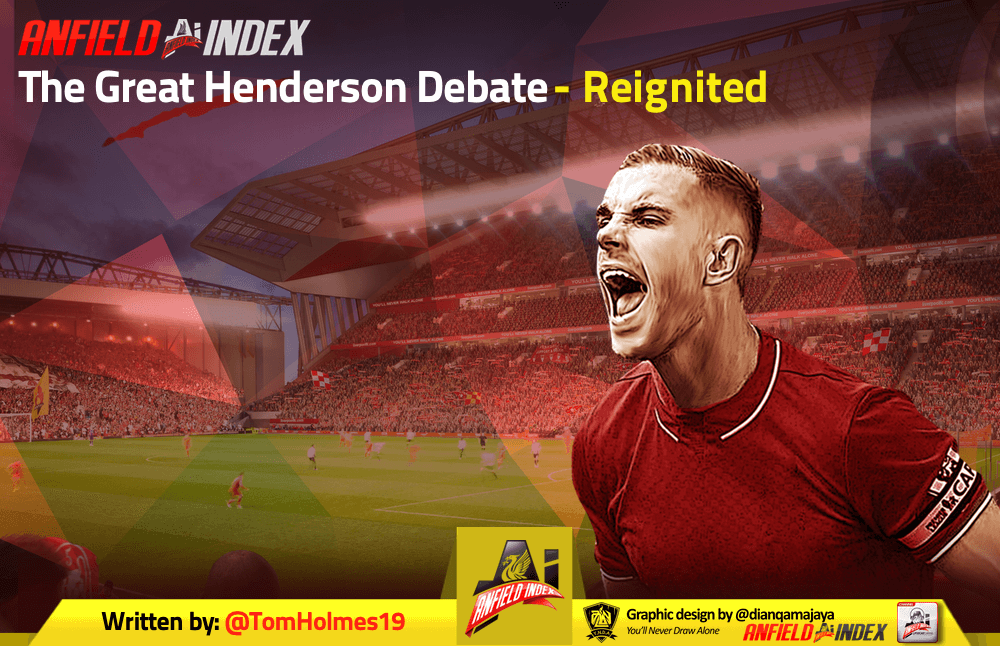 The Great Henderson Debate - Reignited

There was a sense of righteous vengeance amongst the Liverpool fan-base as Jordan Henderson strode into the picture to stroke home Liverpool's pressure-relieving third goal against Southampton and send the Reds back to the top of the Premier League table. A captain justified a player who had finally thrown off the shackles of criticism and demonstrated that he was good enough to play a vital role in Liverpool's title challenge.
And certainly, it was an excellent performance off the bench from Hendo and one that fully justified Klopp's decision to bring him on in the attacking midfield position, rather than the defensive-midfield one that he's featured in for the vast majority of the season.
However, what's interesting is where the discussion around Henderson goes now, and the shape of it amongst the Liverpool fans. There are already a sea of articles resoundingly defending the much-maligned skipper, just as there were a handful when Adam Lallana turned in a decent performance against Burnley.
And this is unquestionably a good thing. Whatever else the Liverpool fan-base is, it's certainly a set of Liverpool fans, so to see those fans defend their skipper in earnest is exactly what you'd want to see. Whatever some fans may think, almost nobody claiming to be a Liverpool fan wants to see Jordan Henderson struggling or playing poorly. Even if they don't want him to start, that doesn't mean that they don't want to see him excelling when he does. Ditto Adam Lallana, ditto Naby Keita, ditto *insert player that you don't like here*.
But the broader question remains – what now?
One element I do think is slightly unfair is the straw-manning of criticism of the so-called "Brexit midfield". It's not a term I endorse but I do think it's become a useful shorthand for the midfield that nobody really wants to see. The problem is that criticising the combination of Henderson, Wijnaldum and Milner, a combination that has its issues, has become inextricably associated with thinking Hendo is a rubbish player, rather than making the point that it's the makeup of the midfield, and Klopp specifically that is the issue.
The same point can be made against the midfield against Southampton. We saw the midfield that Liverpool fans broadly wanted and it didn't quite work for long swathes. But the reasons that it didn't work were that tactically, Saints countered it perfectly, Klopp didn't seem to quite get the structuring of the midfield right even if the personnel were fine, and, interestingly enough, it was Gini Wijnaldum who was the biggest problem, as he is clearly struggling with fatigue or a niggling injury.
So it was replacing the struggling Wijnaldum – a player who rarely gets any criticism from any corner of the fan-base, largely because he is often a significant part of why the midfield works when it does work – that was the biggest catalyst for Henderson to make the most of the situation. Henderson himself was excellent and played the Wijnaldum role better than Wijnaldum himself.
Nevertheless, the argument in some sections was that it was a case of a win for the midfield of Henderson, Milner, Wijnaldum, even though Wijnaldum himself was the player removed from the midfield, Milner played at right-back and Naby Keita was a critical part of Liverpool winning the game, scoring a goal, creating a big chance and was very unfortunate not to win a penalty.
I think the broader issues in the midfield are about structure and cohesion, rather than pinning individual players against each other. I confess that in my opinion, Fabinho should start almost every game because he's the Reds strongest midfield, and although he was poor against Southampton, that was arguably his first poor performance for the Reds in six months, and mitigated by how bad the midfield set-up was. When Henderson came on to offer some actual protection, Fab was very good.
So to return to the point of the article, which is Henderson himself. The argument is that this is why Henderson should be in the team, that this is what Hendo is good at, and this is what Henderson typically does that justifies his place in the team. Nevertheless, this was Henderson's first goal or assist in 18 months, showing that what he was doing – and doing well in this game, is a fundamentally different thing to what he's been doing for the last three seasons under Klopp.
I've consistently argued that Fabinho should start in the midfield, and whilst that's often construed as criticism for Henderson, what it is for me is a positive argument for another player, and an acceptance that in the system Klopp has been playing and the roles that he's been giving certain players, that means that Fabinho and Wijnaldum will be first choice ahead of Henderson.
However, there remains plenty of scope for Henderson to start regularly in the midfield, giving both Wijnaldum and Fabinho a chance to be rested. Moreover, if Henderson can continue to show he's strong in the number eight position, particularly with Wijnaldum in desperate need of a rest, then there's plenty of scope for a Hendo-Fab-Keita moving forwards, a midfield that for me would broadly keep the strengths of a Gini-Fab-Keita midfield.
The point remains, however, that trying to use Henderson's performance against Southampton as evidence that he should start in the lone six role, or that the much-maligned Hendo-Gini-Milner midfield works is simply fallacious.
That isn't necessarily what people are doing by the way, and it's certainly nothing ground-breaking to say that Henderson might be better in a forward role, this is something people have pointing out for the entirety of Klopp's tenure for goodness' sake.
Nevertheless, whilst Henderson's performance off the bench against Southampton was excellent, I don't believe that it fundamentally changes the conversation around the midfield. It also doesn't change the fact that Henderson was awful in the previous fixture against Spurs, and it doesn't change the fact that Wijnaldum was a big issue in both games, largely because of how many minutes he's played this season.
My point here isn't to criticise any individuals. I think Henderson is excellent at what he does when he's given the chance to do it. I think Wijnaldum has been an instrumental player in our midfield this season. I think Milner has played a really important role in our season. I think Fab is our best midfield and has consistently shown that over the last six months. And I think Keita has consistently when given the opportunity, shown he brings something different to the table.
My point is just that a terrific half an hour cameo in a midfield structure fundamentally different to the one he normally plays in, and one that plays to his strengths shouldn't be used to negate criticism of a fundamentally different system in which Hendo plays a completely different role.
If anything, the second half against Southampton should reinforce the argument that to get the best out of Henderson, he needs to be played in a different midfield to the one that he's been used in predominantly this season.
Klopp is having a storming season and consistently picking the right solutions to certain problems. Against Southampton, he tweaked the team perfectly to counter the problems that Southampton gave us in the first half, wisely noting that a team like Saints would struggle to maintain their strong pressing system over 90 minutes and that fresh legs like Hendo would cause them problems. Klopp's subs, in general, this season have been very strong and it's an area of his game in which he has improved immeasurably this season.
That doesn't mean to say however that he's faultless, and on numerous occasions in 2019, Klopp has made some tactical errors with regards to the midfield, and has been let off the hook by the quality of the team, and the mentality which he himself has done a phenomenal job to instil in this team.
And so the Henderson debate will rage on, with one side and the other both determined to prove that either he's the captain this club deserves or a complete waste of space. But I genuinely think this is a case of two sides of the same coin being unable to agree when most of them share some variations of a similar opinion. That Jordan Henderson is a very good midfield player with certain strengths and certain weaknesses, and that any midfield with him in needs to focus on the former rather than the latter. And too often, in my opinion, in recent weeks, Klopp hasn't been able to get the best of him.
But against Southampton he did. And with Liverpool less than a dozen games away from a league/European double, Klopp just needs to continue to find ways to win games.