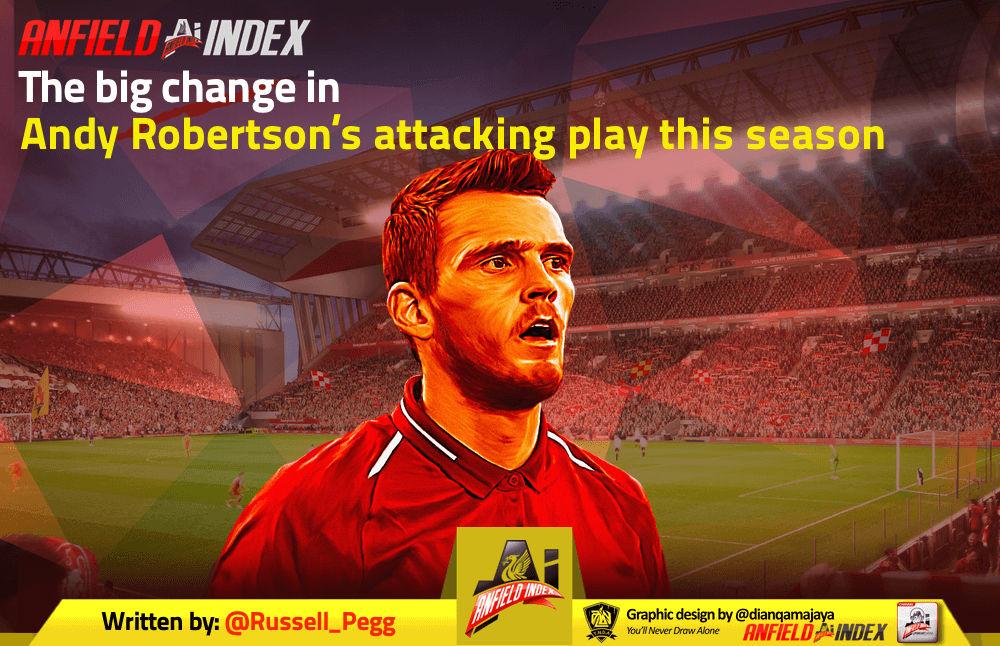 The Big Change in Andy Robertson's Attacking Play This Season

Andrew Robertson #MyLeftBack pic.twitter.com/FABJXFANCP

— SH (@Sennesation) January 15, 2018
Andy Robertson – so good that even Manchester United managers can't stop themselves from enthusing about him.
Here, we'll compare his underlying numbers from last season and the present campaign, and we'll see that while many of Robertson's top-line stats have remained much the same, there's one pivotal area of the Scotland captain's game that's changed this term.
Measures of excellence
Let's start by underlining just how remarkable Robertson has been this season. He currently has the fourth-highest number of assists in the Premier League. To put that in context, over the past decade only one defender has ended a season among the EPL's top-ten assist providers. That, alas, was Leighton Baines, who managed it on three occasions from 2009-15.
For many of us, though, La Liga represents the holy grail in terms of attacking full-backs. But even there, in the same time period Dani Alves only finished in the top ten three times, Marcelo twice and Jordi Alba just once. Over in the Bundesliga, the great Philipp Lahm managed it in only one season. So it's very rare indeed for defenders to post numbers like Robertson's this term.
Expected assists (xA) figures compare the scoring opportunities that a player creates to very similar previous chances, in order to gauge how likely it was that those opportunities would result in a goal. And while Robertson has been over-achieving a little by this metric, it's still clear that in terms of chance creation he's among the elite defenders in the major European leagues.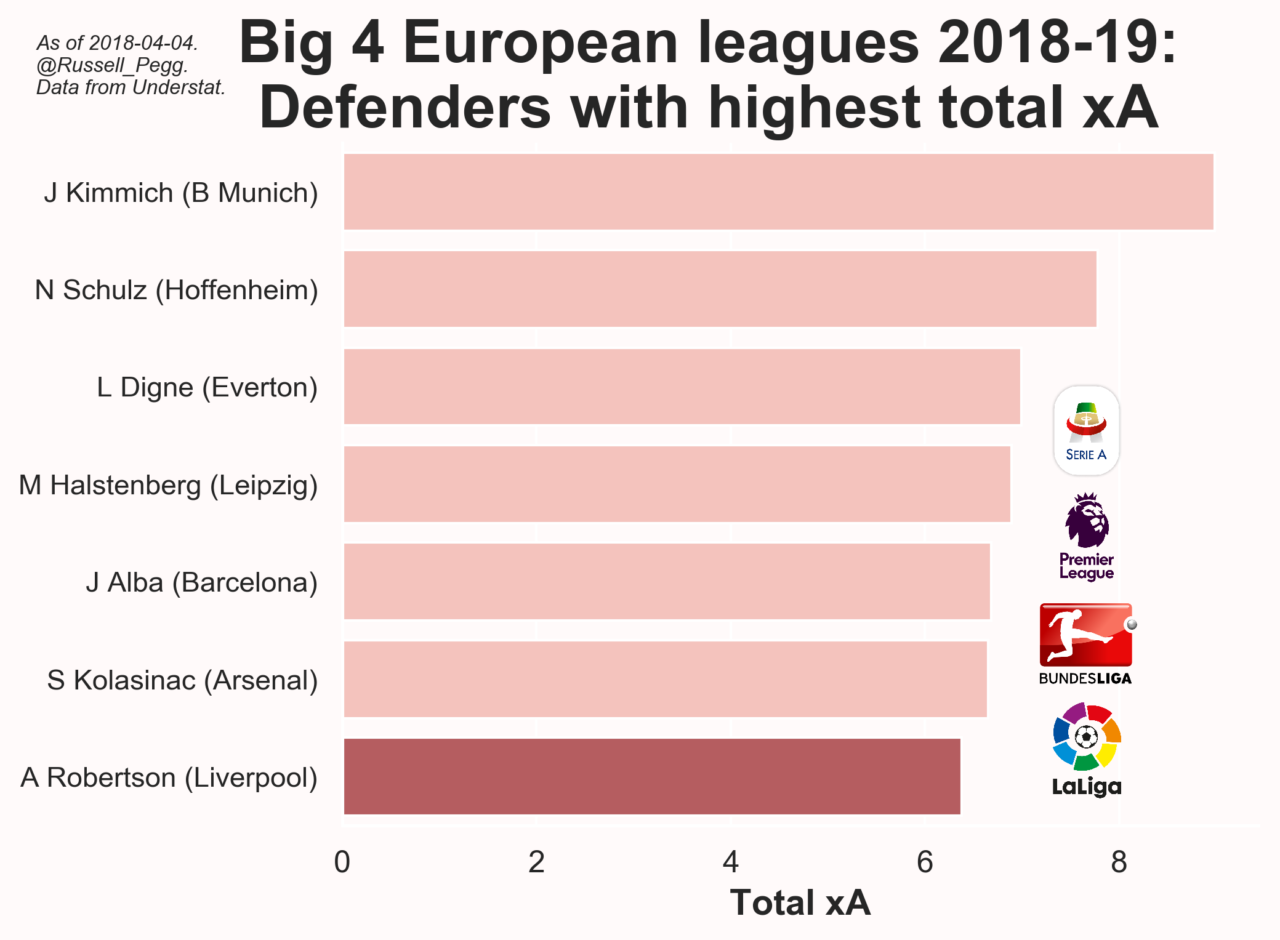 There are some important qualifiers to point out here as well that make Robertson's output even more remarkable. Firstly, Joshua Kimmich has played five games in central midfield. Secondly, both Sead Kolasinac and Nico Schulz have spent most the season as wingbacks in a 3-5-2 or 3-4-3 formation.
So in terms of at least loosely comparing like with like, the only players who rival Robertson are Jordi Alba, Jordi Alba's old back-up who now plays across Stanley Park, and RB Leipzig's Marcel Halstenberg, who coincidentally was let go by Dortmund when Klopp was in charge there.
No defender in Serie A even comes close to Robertson this season, by the way. Sassuolo's Pol Lirola has the highest total in the Italian top flight with 4.77 xA.
Spot the difference
While Robertson enjoyed an impressive first season at Liverpool – not many of our players have their names sung at Anfield within a few months of making their debut – it feels as if he's reached another level this term. But what has really changed in terms of his play, if anything?
Well, if we look at the areas of the pitch in which he's had the ball, not much.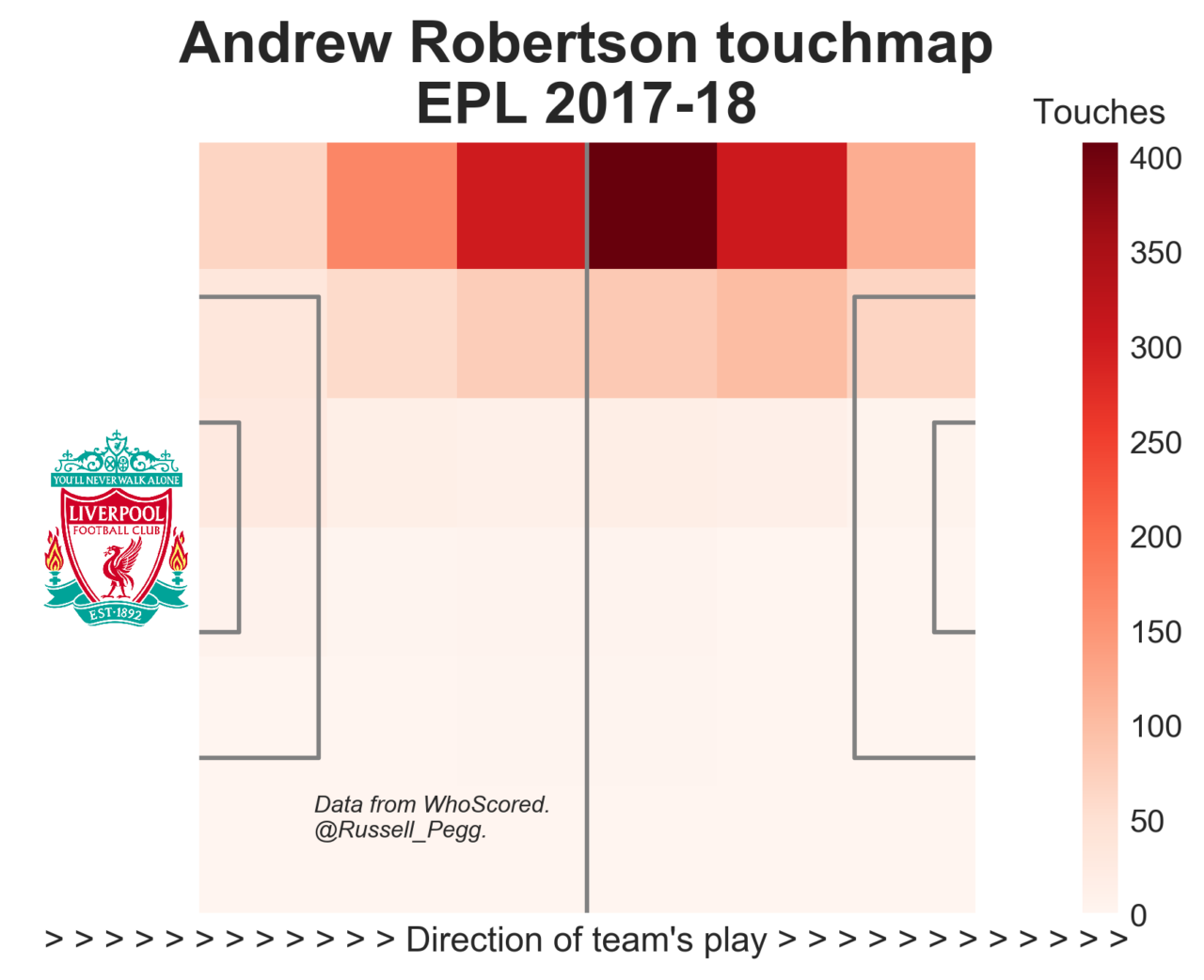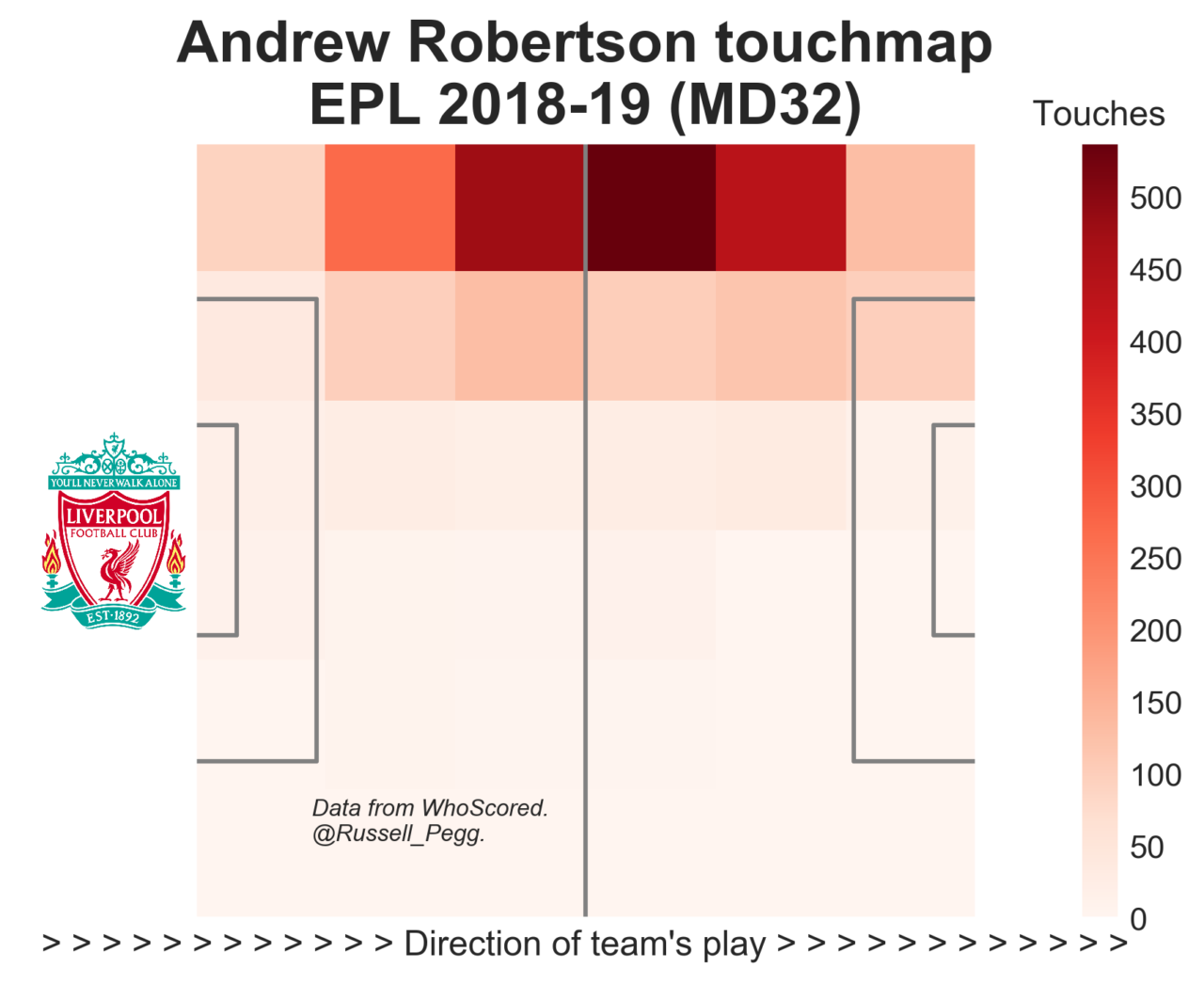 The deeper shades of red indicate that Robertson has seen more of the ball this season, but we'd expect this given that he's spent more time on the pitch.
Coming into Friday's game, he'd played 2,685 minutes in the Premier League this term, compared to 1,943 during the whole of last season. That's an increase of 38 per cent. And if we look at the numbers of touches in the various pitch zones, we can see that they've risen by broadly the same proportion.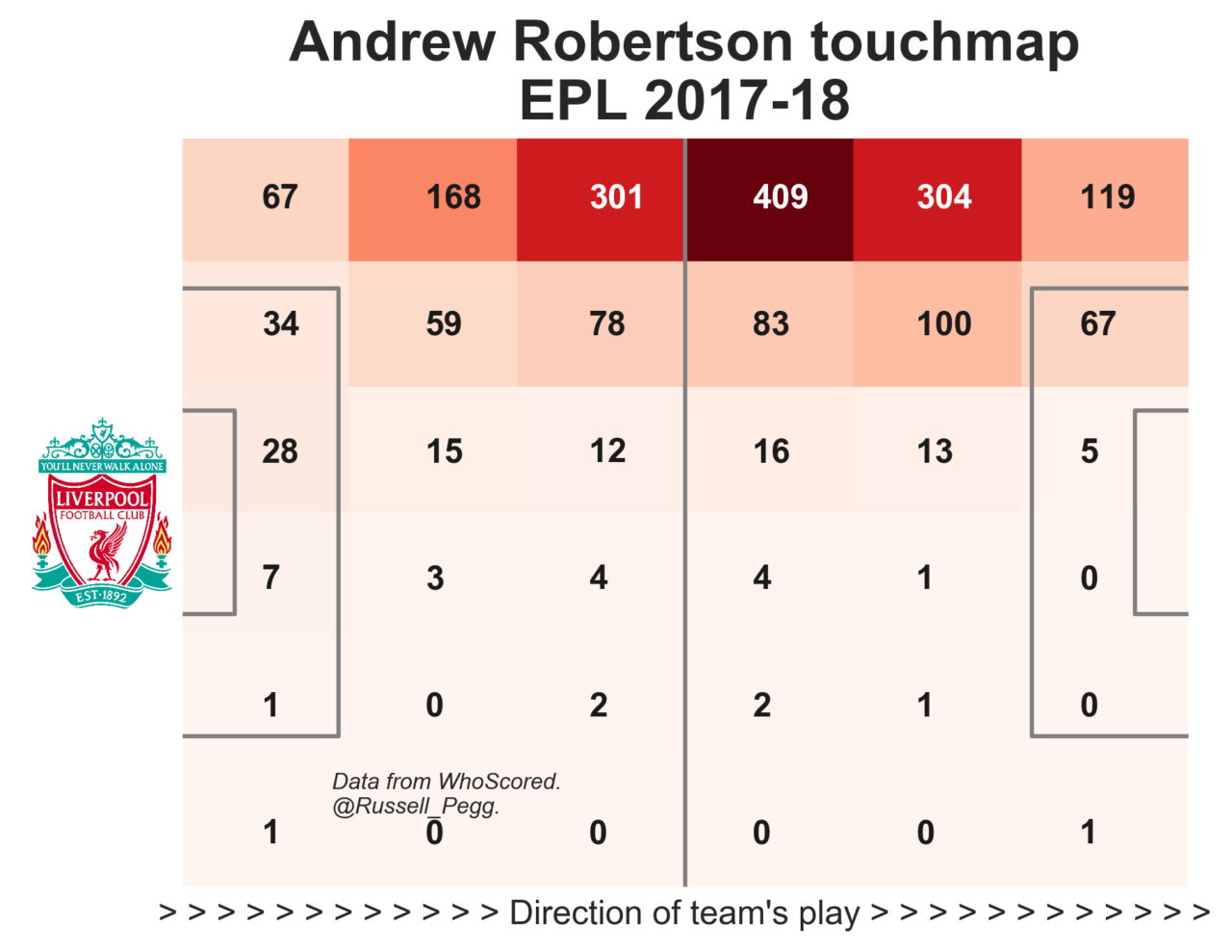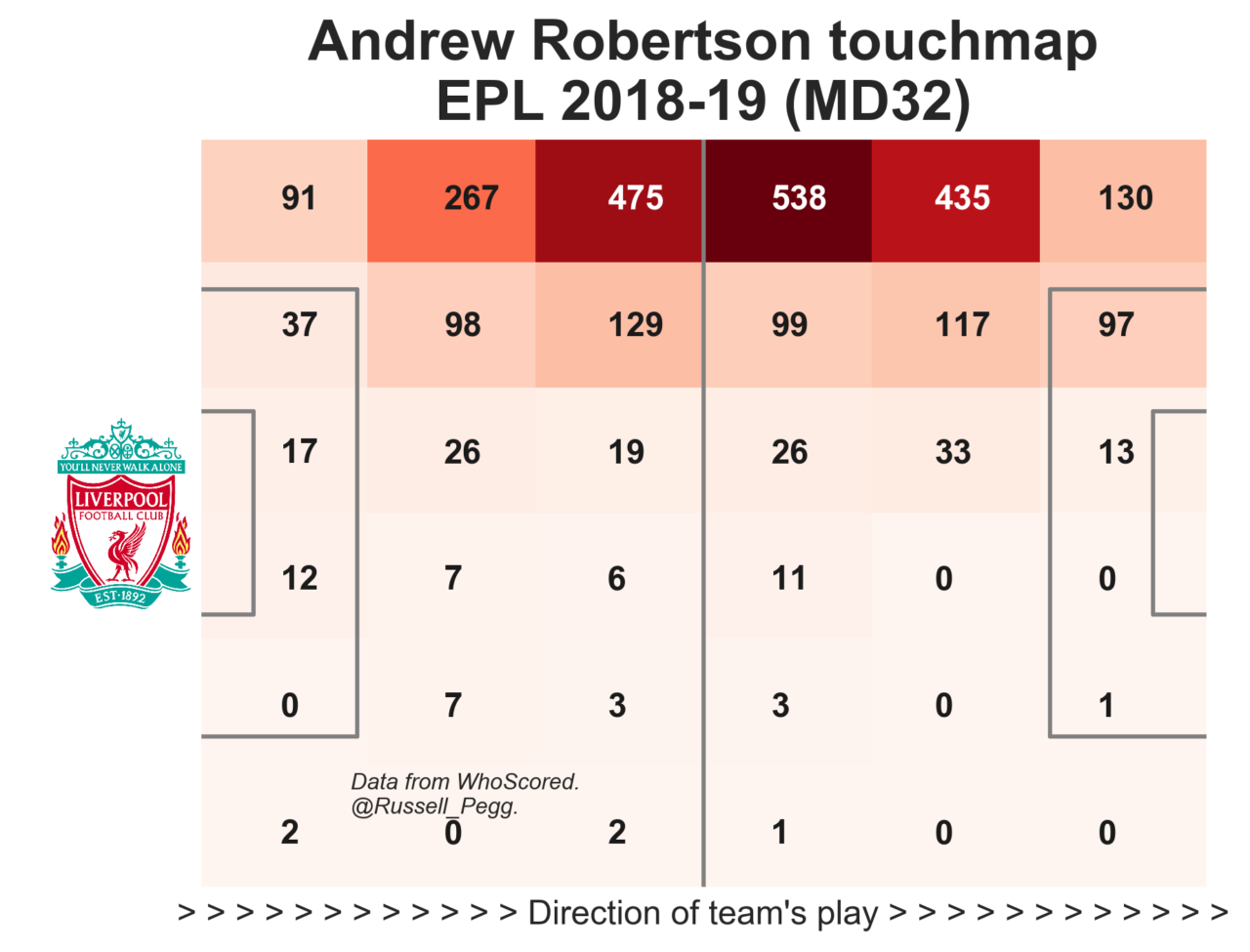 Take the two zones in the top row immediately to the right of the halfway line, for instance. The season-on-season increases from 538 to 409 and 435 to 304 represent 32 per cent and 43 per cent respectively.
And if we look at some of Robertson's top-line stats from the two league campaigns, we can also see that in many respects his game has broadly remained the same.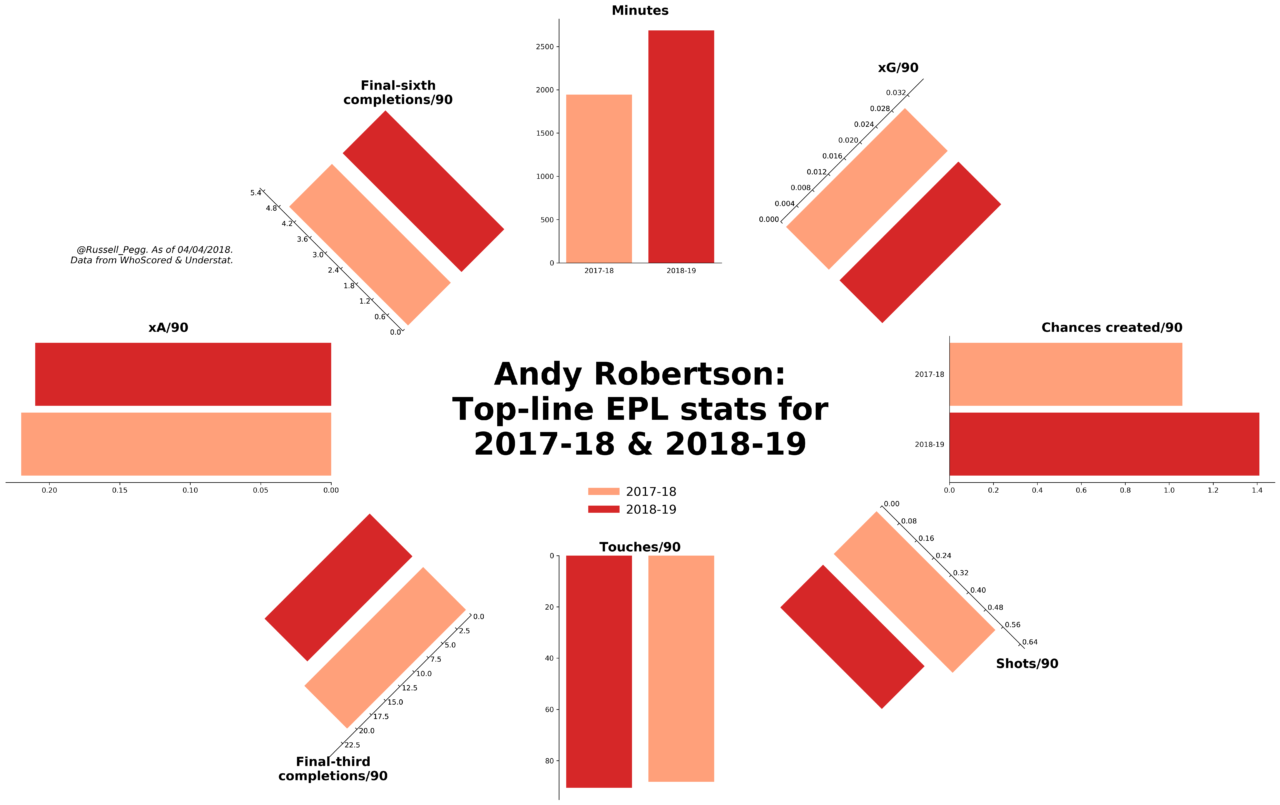 Aside from the aforementioned increase in playing time, the only conspicuous difference is in the number of chances that the left-back is creating per 90. But even then, the sum quality of those opportunities is almost identical – his xA per 90 numbers are down very slightly, in fact, from 0.22 in 2017-18 to 0.21 this season.
Small change
In terms of the way in which Robertson is generating those chances, however, there seems to have been a very important development.
Here's his chance-creation map for the 2017-18 campaign. As you can see, all bar one of Robertson's big-chance set-ups came from within 18 yards of the opponents' goal-line.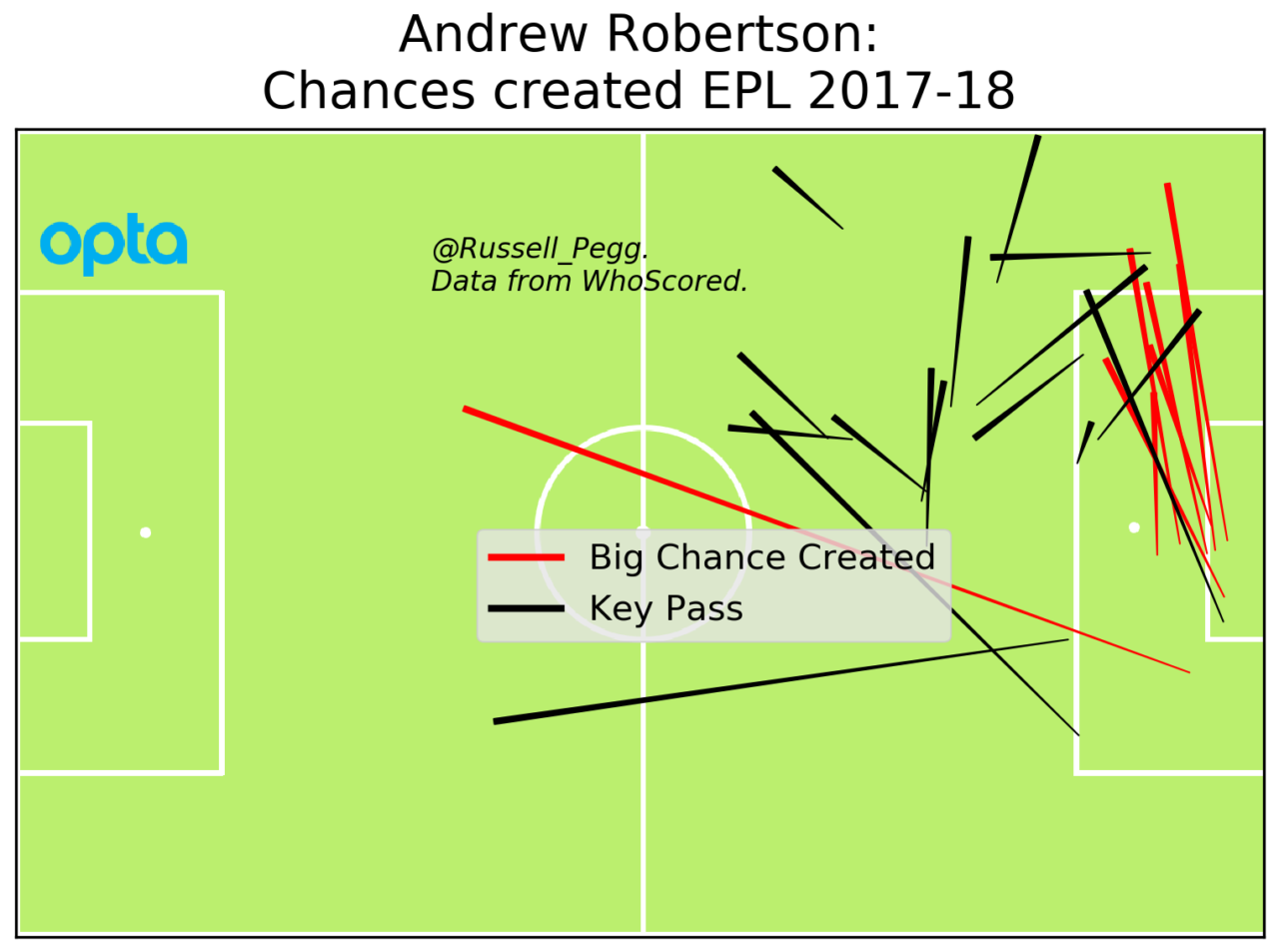 But if we compare that to this season's map, then two things are immediately apparent.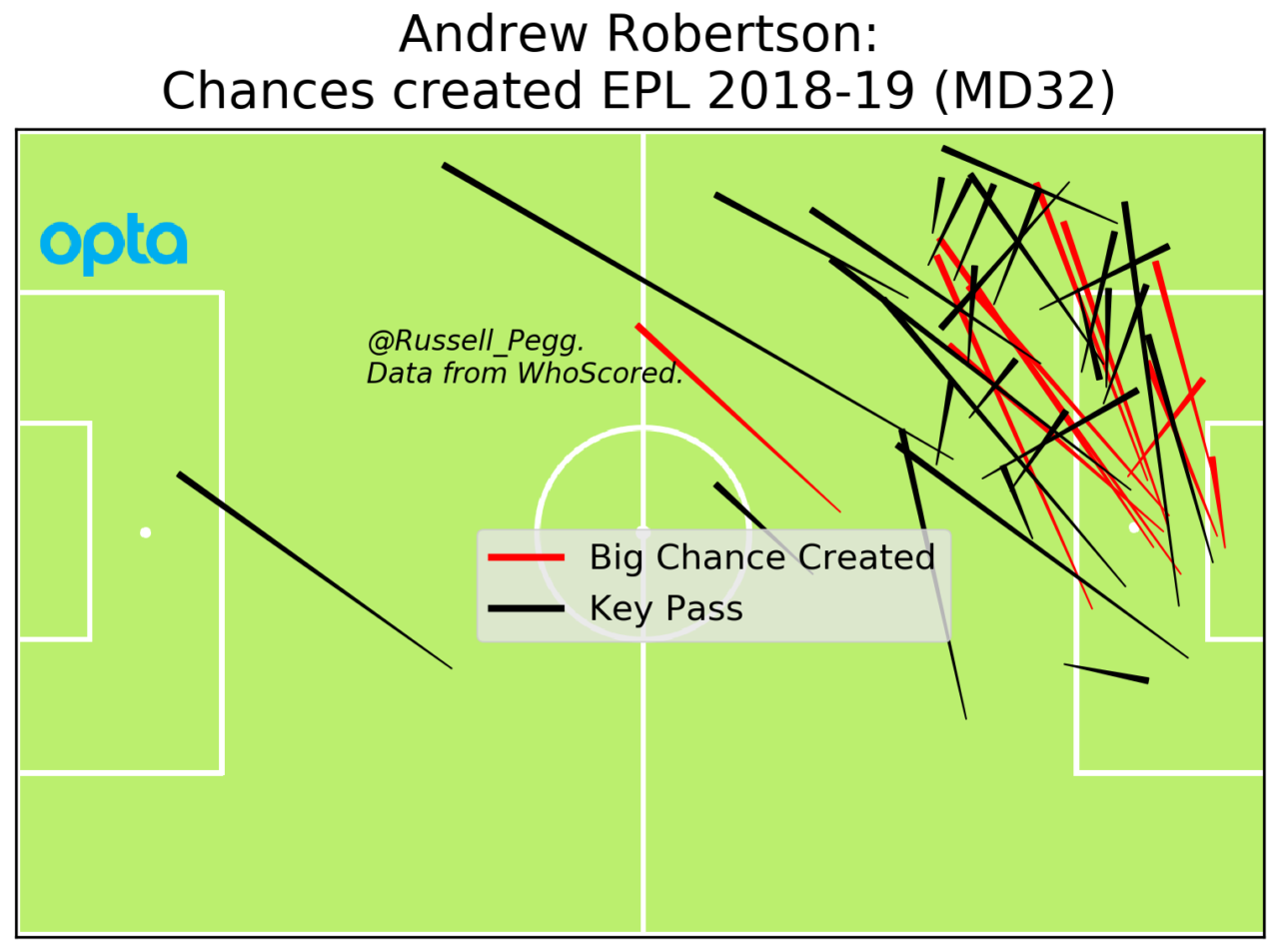 Most obviously, as touched upon earlier Robertson is creating a much greater number of chances. Perhaps more important, though, are the areas of the pitch from which he's setting up those scoring opportunities.
Although this may seem counter-intuitive for a player whose assist numbers have soared, it's clear that Robertson has been creating dangerous chances from much deeper positions this season than last, while nonetheless retaining a threat in the final sixth of the pitch.
Looking forward
Going back to the earlier point about Robertson's top-line numbers having remained largely consistent, it should probably be cause for optimism rather than disappointment. Because aside from the fact that he's been over-performing in terms of xA, it strongly suggests that this is his natural level.
And as we've seen above, that level is almost unrivalled in Europe's elite leagues.