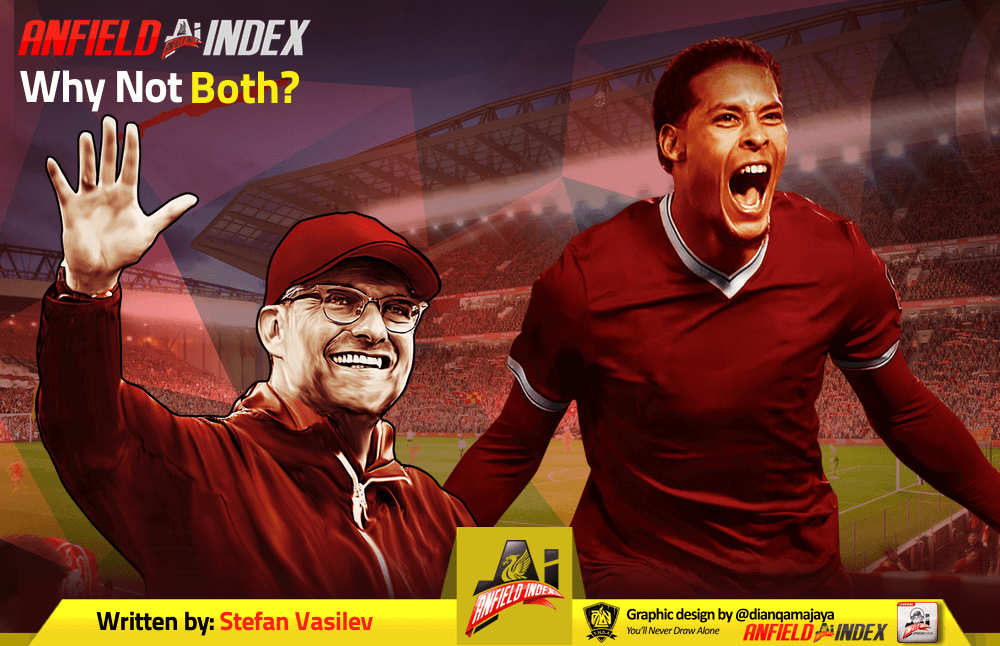 Why not both?
A lot has changed since the spring of 2014. Only two players from that squad are still with the club – the now captain Jordan Henderson and our back up keeper. And yet five years later we find ourselves in a somewhat similar position – playing Chelsea at Anfield in what could be a title decider. But unlike back then this Liverpool challenge does not feel like a one-off miracle run. We've seen the team evolve since Jurgen Klopp proclaimed he will make us all believers. The Reds have one of the best defences not only in the country but quite possibly in Europe; imagine stating that with confidence 18 months ago. Perhaps Klopp's (well all of LFC's management, including Edwards) biggest achievement is improving the defence without sacrificing anything at the other end of the pitch. The team has also lost a lot – a League cup final, a Europa League final and a Champions League final. As painful as all of those losses were, they built character in the squad. So after the wild ride, we've all been on over the last five years a question arises – why not both?
The road to glory
One of the perks of having a great defence is not having to go all guns blazing in every game. This has allowed the team to get results in the league after midweek European games:

The two draws this season came at Anfield against Man City and at Old Trafford. An incredible improvement of 81% in term of point per game. While we are scoring at a better pace than last season, the drop in conceding goals is jaw-dropping. With the defence leading the way the remaining league fixtures don't look too bad (all numbers are per game):

The Reds will have at least three days of rest between Champions League games and the following domestic match. Most of you probably have the run memorized by now. A quick glance over the table shows, that three of the five teams the Reds will face are scoring below a goal per game this season. Chelsea are obviously the most potent team but they are struggling defensively away from home. In their last six away games, they have only two wins – against Cardiff and Fulham while losing by a combined 14 to 0 to Arsenal, Bournemouth, Man City and Everton. That's hardly an inspiring form coming to Anfield. Cardiff plays Burnley and Brighton before the Reds visit Wales, followed by a trip to Fulham. With so many matches against direct rivals for survival, the Bluebirds situation is hard to predict but knowing how Neil Warnock tends to pick his battles it wouldn't be a surprise if he chooses a more unconventional line up against Liverpool. Huddersfield at home is probably the easiest fixture in the calendar on paper – a relegated team, which can't score and can't defend. In the last two matches, the Reds will face teams with likely nothing to fight for. Having the last and possibly title-deciding match at Anfield is a huge advantage, even if Wolves are still involved in the fight for the last Europa League spot.
Getting anything less than 13 points out of the last five games will be a disappointment. Even that might be in vain. Man City has a tougher run in but Guardiola's men have shown no signs of slowing down in their hunt for at least a domestic treble, riding an eight-game winning streak, while also getting a ticket to the FA cup final. If City wins out, there will be nothing else left for us to do than take our hats off.
European royalty
Since Jurgen Klopp took over he has not lost a two-game tie in Europe – reaching the Europa and Champions League finals in our two European adventures. The team is also yet to lose at home in Europe – the Reds have won 13 and drawn 4 times at with the German at the helm. The goal difference in those matches is 45 to 13. When the Porto visited last season, the tie was already decided and Anfield didn't show its power, this time around it is different. And if we manage to get to the semifinals, what a tie that would be – either facing our local nemesis or some of our best players in recent times. That home game will be what dreams are made of and our players have shown, that they rise to the occasion. The road to Madrid starts at Anfield.
Of course, the Reds struggled in away European games in the begging of the season. Our two worst performances in the current campaign came in the visits to Napoli and Red Star. The main thing that changed since then is Fabinho getting the keys to midfield. The second half performance in Munich was quite possibly the best European away performance by a Liverpool team since the Rafa Benitez years. The Reds could have gotten more credit for that but with the narrative being that we were flogging a dead horse, it kind of slipped through the cracks. Fast forward a couple of weeks and that dead horse destroyed Borussia Dortmund.
Over the last decade, most of us have forgotten what it is to be greedy. The goal always seemed to be to just be in the Champions League, reach top four somehow. And to be honest the club failed to achieve that a lot of times. And maybe we don't want to jinx it and are afraid to say it out loud. But what reasons are there to doubt the ability and resolve of the squad? No team has won more points from a losing position this season. All the late goals from all kinds of sources – the lads clearly have character and resolve. The team rarely lets a lead slip away, mostly thanks to the incredible leadership in the back line. The front three are still scoring for fun and even when we are struggling to score the bench has provided some deciding offensive play. There are very few reasons to doubt this team and some of us seem more worried about them than actually enjoying what we are witnessing. We are seeing the best Liverpool team in the memory of generation (I'm 30 and I certainly don't remember a better team) on the brink of achieving something that was unimaginable five years ago. So ask yourself why not both !?