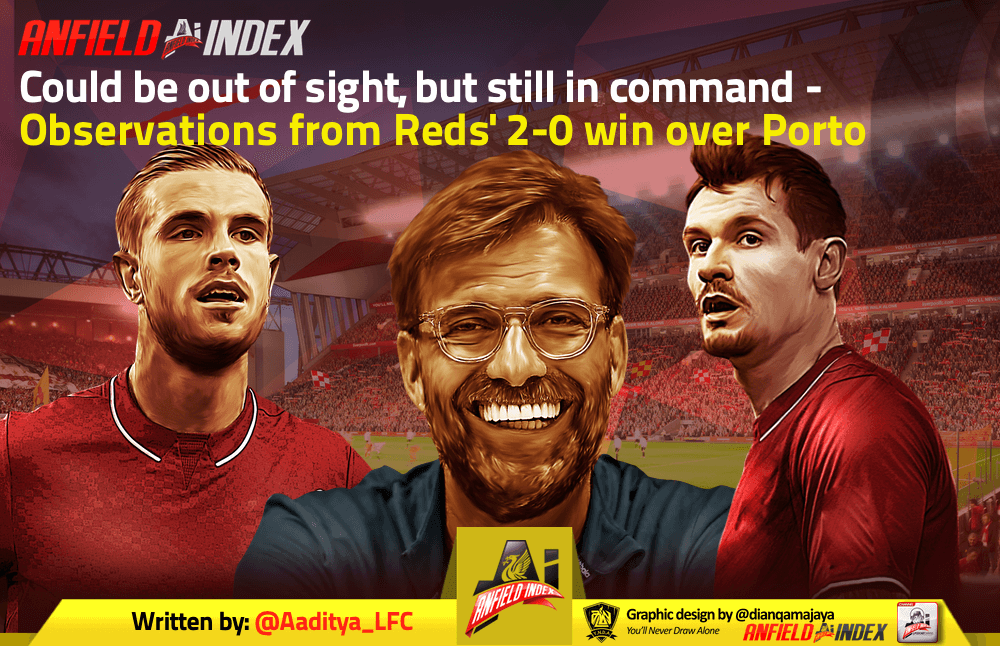 Could be out of sight, but still in command - Observations from Reds' 2-0 win over Porto
That could've been a lot better. But Liverpool are still in command of the UEFA Champions League quarterfinal tie against Porto, after a 2-0 win at Anfield in the first leg.
The Reds were superb in the opening exchanges, with Naby Keita opening the scoring via a lucky deflection off Otavio. Roberto Firmino capped off a superb team move in the 26th minute to put Liverpool in command. But, the scoring stopped there, despite plenty of opportunities for either side to add to their tally.
Here are the observations from the night

Commanding Jordan Henderson
This is the player he is. The unshackled runner. Not the meek, space-ignorant no.6. This is Jordan Henderson – the ball-playing, all-action box-to-box midfielder. It was his best game in a Liverpool shirt for a long, long time.
He played this role in the 2014-15 season – the last time he really did it, and managed 21 goal contributions in that season. Tonight, he was all over the right side of the pitch. He was making tackles, he was linking up with Salah and Alexander-Arnold, he was playing some delicious crosses, and he was creating chances. The Reds' second goal came off a superb through ball from Henderson to Alexander-Arnold.
He should have had an assist of his own soon after, but his superb cross fell to Firmino's left boot, and the Brazilian skied it. The skipper has shown promise in the last 120 minutes of football he's played as an advanced midfielder, and there's so much to like about it.
Is Naby Keita finally settling down?
That goal at Southampton did him plenty of good, didn't it? He's now showing more and more what a good player he can be. He's driving forward from midfield, he's passing the ball crisply. He's also got a nice understanding going with Sadio Mane.
His goal today was, well, lucky. Let's leave it at that. But he got into some superb attacking positions all game. Most important, too, is that he's not just carrying the ball into blind alleys anymore. There's purpose to his running, there's clarity in his passing. Positive signs.
Bobby Firmino is hitting form at the business end
It's been an indifferent season for Firmino. He's been critical all along, no word of a lie there. He's been popping up with crucial goals all season, too. But somehow, over the last few weeks, he looks more and more like the all-action Bobby he was last season.
Tonight, he was superb again. His hold up play was fantastic, his ability to come deep and carry the ball forward really helped Liverpool, his intensity and pressing was superb. And he capped it all off with a superbly taken goal as well.
Moussa Marega troubled Liverpool
It's not often you say that about a forward playing against Virgil van Dijk, but Marega really did give van Dijk a hard time in a few exchanges throughout the game.
But Marega was more visible on the inside-left channel. He was always looking to exploit the space between Alexander-Arnold and Dejan Lovren. Lovren covered beautifully, on occasion, for a shaky Alexander-Arnold. But he was also sometimes caught by Marega's pace and power in running behind the defence. Liverpool will need to be careful at the Dragao next week. Marega's finishing, though, needs to be a lot better than it was tonight if the Reds are to lose any sleep over him.
In Command
The tie isn't over. But it really is a superb position for Liverpool to be in. In the second half, Jurgen Klopp's side were faced by a Porto side that sat deep and were ready to not score an away goal in return for keeping the Reds' advantage to a manageable proportion.
Porto will have to come out and attack more in the second leg, and as we saw in the first half tonight, that will allow Liverpool plenty of space to counter-attack. Salah needs to be a lot better on the ball than he was tonight, Mane would love to be a lot more involved, but all in all, it wasn't an evening for complaints. It was one to celebrate a professional job well done. On to Chelsea on Sunday, now.