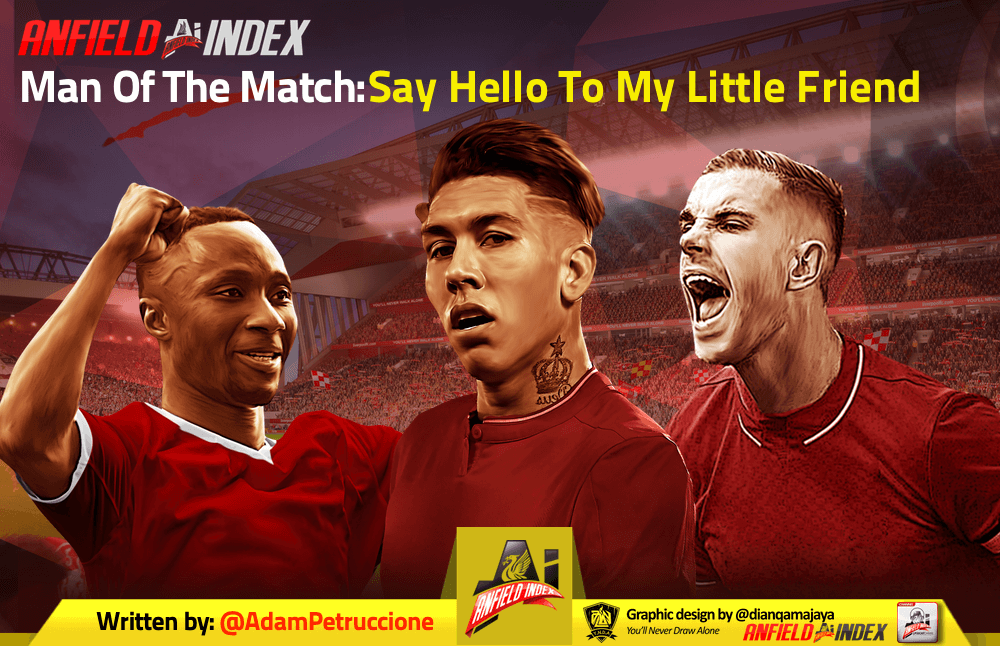 Liverpool 2 Porto 0 - Man Of The Match: Say Hello To My Little Friend
Jurgen Klopp is bringing out a secret weapon at the business end of the season that every opposing manager sorta knew that he had, but he wasn't using it, so maybe there was a problem with it… who knows.
Point is, Southampton and Porto walk in the door and Klopp says, "say hello to my little friend!" The little friend being one, Naby Keita, who is literally quite small, but he is capable of mowing down the opposition like Tony Montaña's machine gun in Scarface.
Was this in the manager's plans all along? Was Adam Lallana really going to start over him until his 3,000th injury opened the door for Keita? Details, details…
But, but, he doesn't track runners quite well enough on set pieces sometimes… *slap*
He's been involved in more than half of our goals in the last three full matches he's played (Bournemouth, Southampton and Porto). He is the leading scorer amongst our midfielders. He dribbles like Gini on his best day, presses like Firmino, and passes like nobody else in this squad. It is full on bonkers that he's been hidden away like last year's marshmallow Peeps, but the important thing is that he's here now and he's playing like he hasn't skipped a beat since his RB Leipzig days.
In the lead-up to the Porto home leg there was the familiar talk of how they were a sleeping tiger and we shouldn't underestimate them… yada, yada, yada. Liverpool just needed a decisive start to the match to put all that talk to bed and allow Liverpool to focus back on the league with Chelsea looming. And while Jordan Henderson and Bobby Firmino earn high marks for tearing around the pitch, Keita was calmly, surgically taking apart Porto.
His second goal in as many matches came just five minutes in, taking a deflection off of a Porto defender that made the ball bounce past Casillas instead of going straight by him. Then moments later, there he was again setting Firmino free in the box for what could have been a second. When the match was in the balance and there was still some doubt as to how easy this would be, our shortest player stood tallest.
Throughout the match he was dominant, bringing polish and productivity in possession and out. Keita finished with 8 tackles, double that of any other Red. His 2 interceptions were shy only of Fabinho and his 2 key passes were only eclipsed by Henderson. He completed 86% of his passes, higher than any other player in the front five.
https://twitter.com/lfcdata/status/1115724172494278656?s=21
I really don't care if our little friend takes every set piece off from here on out, eating a sandwich in the centre-circle until he's needed again. Naby Keita is a force of nature going forward for Liverpool and he is just as incredible breaking up play when The Reds don't have the ball.
Our manager, the one who just issued a "my bad" for playing Jordan Henderson in the six for the last 18 months, probably has an equally "aww shucks" excuse about not playing Naby Keita all this time. But, no harm, no foul if we win the double, and with Keita transforming the team, that seems positively possible.