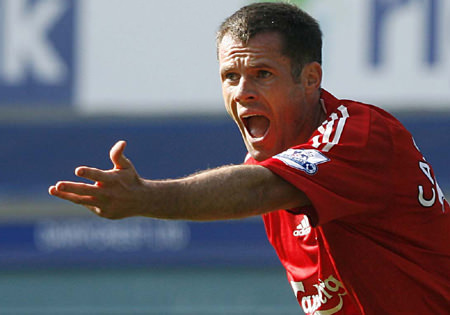 Liverpool's Defensive Line – With and Without Carragher
There has been an ongoing debate for some time now about the impact Jamie Carragher's lack of pace has on the Liverpool defensive line. There is a theory that Carragher holds the line deep to prevent younger, quicker attackers stealing a march on him on the break.
Carragher's calf injury has inadvertently helped us find out whether this is true. By looking at the Liverpool defensive line with Carragher (against Norwich) and without him (against West Brom) we can test whether the theory has any basis in reality.
Here are the central defensive Chalkboards from both games. For clarity, these are passing chalkboards which show each defender's position on the pitch when in possession of the ball:

On the left hand side of the screen are the Norwich heat maps for Carragher (top image) and Skrtel (bottom image). On the right hand side of the screen are the West Brom heat maps for Skrtel (top image) and Agger (bottom image).
We clearly spent more time near our own penalty area during the Norwich City game than we did against West Brom. The table below shows the difference:
Central Defence Heatmaps
Penalty Area
Mid Defence
Centre Circle
Total Time in Own Half
Norwich
Carragher
17%
39%
30%
86%
Skrtel
19%
45%
19%
83%
Total
18%
42%
25%
85%
West Brom
Skrtel
4%
67%
24%
95%
Agger
4%
59%
24%
87%
Total
4%
63%
24%
91%
With Carragher on the pitch, Liverpool's defenders spent 18% of their time near their own penalty area. With Carragher out of the team, the central defenders spent just 4% in this area. It is a fact, therefore, that Liverpool's defensive line was higher against West Brom than it was against Norwich. Let's have a look at the result of this in both games:
Liverpool v Norwich Match Stats
West Brom v Liverpool Match Stats
The key stats to pull out of the two tables above are "Shots on Target" and "Shots inside the box". Lying deep against Norwich enabled them to encroach into our penalty area more, and they managed 7 shots on target. Against West Brom, we restricted them to shooting from distance and they only managed one shot on target. With 28 unsuccessful shots, we can bemoan a lack of composure in front of goal against Norwich. However, it was the 5 shots we allowed them to have in our penalty area that cost us two points.
The other difference in the two starting line ups is that Danny Agger played against West Brom. A positive way of looking at the differences in the defensive line is that Agger's pace enables us to play a higher line. Here are four heat maps from games where Carragher and Agger played together in central defence this season to test this:
In all four games, Carragher is playing higher up the pitch than he did against Norwich. He obviously feels more confident getting forward when accompanied by the pacey Agger. However, in all but the game against Sunderland, Carragher's defensive line was deeper than that held by Agger and Skrtel against West Brom. We do, therefore, play deeper with Carragher in defence. The theory holds true.
Agger and Carragher are well suited partners in central defence, whilst Skrtel and Carragher are less so.
Liverpool have been very strong at the back in the first 10 games of the season. Only Newcastle and Manchester City have conceded less, so we must be doing something right. However, with Carragher turning 34 in January, he is not going to get any faster. The Liverpool defensive line whilst Carragher is in the team is definitely something to keep an eye on.
Follow me: http://twitter.com/#!/Joescouse_lfc