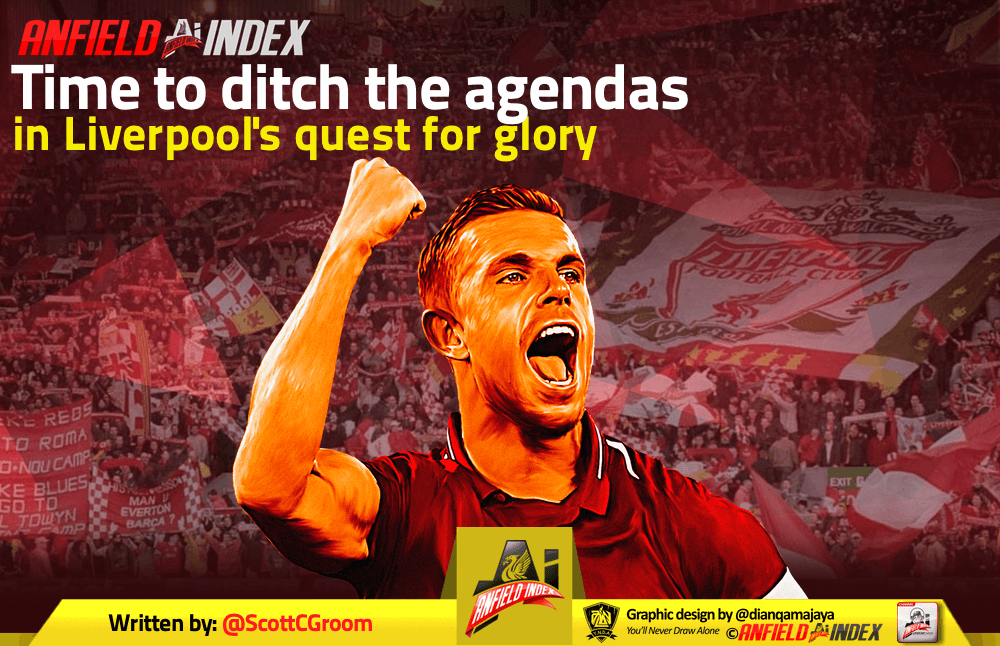 Time to ditch the agendas in Liverpool's quest for glory
With five games to go in the Premier League, and with one foot in the Champions League semi-final, Liverpool's season is finely poised with glory tantalisingly close.
It's so close, in fact, that you can almost taste it. The long 29 year wait for a league title is as close to coming to an end as it has been since the ill-fated 2013/14 season.
Following last season's disappointment in the Champions League final in Kiev, the Reds stand a very good chance of making it to consecutive finals looking to exorcise the demons of last season and add European cup number six to the Anfield trophy cabinet.

Yet despite the team all pulling in the same direction and doing the Club proud, there still seems to be a section of the fan base that wants to use it as an opportunity to lambaste and criticise a select few Liverpool players.
Now I'm not for one second suggesting that fans shouldn't voice their opinions openly and freely and engage in rational debate, but the witch-hunt that many embark upon on a weekly basis is scandalous.
Let's take a look at probably the most divisive character in Liverpool's team, and that's our captain, Jordan Henderson.
The former Sunderland man has shown an incredible amount of graft and guile to make it to where he is today, after failing to convince many in the infancy of his career at Anfield.
However, he's won over many people and has clearly impressed his managers, with Rodgers naming his as the successor to Steven Gerrard's captaincy – and Jurgen Klopp keeping him in that post despite much pressure externally to have it handed over to Virgil van Dijk.
Like pretty much any footballer in history, Henderson has enjoyed ups and downs, peaks and troughs in terms of performance levels at Liverpool, but recently he has been in inspired form, driving his team on like a true captain in the last two games in all competitions against Southampton and FC Porto alike.
Yet despite these stand-out performances, Henderson is still the victim of some scathing criticism.
In a time where the entirety of Klopp's squad is coming together and pulling towards the common goal of a first league title in 29 long years, why is that we as fans are simply jumping on the back of some of our players and not playing the part of supporters at all?
Beating players up on social media is not conducive of a positive mindset – and despite what players say, things that are said about them in social spheres are taken into account and to heart and can certainly have an impact on morale and confidence.
This is the most prosperous situation Liverpool have been in for some time, not only in the current season but for many years to come, with a squad built with longevity in mind. These players are going to be around for some time, helping Klopp build a consistently successful unit that is feared both domestically and in Europe.
So how about we do our job as supporters and support our boys. Let's push them over the finishing line and get the outcomes we all crave so badly.
The team is pulling together as one and trusting the manager, so so should we as fans.