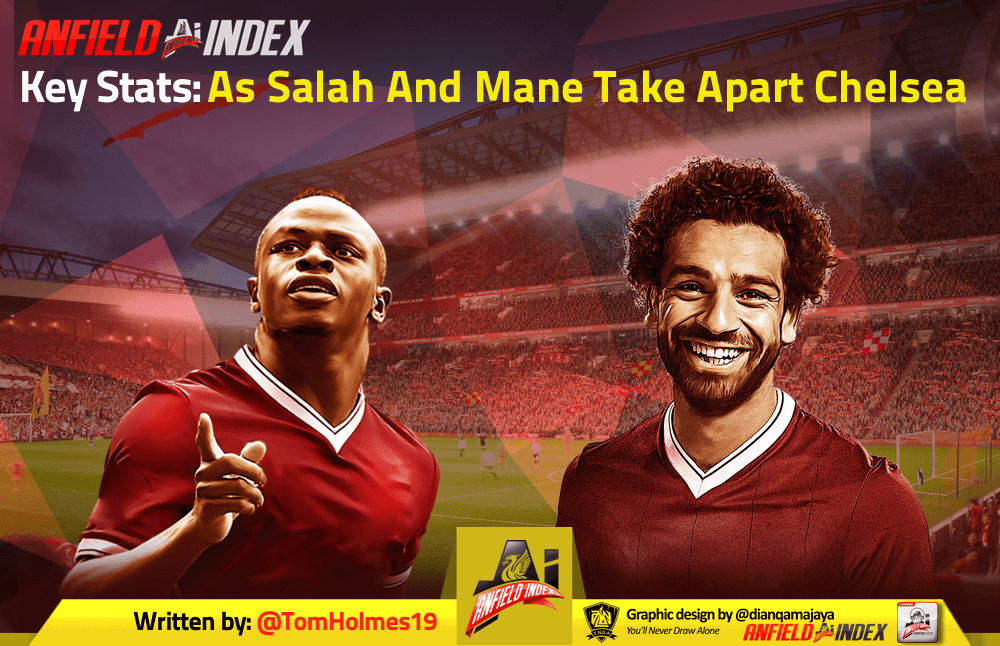 Key Stats As Salah And Mane Take Apart Chelsea

Liverpool roared back to the top of the Premier League with a superb 2-0 win over Chelsea. What ended up being a reasonably even game on paper was nevertheless one that Liverpool controlled from start to finish, and thoroughly deserved to win. But what were the key stats from a superb performance that leaves Klopp's side possibly four wins from glory?
Demons Defeated? Streak Over.
Whilst this was not a game that was about avenging The Slip, there was a nice symbolism to the moment where Andy Robertson slipped over and lost the ball, only for nothing to come of it. This game might not have been about that one, but it was Liverpool's first win at Anfield over Chelsea since May 2012, having drawn five and lost three at home since then, and only their third win against the Blues in 17 attempts, having won just twice in eight games under Klopp.
So even if this wasn't about beating certain demons and putting certain games to bed, it certainly was the case that it was a terrific result against a team who have consistently have the answer to Liverpool, both in Klopp's tenure and before then.
Reds Ride Their Luck – And Provide The Quality
Whilst Liverpool dictated the terms of the game for the majority of it, there was a ten minute spell where everything went to absolute hell in a high-basket, and the Reds were just more clinical. Of the game's 2.18 xG, 1.26 of it occurred between the 50th and 60th minutes, as all three big chances happened then (Mané's goal and Hazard's two misses), as well as Salah's absolute rocket.
Whilst there's no doubt that giving Eden Hazard two big chances to score inside two minutes is definitely not an ideal way to defend a two goal lead, other than that brief burst, the Reds kept Chelsea contained fairly well, limiting them to 0.27 xG for the rest of the match. The Blues had just four shots inside the box, with the other two barely chances of note.
That said, in allowing Chelsea's two big chances, Liverpool have now for the first time conceded at least two big chances to one team on multiple occasions this season, with Chelsea the only team to secure two big chances in the league on both occasions. However, their xG only being 0.87 means that only Arsenal and Man City picked up more than 1 xG both times they played the Reds this year.
Mo And Mané – Who Else?
Sadio Mané capped an excellent performance with a header to put the Reds in front, scoring his 18th goal in the Premier League (only Salah and Aguero have scored more now), as well as 21 goals in all competitions, the best scoring season of his career.
But, as ever, it was Mo Salah who stole the headlines, and the show, with his absolute screamer – his 19th goal of the season in the PL and his 22nd in all competitions. For the second season in a row now, Mo has reached 30 goal contributions in around 3700 minutes. Whilst his overall contributions are down slightly on last year across the PL and UCL, there's no denying his impact – and his numbers below from this game (courtesy of a thread from Dan Kennett) indicate that he is still, absolutely, Liverpool's premier attacker. That being said, all three of Liverpool's front three have contributed at least 20 G+A this season again (Sadio 21G, 1A, Bobby 15G, 7A and Mo 22G 8A).
Mo Salah had more touches than any Chelsea player. Let that sink in.

— Dan Kennett (@DanKennett) April 14, 2019