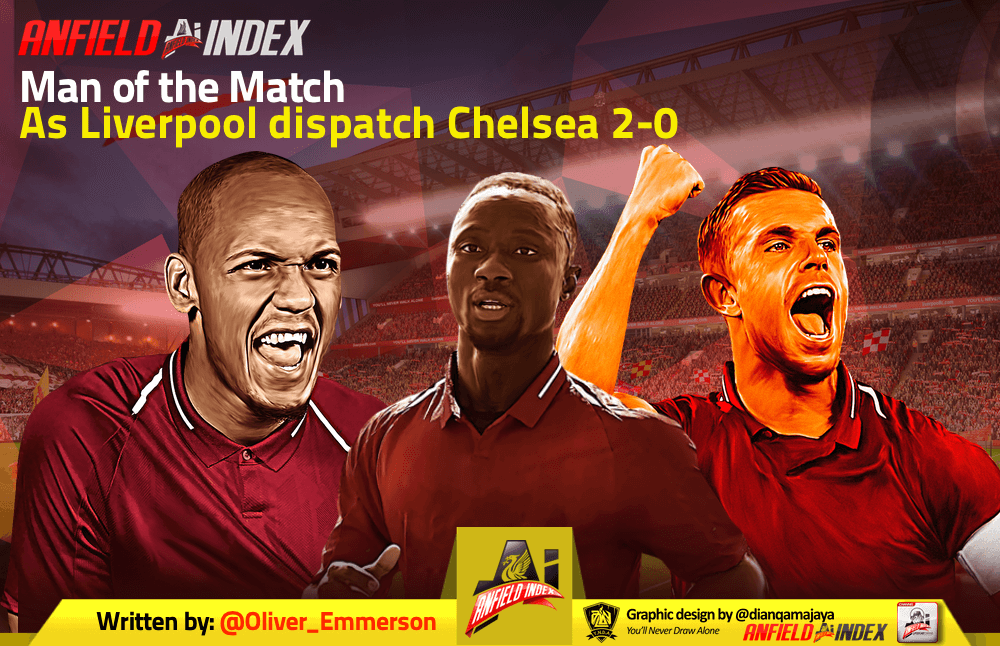 Man of the Match as Liverpool dispatch Chelsea 2-0

As Jordan Henderson moves seamlessly from defensive midfield to a more advanced role, I look to do similar by taking up the 'Man of the Match' element of this week's post-match work, rotating my 'Virgil Van Dijk (8): What a lovely beard he has' player rating duties to the lovely Aaditya Narayan.
And what a game to pick just one player from! The Reds fight another day in the title race with a 2-0 win over Chelsea, quickfire second-half strikes from Sadio Mane and Mohamed Salah securing three points and edging Liverpool ahead for another week at least in the title race.
We'll move on to Porto and the chance of another Champions League semi-final in the coming days, but for now it's yet another chance to bask in a league win, Liverpool's 26th of the season. So, this MOTM malarkey…
Honourable mentions…
Jordan Henderson: I'm disagreeing with Sky and not giving him the gong myself, however, the skipper does deserve credit for another impressive outing ahead of Fabinho. Started slowly (not badly) for me, before really coming into his own during the second 45. An excellent assist for Mane and gained confidence thereafter, charging about the place and keeping the tempo up as the Reds chased Chelsea back to London.
Fabinho: Talk about Henderson keeping the tempo up, Fabinho was the bloke that set it as he ran through Eden Hazard early on. Liverpool were in control on Sunday, not there to be harangued or bullied and it was the Brazilian that echoed that with his every move. Allowed nothing past him, worked the ball well going forward and even had time to send Twitter into delirium by clearing his nose three yards away from Hazard.
Naby Keita: Slightly less of an obvious choice than the two above him but Keita was one of the few Reds that started well going forward, dropping shoulders left, right, backwards, forwards, up and down as he looked to manoeuvre an opening. Felt his biggest contribution came in the second half as Chelsea enjoyed a flurry of Hazard chances post-Salah goal, he took some initiative to slow things down and dribble around a little before pinging one back to Alisson. Class.
Man of the Match – Mohamed Salah
Who else? Really? Yeah, great and all that Henderson put in a captain's performance but Salah was on a different planet to all others on the pitch.
After a week where his name was in the news for all the wrong reasons, none, of course, to do with himself, he gave people better reason to mention his name.
Starting sharply with a volley that troubled Kepa, Salah didn't look back. Sending Willian for a Mars bar and the evening paper some minutes later, he found himself one-on-one with David Luiz and it's arguable that only a stray touch off his right foot prevented him from winning a penalty. Not too long after he's expertly nodding one down for Henderson to strike, all this in a first half where Ashley Cole described Chelsea as 'the better team'.
Of course, it's the second-half Salah show and his goal that we all want to talk about. What a rocket his strike is, cannoning off that left boot and nestling in the top corner before Kepa's had a chance to acknowledge the Egyptian had even decided to shoot. A celebration to match the goal only perfected things, his 19th league strike of the season. He could've even had a second as Kepa kept one out at the near post.
Salah ended the game with 10 touches in the box, more touches than any player in blue, 4 key passes, 10 dribbles and 5 shots (thanks to Dan Kennett – @DanKennett) for those. Plus the one goal. One thunder-bastard of a goal.
MOTM: Mo.