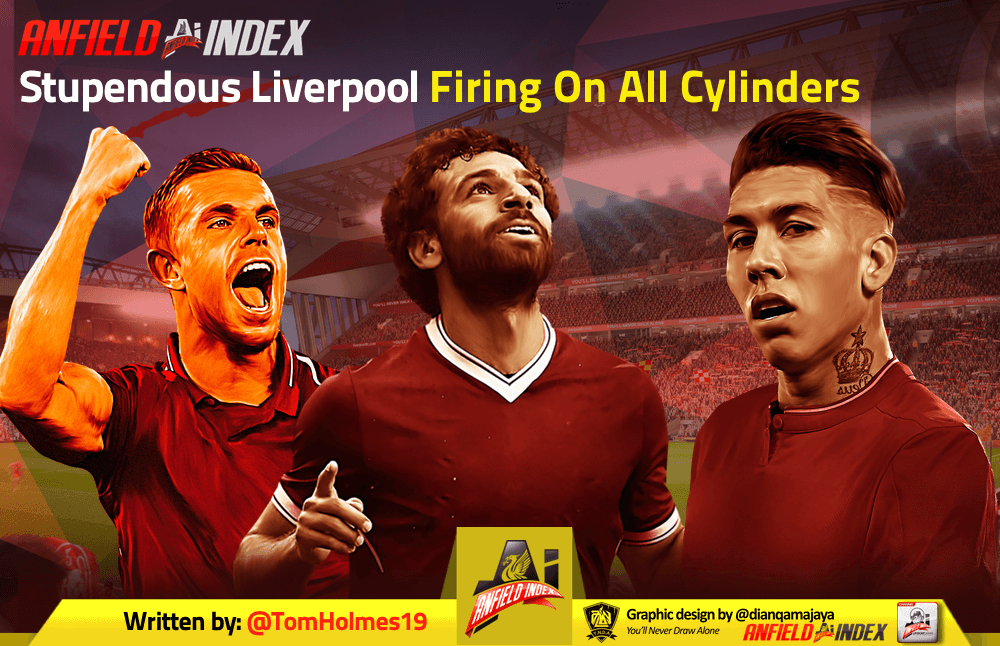 Stupendous Liverpool Firing On All Cylinders

Liverpool are on the brink of a historic season as they turned in an absolutely fantastic performance to see off Chelsea at Anfield. The Reds have managed to play their way into some excellent form, following up wins against Spurs, Southampton and Porto with their first win at home to Chelsea in seven years, and are now just four wins away from potentially winning their first league title in 30 years, as well as being half-way to a Champions League semi-final match-up.
The most exciting thing about this current Liverpool team is that there's absolutely no doubt that they have the quality to not only win their remaining four league games – against sides whose average Premier League position is 15th, with only Wolves at home a top-half side – but also that they have the quality to seriously test a Barcelona side that is far from the vintage sides of 2009 and 2011.
What this article is looking to focus on is the fact that this Liverpool side are peaking at absolutely the right time, and are not only starting to find a real balance and fluidity to their play, but are going into the most important stretch of the season with the entire team in good nick.
Against Chelsea, Klopp's side were a well-oiled machine, perfectly set-up and showing everything that they needed to show. Tactically, the Reds saw how Chelsea set up, and despite not creating any glaring opportunities in the first half, Liverpool were still able to dominate the ball, dictate the game, and created two or three decent openings – perhaps they were unfortunate not to be ahead at half-time.
But in the second half, they came out like a side possessed. The pressing side of the game had looked at it from minute one, but Liverpool were able to move Chelsea around, with Firmino and Salah combining brilliantly to create the space for Jordan Henderson to deliver his inch-perfect cross to the back post. The crowd were cheering before Mané even headed it in.
Chelsea looked shell-shocked and were fortunate not to be 3-0 down within a few minutes, as the crowd roared the home side on. If there was any doubt that Anfield would make a difference, both in this game and in home games to come – against Huddersfield, Wolves and potentially Barcelona, that would have been extinguished.
Overall, this was an absolutely classy performance, and one that illustrated that Liverpool are a side right now without any weak links. Goalkeeper Alisson and PFA Player of the Year favourite Virgil Van Dijk have marshalled the back-line brilliantly throughout the season, but Liverpool managed to make it back to back clean sheets for the first time since 3rd March, having conceded just four goals now in their last six games – all the more impressive when those games were Bayern, Spurs, Chelsea, Porto, Saints and Fulham.
But a huge part of that has been the resurgence of Joël Matip, who had almost been written off before the season started. Having now started every single league game since his return from injury against Crystal Palace. He's slowly but surely rediscovered the form that made him Van Dijk's first choice partner when the Dutchman joined last January. Even though he made an error against Chelsea, his overall performance was spectacular.
And then there's the full-backs. Andy Robertson was going through a sticky patch recently, but was excellent against Spurs and has been solid since. He was another player to make a mistake against Chelsea, but his overall performance against Hudson-Odoi was terrific.
On the other flank, the return of Trent Alexander-Arnold to the Liverpool side has been a huge factor in their return to form, with Trent notching 3.09xA and four assists in his last seven league games. Moreover, he's been defensively really solid too, particularly against both Chelsea and Spurs.
We know of course, what Liverpool's back five are all about. What has been less certain has been the midfield, but in the last two and a half games, Liverpool's midfield have been brilliant. Against Spurs and in the first half against Southampton, there was a really rocky sense that the midfield was in trouble, and Liverpool were struggling as a result.
However, when Klopp stumbled across the combination of Henderson, Keita and Fabinho against Saints, Liverpool found another level. They took the game away from Southampton, with Henderson notching a goal and assist, and Keita scoring. Then against Porto, Keita scored again and Henderson contributed a wonderful hockey assist for Firmino's second. And then against Chelsea, Henderson delivered a terrific assist for Mané's opener.
Henderson is the player I want to mention first, because he's been an absolute revelation in the last two and a half games, and it's in many ways been the catalyst for how good Liverpool have been over that period. In a more attacking role, he's contributed more goals and assists in three games than he has in the previous season and two-thirds.
But Henderson has been freed by the terrific form of Fabinho, who has demonstrated over the last six months that he's one of the best defensive midfielders in the league, if not in Europe. Moreover, alongside those two, Keita has quietly found some of his best form for the club, not just in terms of scoring two goals but in terms of his all-around contribution to the games Liverpool have been playing.
And then there's the front three. It's been quite rare this season that all three of Mané, Salah and Firmino have been in top form at the same time, but that's certainly the case now. Mané has been excellent for the entirety of 2019, but just as his form was threatening to drop off, he turned in one of his best performances of the season against Chelsea. Firmino, I've already written recently on how good he's been in the last half a dozen games, and he kept his high-energy, high-quality run going against Chelsea, albeit less so than the other two.
And then there's Salah, who finally ended his goal drought with a terrific goal against Southampton and followed it up with a goal of the season contender against Chelsea, to cap an almost perfect attacking performance.
So whilst the Chelsea performance itself was extremely impressive, what made it all the more exciting for me was that it felt like the culmination of the various strands of this team all coming together at once. We've seen it in fits and starts in recent weeks, with fantastic team performances against Bayern and Porto and certain elements on top form against Southampton and Spurs, but to see the whole team come together in such an explosive, controlled way, right at the perfect time in the season? That was what was truly exciting.
There isn't a single player in the starting eleven or a single element of the team that doesn't seem to be firing on all cylinders, and Chelsea was the perfect coming together of several strands that have been coming together over the last few weeks. Liverpool are now seven wins in a row in all competitions, and whilst they don't need to do that again to secure a historic double, if they do win their next seven games then there is every chance that they will be lifting at least one of the two top trophies, in England and in Europe.
And right now, they absolutely look like a side capable of doing it.