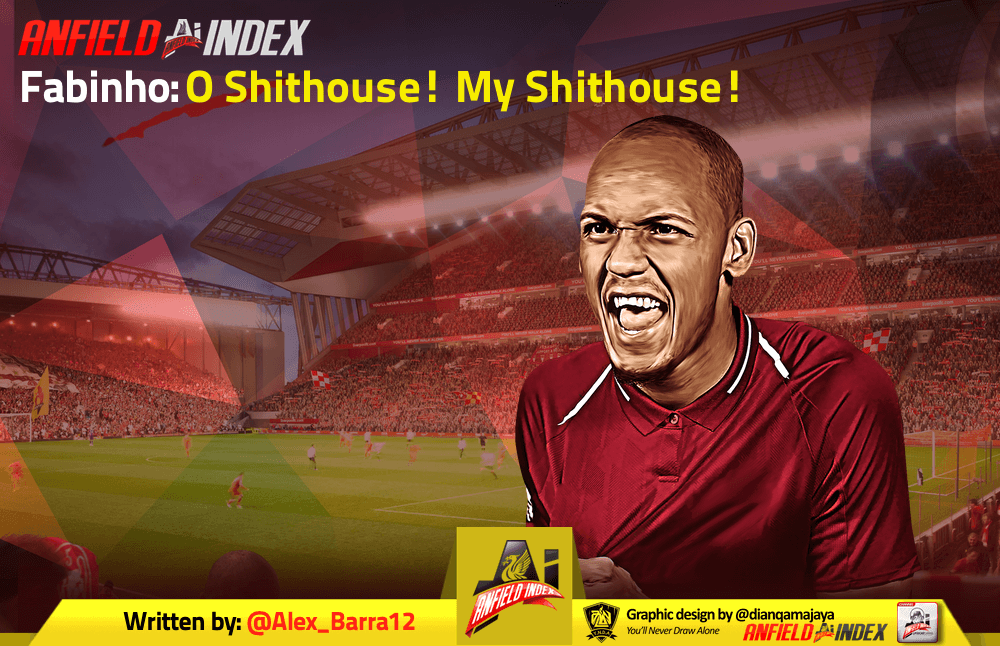 Fabinho: O Shithouse! My Shithouse!
It's been a long, long time. Too long in fact.
Javier Mascherano was the last of the Liverpool midfielders that really liked to put the boot in, that engaged in the dark arts of utter sh*thousery, doing the dirty work to make his more electrifying counterparts sparkle.
Now, that mantle has been well and truly taken. Finally, a steely, hardened midfielder sits at the base of Liverpool's midfield, his arms spread wide, commanding "Ye shall not pass."
In actuality, it's what separates Liverpool from Manchester City, on a very superficial level. Last season, Fernandinho was instrumental to Pep Guardiola's league title win, and may well be just as instrumental this term too. When City's Brazilian midfielder is missing, he's irreplaceable, the cog that makes everything run so smoothly is suddenly more noticeable than ever. This season, a key part of Liverpool's title run has been the emergence of their very own Brazilian sh*thouse.
It's more than just the robust tackling, it's more than acting as a fulcrum in the heart of midfield. Fabinho is plying his trade in the dark arts of tactical fouls, gritty duels and subtle digs to win the midfield battle, ensuring no attacking midfielder has a good time trying to get around him.
It is, in fact, an affliction which has been plaguing the Reds for so long. They've seemed to lack bite since the days of Rafa Benitez and his ultra-pragmatism, they've lacked a cutting edge that gets them up for big games when the game turns into more of a war of attrition for a few key minutes.
It happened against Chelsea and was calmly settled down by Naby Keita in the clip circulating social media of him motioning for the Reds to settle down. While the intensity was at its highest point, though, Fabinho was there to marshal it all.
Lucas Leiva was, to put it bluntly, terrible at it. His idea at sh*thousery was giving away a dangerous free kick on the edge of the area, and his tackling was always slightly off, his passing slightly wayward. He was an admirable servant to Liverpool football club and has proved his worth as a player at Lazio (winning their player of the season last season, although there is a suspicion that Liverpool fans may have hijacked the online vote) but he never exerted the kind of control that his compatriot does.
In the first half against Chelsea, Fabinho made more tackles (4) than any other player on the pitch. One of them was a crunching tackle on Eden Hazard that left the diminutive wizard on the floor for a few seconds, ensuring he wouldn't get the mental upper hand.
See, football's always being described as much by its mental battles as its physical ones, and Fabinho's presence as the fulcrum of the midfield has a doubly settling effect on the way Liverpool performs.
It allows Liverpool to move the ball quickly through midfield, knowing he'll be there to present, to pass, and to dribble if necessary (as he did against Porto in the Champions League.) He's also – as mentioned before – fiery in the tackle, and he makes more successful tackles per 90 than any of the other prominent defensive midfielders in the Premier League (Fernandinho, Jorginho and his teammate Jordan Henderson.)
His importance as the number six has become undoubted. He didn't start in either of the losses to Manchester City and Paris St. Germain and played a more advanced role in the 0-0 draws with Manchester United and Everton. When he's acting as the deepest midfielder, he enables Jordan Henderson to maraud up the pitch in his box-to-box role and gives Naby Keita the freedom to do what he does best: dribble past players.
But it's not only that: the opening goal against Chelsea didn't come the incisive pass, nor the backheel of Firmino, but rather it was started by Fabinho casually shoving Willian aside and shouldering the ball down, almost lackadaisically. It was calm, composed, and the act of an utter sh*thouse. And it was beautiful.
After the match, Jamie Carragher said Fabinho had the role as the deepest midfielder "nailed down" – and for good reason, he had Chelsea's midfield nailed down every time they tried to build something. Cynical, brutish tackles meant they were in for a bad day, and a very good chance they created bypassed the midfield completely.
Yet, against Porto, he delivered a perfectly placed sweeping long pass to Mohamed Salah.
Get yourself a midfielder who can do both. Liverpool did, to everyone's surprise, and they are clearly all the better for finally regaining their little bit of sh*thousery.