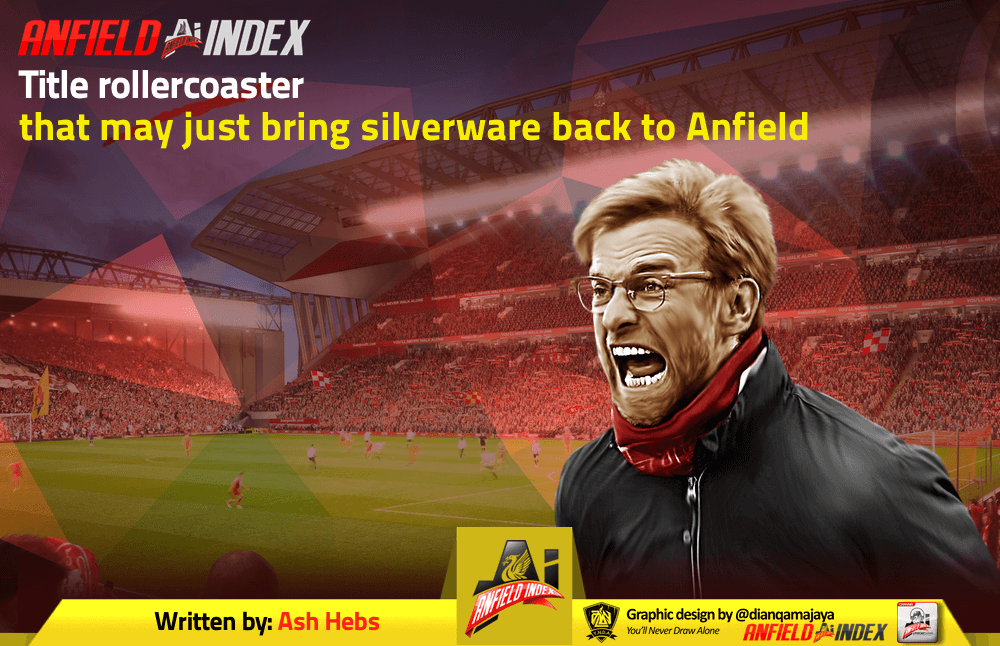 Title rollercoaster that may just bring silverware back to Anfield
I've got to be honest. After the Everton draw I was devastated.
It wasn't so much that there weren't enough games left to continue our title bid. It wasn't the fact we lacked the quality in the squad.
A Stale Approach
For me, it was the flatness of the performance following a similarly uninspired performance against the Red Devils a week earlier. Two draws following two similarly poor performances just a few weeks earlier against Leicester and West Ham. Eight points squandered which allowed City to overhaul us at the top of the table.

Our attacking play was looking predictable, tired and stale. Our flat midfield selections showed a lack of thrust or incision. Despite having creative sparks like Naby Keita and Xherdan Shaqiri in the squad, Klopp wasn't using them. Was Klopp being overly, or unnecessarily, cautious?
Whichever way you looked at it, the margins had become too slim for error. If you asked me back then whether we would go on to win all three tricky fixtures against Spurs, Southampton and Chelsea then the answer was a clear no. We didn't appear to be a team that could suddenly get that kind of consistency back.
Turning the form-book on its head
However, the form-book since the Everton game has shown that Klopp's team are made of much sterner stuff. They simply aren't going to surrender the Premier League to Man City without a real fight.
We've passed all the toughest tests with flying colours these past few weeks. In the league, and in Europe, we've been pretty much perfect. Naby Keita seems to have finally arrived, Jordan Henderson (if more through accident than design) has looked inspired in an attacking midfield role which he seems to be relishing. Mo Salah seems to have broken his goal drought duck. Everything is converging nicely for a prolonged assault, domestically and in Europe.
I now believe that we could win all our remaining league fixtures and you'd have to think that should be good enough to land the title. I don't think Klopp has done anything particularly revolutionary tactics wise, we've ridden our luck, we've had some breaks. But we've shown real grit, determination and nerve to put ourselves in the position we are in. We are a team in form and strong in belief that we can win some silverware this season.
A response to City
I half watched the Palace v City game this past weekend and I must say I felt flat after watching City ease to a win without ever breaking out of third gear, in supposedly a tricky away fixture. It turned out to be anything but.
It was enough to play with any onlooking Liverpool players' heads. Salah himself confessed to keeping an eye on our rival's game. I am sure so did many of our other players. Having to "go again" after seeing the ease in which City dispatched a sorry Palace team was not easy.
We started well against Chelsea but didn't get the early goal. That maybe helped us rather than perhaps scoring too early then getting a bit nervy later on. I wasn't sure what to expect going in at half-time goalless. Was it going to be another of those frustrating afternoons where we couldn't find the breakthrough?
In the end, we were able to out-play a gritty Chelsea team. The boys deserve huge credit for keeping their heads and going on to score the goals and win the game in the manner they did. Our composure after a 0-0 first half was top class. As much as the City win was deflating for us, it must have been equally so (if not more) for the City players to see us win in the manner we did.
What next?
There's no reason why Liverpool cannot now go on to hit 97 points. It is far from easy but we've shown we have the nerve to do it. If City slip up, I am hopeful that the players and manager will have learnt from previous missed opportunities earlier in the season to capitalise.
This title race has been a real roller-coaster of emotions but Liverpool have put themselves in a great position to win it. We can't really ask for more than that. It's going to be nervy but it's become an enjoyable journey that we'll never forget.
This side is the best Liverpool team we've seen in the Premier League era. It's not a perfect team by any means, but the manager and players deserve immense credit for the quality and consistency they have shown. Let's hope their efforts are rewarded with the silverware they deserve.
Up the title challenging Reds!