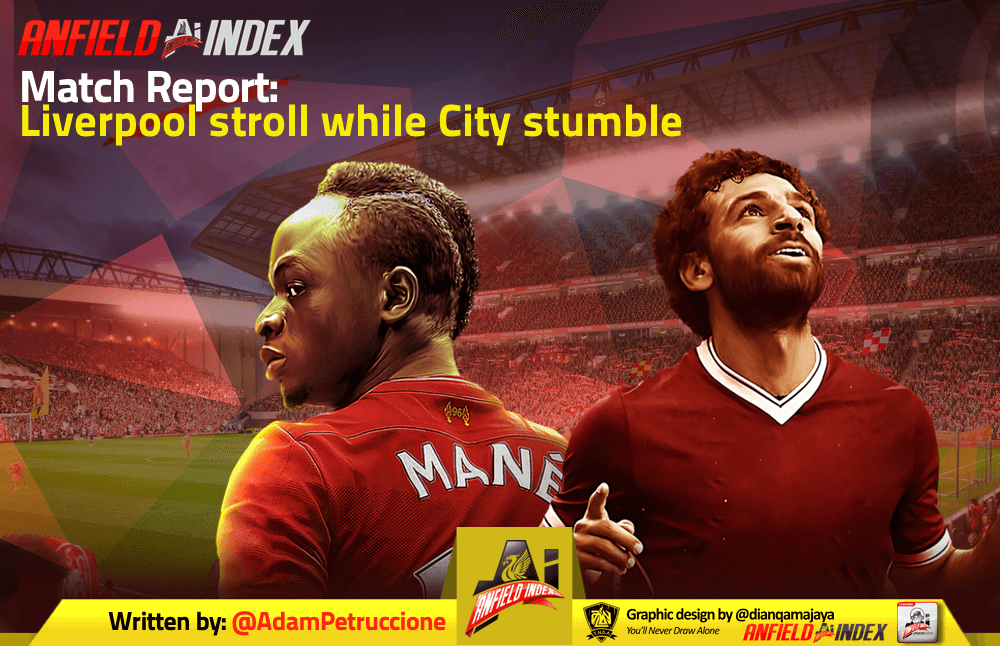 Match Report: Liverpool stroll while City stumble
Match Report: Porto 0 Liverpool 2
Champions League quarterfinals aren't supposed to feel this casual. Nothing Liverpool related is supposed to feel this casual. And, so it was that what you might have thought would be a sunny trip to northern Portugal would end up being a deluge.
Jurgen Klopp sent out a strong side while resting three. Jordan Henderson picked up a knock late in the action against Chelsea, Bobby Firmino deserves a rest more than anyone and Naby Keita is still being eased into the line-up and was wisely held out for bigger matches down the road.
Divock Origi, James Milner and Gini Wijnaldum took their places in the eleven with the young Belgian being rewarded for his stellar work in 2019 according to the manager. Origi didn't start through the middle though, with Mané taking up the striker position and Salah on the right.

ANOTHER OPENER FOR MANÉ
The first goal would be vital. A score for Liverpool and the tie would be effectively over where a strike from Porto could unsettle The Reds away from home. Thankfully, Liverpool's striker for the day would open the proceedings. The Reds didn't look great from the opening whistle, with a hectic start, but Sadio Mané loves playing in Porto and scored from a sliding effort in the 25th minute from a Salah pass. The goal was initially ruled offside, but the conspiracy theorists got one in their column as VAR ruled in Liverpool's favour. No replays were shown inside the stadium but Salah must have a photographic memory as he was celebrating before the ruling came in.
Meanwhile, over in Manchester, there was slightly more action with 5 goals by the time Mané scored. Everyone has theories on what results in Europe would benefit Liverpool in the league, but it wouldn't break anyone's heart to have both Juventus and Manchester City out of the competition.
With "ALLEZ, ALLEZ, ALLEZ!" booming from the away stands, Liverpool trudged their way through the rest of the half, but weren't able to add to their heavy advantage. Jurgen Klopp brought Bobby Firmino on for Origi to start the second just to make sure of the result. Origi did a lot of running, but never really looked fluid in The Reds' system. He was also taken out close to the whistle by Pepe, making it an easy call for the manager.
SAY IT AIN'T SO, FABINHO
A couple more goals from City v Spurs, but everything was going to plan in Porto until Fabinho was rolling around on the turf, holding his knee. The big Brazilian is becoming as important as any Red, and after we all feared a return of Jordan Henderson to DM, he dusted himself off and resumed play without any signs of a problem.
Needing a positive sign to settle our hearts, The Reds gave us two. Trent Alexander-Arnold put Mo Salah through for an easy one-on-one finish to remove any remaining doubts and Jurgen Klopp brought Trent off for Joe Gomez. Gomez, out for more than half of the season after an outstanding start came in at right back, raising a curious eyebrow for many.
Another clean sheet would have been nice, but Porto is not without talent and Eder Militao made his mark known, vaulting over Firmino in the 67th minute. Playing at fullback on the night, Militao has been impressive and will move on to Real Madrid next season.
HENDERSINHO
Henderson came on in the 70th, and immediately created a goal… what is going on? Whatever has gotten into Jordan Henderson since moving into a box-to-box role, it has him and the team on absolute fire. The Firmino goal in the 76th, headed in from the Henderson pass, made it 3-1 (5-1) and The Reds were in party mode from there on.
What was missing? The one surprisingly poor performance on the night was from Virgil van Dijk, so who better to put the frosting on the night than VVD himself? Another header, fired in from a Milner and Mané combination, made it 4-1 (6-1).
That's a helluva way to get through a quarter-final. And speaking of getting through a quarter-final… City didn't. After having a VAR decision go against Raheem Sterling in the closing moments of the match, Manchester City would see Spurs go through on away goals 4-3 (4-4).
How will City respond in the league?
Whisper it quietly folks. The double is in play. On to Cardiff, Huddersfield and Barcelona.
Allez, Allez, Allez!