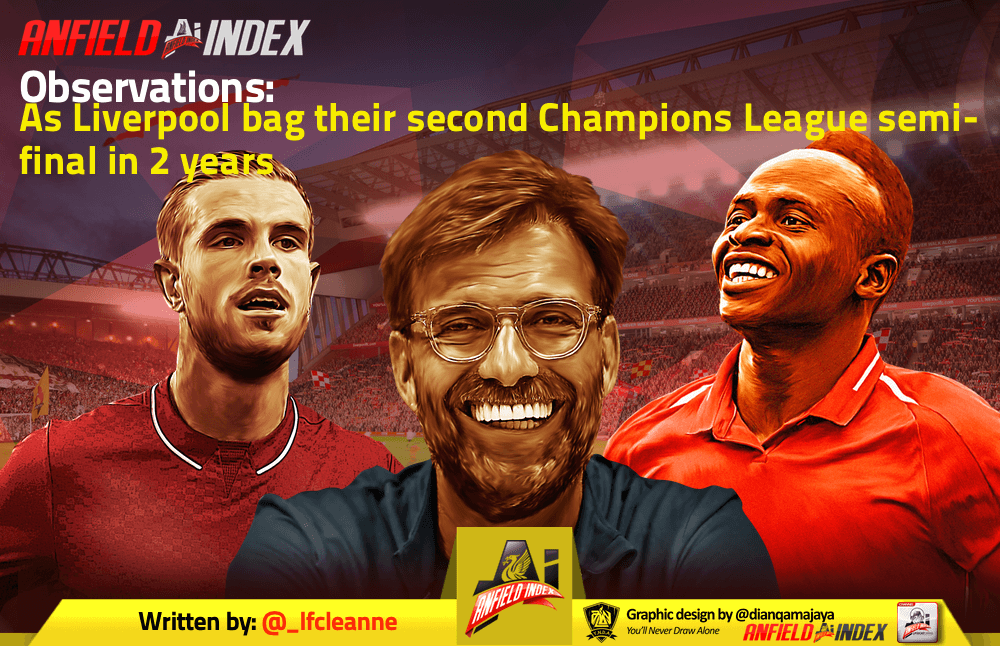 Observations as Liverpool bag their second Champions League semi-final in 2 years

This wasn't vintage Liverpool, nor did it need to be. The Reds had done half the job at Anfield and just needed to maintain composure in Portugal, knowing that an away goal would likely be enough to see them through to their second semi-final in two years.
VAR Margins
VAR is essentially marmite – you either love it or you hate it. Some football fans will argue it takes away from the spontaneity of the game, the thrilling ecstasy and freneticism while others believe it has become a requirement in a sport riddled with contentious decisions. Tonight may have swayed a few in Red…
It felt like a long 92 seconds between the time the referee had judged Mané's opener to be offside before VAR overturned the decision; media in attendance were left wondering what was going on, the players on the pitch were scratching there heads and the fans had beady eyes on the officials. Then there was Mo Salah; the Egyptian was celebrating Liverpool's crucial away goal before anyone else, having caught a glimpse of the VAR screen before uttering to his teammates that the effort had stood. Confusion aside, it was a huge call given the circumstances, sucking the life out of the stem of Porto attacks that had come prior and enabling Liverpool to establish a strong foothold from which they never looked back.
Sadio Mané's at it again
It's been an unprecedented season from the No.10, with a considerable run of form instrumental in Liverpool's ongoing title challenge. Bagging another goal at Estadio do Dragao, Mané's strike couldn't have been better timed, ending a period of utter dominance from the home side. Porto's fast start had them in the ascendency for the opening 24 minutes and but for Moussa Marega's dismal finishing, they could well have taken the lead and given the tie a completely different complexion.
Credit should be given to Mané for being so alert to the situation, with swift counter-attack culminating in cross-shot of sorts from Salah, later to be poked home by the Senegal international. The goal means he has now scored in every round of the Champions League for the past two seasons while netting eight opening goals in the last ten games where Liverpool have taken the lead. A supreme talent, his growing influence on the team has been instrumental to Klopp's successes this season and will no doubt prove to be for what remains of the Premier League and European run-in.
Substitutions make an impact
Just as Georginio Wijnaldum and James Milner made a difference against Chelsea at the weekend, offering a calming influence on a frenetic second-half that threatened to let the away side back into the match, Klopp's substitutions had another telling impact in Portugal.
Originally opting for a Fabinho-Wijnaldum-Milner midfield, fresh legs and an experienced trio were considered the best option to manage Porto's fast start, Jordan Henderson had to settle for a place on the bench. Yet, it wouldn't belittle his influence, with a substitute appearance providing energy and dynamism to the engine room alongside another assist. Again, it was a perfectly executed cross into the box, enabling Roberto Firmino to head home and cement Liverpool's dominance. The captain is thriving in the No.8 role, with three assists and one goal in his last three and a half games – a phenomenal output and an indication of what a catalyst he's been.
Elsewhere, Firmino's first-half introduction was also pivotal, causing a tactical switch that brought new life into the attack. While it's always nice to see him on the scoresheet, the Brazilian's most impressive involvement was his off-the-ball, showing a tremendous work-rate to track back and help out in defence. Indeed, he was the instigator for Mohamed Salah's breakaway goal, winning possession deep inside the Reds half before whipping it out to the right-hand-side with Wijnaldum and Trent in space.
Exceptional is being the norm under Klopp
Another emphatic Champions League win sees Liverpool reach back-to-back semi-finals, a mark of the huge progress done under Klopp's tutelage. Taking over a side riddled with deadwood and a lack of consistency under Brendan Rodgers, the German has reconstructed the Reds, bringing in quality recruits with the help of Michael Edwards to instil strong foundations to a frenetic, attacking system. Liverpool are now very much back among the European royalty, sending a clear statement with those they leave in their wake.
It may seem normal, it may have become normal, but what Klopp has done at Liverpool is nothing of the sorts. This has been a phenomenal transformation and one that very much deserves to end in silverware this season.