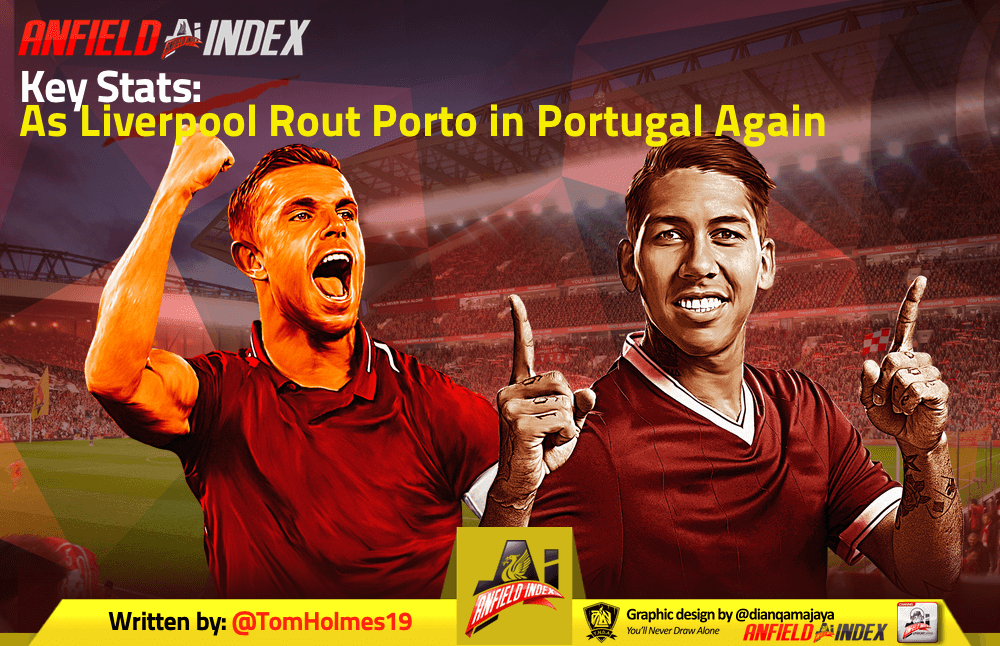 Key Stats as Liverpool Rout Porto in Portugal Again
Liverpool took Porto apart in the second half to ensure safe passage to the Champions League semi-final where Barcelona await, despite a nervy first 25 minutes in Portugal. But what were the key stats from a thumping 4-1 away win, securing a 6-1 aggregate victory?
The Hendo Show Continues
Jordan Henderson made a huge impact off the bench again in this game, securing his 3rd assist in four games, having only contributed one in almost two years, since the start of last season. Henderson is clearly enjoying his rejuvenation in the 8 role, having created four chances and two big chances in this game, both more than any other player, and denied a second assist by a poor finish from Mané. All of this despite playing only 20 minutes. Absolutely crazy how much he brought to the table.
Explosive Front Three Shine Again
It's definitely a positive sign that Liverpool ended up winning so comfortably and emphatically, despite being dominated for the majority of the first hour of the game. In the end, however, Liverpool's sheer attacking quality won out. Both Mané and Salah scored and assisted, as the Reds created five big chances (four of which were converted) and 3.0 expected goals.
Bobby Firmino also got in on the act, making it the 12th time all three of Liverpool's iconic front three have scored in the same game, and somehow only the 11th time Liverpool have won. One of these games was last season against Porto, funnily enough For a full list, see the tweet below.
This is the 12th match where Firmino, Mané and Salah have all scored. pic.twitter.com/SqsTwd6QVg

— Andrew Beasley (@BassTunedToRed) April 17, 2019
Bend But Don't Break Defence Comes Up Trumps
Porto will have been incredibly frustrated not to have scored with any of the 14 shots that they had in the first half, having clocked up 12 before Liverpool scored with their first chance of the game, but ultimately, quality of shot ends up usually means more than quantity.
In fact this game was a great one for xG, as Porto's xG was roughly level with Liverpool's after Mane's goal went in, with Porto eventually amassing just 1.0 expected goals from 19 shots and failing to create a big chance, whilst Liverpool's 13 shots yielded five big chances and hence four goals.
That's not to say that Liverpool defended extremely well, because Porto were very wasteful in the first half, but it's also fair to point out that lots of low percentage efforts at goal and half-chances aren't necessarily better than one very good chance.