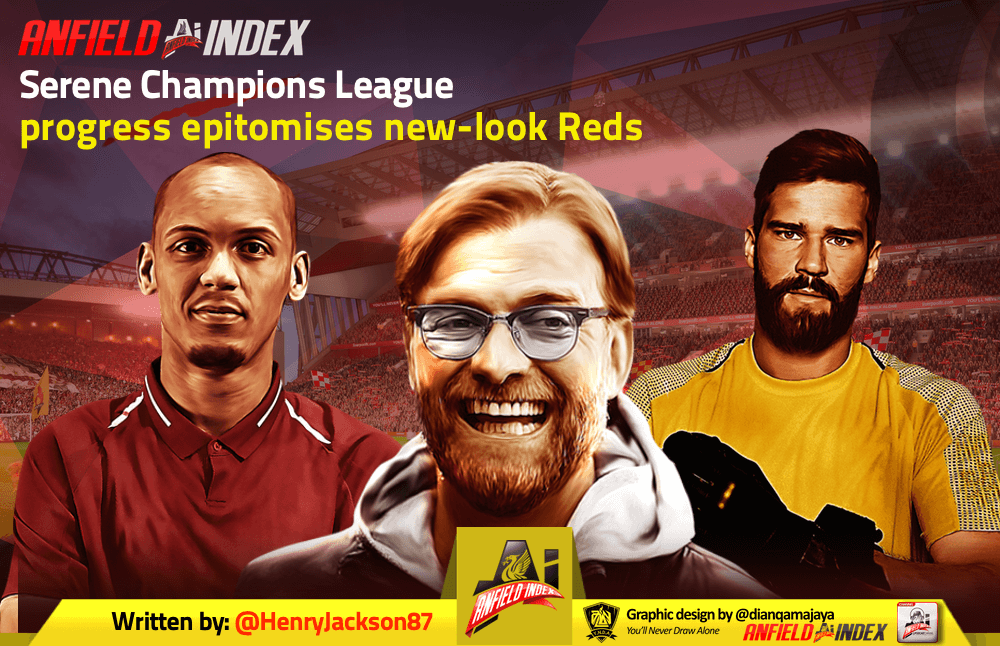 Serene Champions League Progress Epitomises New-Look Reds
When drama unfolds on a Champions League night when Liverpool are playing, it has become the norm to expect it to revolve around what the Reds are up to.
Their penchant for producing unforgettable evenings in Europe's premier club competition has been on show for five decades, from Saint-Etienne to Istanbul, right the way through to the heartbreak of Kiev last season.
But on Wednesday night, the drama couldn't have been further from Liverpool's affairs, with the nerve-shredding entertainment being produced at the Etihad instead.

City and Tottenham played out a genuine Champions League classic, with the latter eventually prevailing to end the former's quadruple dream, and hopefully dent their Premier League title momentum at the same time.
While many neutrals were no doubt sat watching the thrilling action unfolding in Manchester, Jurgen Klopp's Reds were sauntering into the semi-finals on a sodden night in Portugal.
They were strong favourites to progress after beating Porto 2-0 at Anfield last week, and after seeing off an unsurprising early burst from the hosts, it was plain sailing from then on.
Sadio Mane's opener killed the tie as a contest and Liverpool were able to cruise through the rest of proceedings, eventually picking up a 4-1 victory that secured a 6-1 aggregate triumph. Six-one!
The thing is, the serene nature of their progress didn't feel like any great shock, such is the manner in which Klopp has transformed his team this season.
In the earlier part in the German's tenure, Liverpool were incapable of doing anything without it being drenched in heavy metal, but their Metallica-esque style is now often being replaced by a bit of low-key Michael Bolton instead.
There is still attacking magic and moments of drama, of course – several last-minute goals this season immediately stand out – but this new pragmatic approach has been the key to the Reds' title charge and has been similarly evident in Europe as the campaign has progressed.
The 1-0 win over Napoli that secured qualification to the knockout stages was all pretty straightforward, barring that vital late save from Alisson. It never felt like Olympiakos, for example, with everything measured and well thought out.
Then it was Bayern Munich in the last-16, in a tie that many were predicting to be full of goals, attacking football and unpredictability.
But it was all beautifully predictable, which should have come as no surprise for anyone who is watching Liverpool closely this season. They are now a completely different animal.
The goalless draw with Bayern at Anfield was drama-free before the most professional of performances in the Allianz Arena saw the Merseysiders ease into the quarter-finals.
The Porto clash was equally 'uneventful', and it feels so refreshing to be progressing like the truly great teams do: almost under the radar while others around them go through nights of unbearable tension.
The idea of Liverpool cruising into the Champions League semis without too much fuss used to be a pipe dream, even under Rafa Benitez, but it is now becoming the norm.
Klopp has reached three European last-four ties in his four seasons at Anfield, which perfectly highlights the remarkable job he is doing.
The 51-year-old's primary aim when he took the Liverpool job was to turn the supporters from doubters into believers – something that took time to achieve but has now almost been perfected.
In years gone by, fans would have been fretting about a Porto comeback or insisted the draw with Bayern was disastrous, but this Reds side is worthy of so much trust, and the idea of them crashing out felt laughable.
Alisson and Van Dijk have made an immeasurable difference in that respect, but Liverpool look so much more organised and focused as an all-round unit. They are maturing all the time.
They are now going into matches expecting to win and there is a genuine belief that a historic double could be achieved this season, which would surely represent one of the greatest triumphs in the club's history.
It might not happen – City are still odds-on favourites to prevail in the league and Lionel Messi could knock the Reds out single-handedly – but just to be in a situation where expectations are so huge, and rightly so, can only be a good thing.
The romantic side of supporters will secretly always want Liverpool to do it the hard way, but this new-found way of managing games is as enjoyable to watch as end-to-end classics that feature goals at both ends.
The Reds were never going to be able to achieve sustained success playing the way they were, and Klopp has addressed that issue magnificently.
If you weren't at the Estadio do Dragao, I bet you ended up with at least one eye on the City-Spurs game from quite early on, despite Liverpool playing in a Champions League quarter-final second leg.
That's how serenely brilliant and reliable they have become.