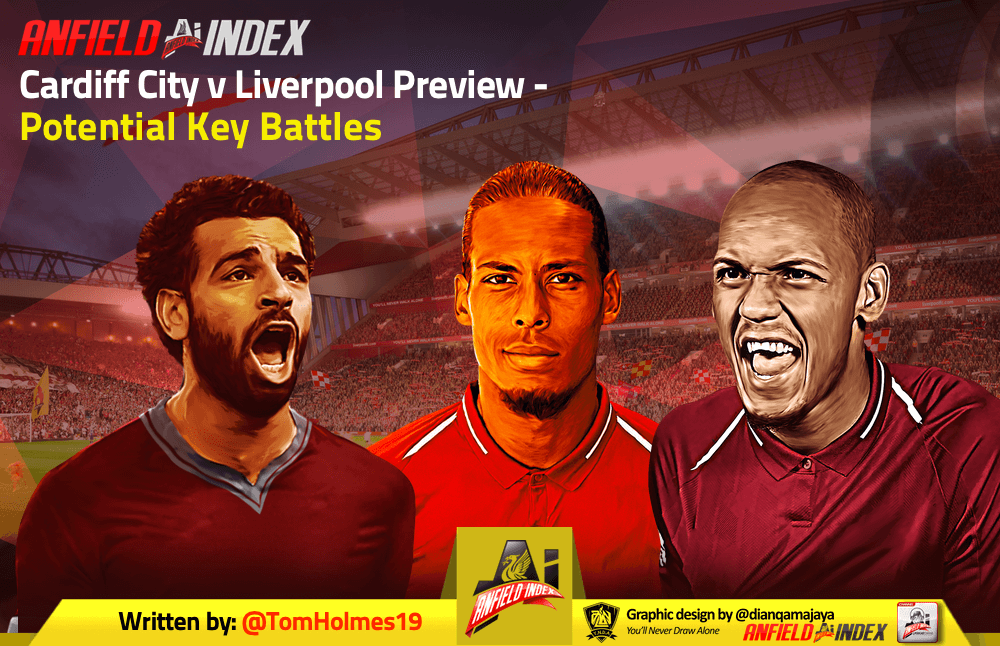 Cardiff v Liverpool Preview - Potential Key Battles
Liverpool travel to Cardiff off the back of a frenetic 4-1 win against Porto in the Champions League. It's a tricky away tie off the back of a tricky European away tie, and Cardiff will have their tails up after a terrific 2-0 win over Brighton in mid-week. Nevertheless, there's a real sense of momentum around the club at the moment, and Liverpool are in a really good space as they look to pile the pressure on City. So what are some of the potential key battles for this trip to Wales?
Fabinho vs Victor Camarasa
Southampton and to an extent Chelsea and Porto showed that there will likely be space in Liverpool's midfield for Cardiff to exploit, and the form of Fabinho has been very important as Keita and Henderson have often left him with a lot of work to do. Camarasa will be the man linking midfield and attack for Cardiff and as such will play an extremely important role in transitions. Camarasa is both Cardiff's top scorer with 5 goals and their top creative force with 4 assists from 3.41 xA, making him a vital player in their attack. Hopefully Fab can supress him, and keeping him out of the game will go a long way to keeping Cardiff quiet.

Mo Salah vs Bruno Manga
Whilst Salah won't necessarily pair up with Manga one on one that often, he is the left-sided CB and Salah will look to get between him and Bennett. Salah gave Cardiff a whole host of problems earlier this season, scoring once and also grabbing two assists, although he played more centrally in that game. With Sol Bamba out for the season, Manga has had to really step into the breach and will absolutely be in at the deep end in this game, as he looks to shut Salah out of the game – something that has proved difficult in recent weeks as Salah has three goals and an assist in his last four games. Liverpool's star man has found the form that deserted him in February and March, and that spells danger for Cardiff and for Manga.
Virgil Van Dijk vs Oumar Niasse
Niasse struggled in the air against Brighton, getting dominated by the aerial power of Shane Duffy, but there's more to his game than that and Van Dijk will have to be wary of the fact that whilst he's likely to dominate Niasse in the air, Niasse will try to find other ways to get team-mates involved. Van Dijk is red hot at the moment though, and for Cardiff, trying to find a way to get some change for Niasse is going to be absolutely vital if they're to get themselves some respite from defending and able to spring counter-attacks to score goals.