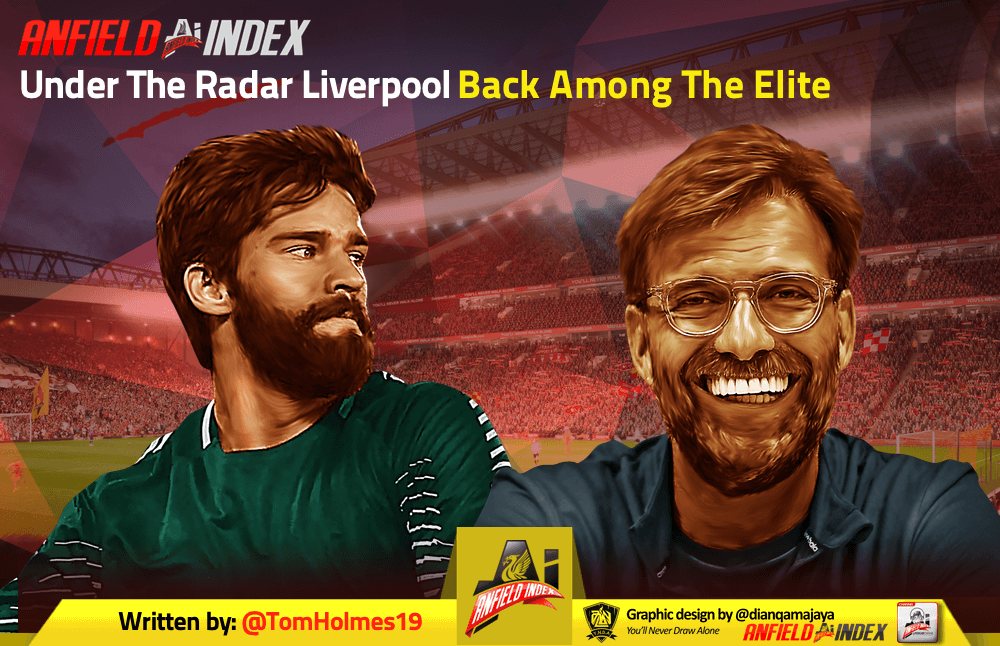 Under The Radar Liverpool Back Among The Elite
I wrote after Liverpool won comfortably at the Allianz Arena that the fact that nobody considered an impressive away win, and one of Liverpool's most accomplished away European performances in years, arguably their best in a decade, as a big deal just demonstrates how far this Liverpool side has come.
And here we are, another round of the Champions League has passed us by, and Liverpool are still in the competition, and comfortably so. There's no doubt that Liverpool's 4-1 win away in Portugal against Porto wasn't as impressive as their way against Bayern, and it's also fair to note that there are a multitude of reasons that it's not being hyped up in the press.
Porto in terms of quality are probably somewhere between Wolves and Man United, and so whilst taking them apart 6-1 over two legs is an impressive feat, it's not an unexpected one. In fact, when Liverpool were supposed to already be in the semi-finals when the draw was made, when they do in fact make the semis with minimal stress, nobody gave it a second look.

And, of course, there was the small matter of the Man City 4-3 Spurs game that had the drama, tension, action and late VAR action to make it an all-time classic fixture and one of the best games that the Champions League has ever produced. Given that Liverpool were 3-0 up on aggregate with an away goal with half an hour, you could be forgiven for pointing out that the tie was dead so did anyone really care.
But, all those rational reasons aside, there's no denying that Liverpool are flying under the radar towards being an absolutely incredible team. This team made multiple changes, went to an absolute cauldron of a stadium, played pretty averagely for an hour, and still were able to not only get through the game, but won handsomely, creating five big chances, scoring four goals, and having all three of their explosive front three score.
Whilst the final scoreline flattered the visitors, the fact that they were able to not just stay in the game for an hour but create the game's best chance and score it was impressive, as was the way that they took Porto apart in the final half an hour, as the home side withered and Klopp's subs once again gave the Reds fresh impetus. Jordan Henderson was terrific off the bench again, Bobby Firmino's introduction at half-time was an odd decision but was never going to do anything other than improving Liverpool, and it was great to see Joe Gomez back on the pitch.
But whilst the performance and result itself wasn't necessarily out of line with what we've come to expect from Liverpool following an impressive string of recent performances and results, it was yet another symbol and statement of exactly how far this Liverpool has come. Nobody is questioning the fact that Klopp has now delivered back to back European semi-finals to this Liverpool team, whilst Pep Guardiola's Man City are yet to reach that stage at all, having been knocked out in the Last 16 once and the QFs twice.
In fact, it's been a decade since any English team has made back to back UCL semi-finals, with Manchester United (2011), Chelsea (2012 and 2014) and Man City (2016) making the semi-finals four times between them in the last ten years. Arsenal and Spurs have only reached the semi-finals of the Champions League twice in their history.
And yet, this incredible feat is somewhat being underappreciated, given that Liverpool swept aside a decent Porto side they were expected to beat so comprehensively, on top of wins against PSG, Napoli and Bayern Munich.
Liverpool have quietly, and solidly, gone about establishing themselves as European royalty again, becoming the only team to make the semis twice in the last two competitions, giving themselves a genuine chance of making back to back finals, and have almost ghosted their way into a situation where they could pull off a historic double, yet people are only just starting to talk about it.
The City quadruple conversation has been going on for so long that now that it's finally gone to ashes, as it was always going to, people are now talking about Spurs instead (justifiably, given that their win against City is one for the ages and they now have a terrific chance of producing the greatest triumph in their history).
And with all of this going on, Liverpool have gone about their business, and have assuredly put themselves within seven games of a huge, incredible achievement. They look composed, confident, they're playing their best football of the season, and they look the most secure, complete team left in the competition.
Whilst it would be foolish to argue that Liverpool are clear favourites against Barcelona, it would be fair to argue that they're a more complete, well-rounded unit that the Spanish side. The tie itself is about 50/50 on most estimations, with the awareness that Liverpool are the best defensive side in Europe, look the real deal and have a multi-faceted threat, all of which can easily be neutralised by the argument that Barcelona have the best footballer ever to kick a ball and he can do things to teams that are illegal in many countries.
Nevertheless, when was the last time that Liverpool, who remain the only English team to ever win at the Nou Camp, were even considered on the same pedestal as Barcelona, let alone potentially marginal favourites?! Not for as long as I can remember, even when Rafa took us to victory against the Spaniards over two-legs.
And that's the calibre of where this Liverpool team is at right now. They are four very winnable Premier League games away from possibly lifting the Premier League title, and they are three matches away from potentially lifting the Champions League trophy. Liverpool are competing for the two biggest trophies in Europe in mid-April, and will almost certainly be in the running for both come May.
And all of that has come across so quickly, and yet so confidently, that there simply isn't any whiplash. This doesn't feel the same. Liverpool are at the same stage of the competition as Spurs, having had similarly difficult runs to get there, and for Spurs, it's a shock. For us, it's business as usual. And it's worth reminding people that we've only finished ahead of Spurs in the league once in the last nine attempts – 13/14. The way that Liverpool have been able to transition back into a big club under Klopp is almost startling, and yet it's not surprising.
Off the field, improvements are helping as well of course, but Liverpool have gradually built themselves back up from the dirt, and have done so in a way that exudes confidence and class. Come what may in the final weeks of the season, the simple fact remains that Liverpool are back amongst the top three or four sides in Europe, where they belong. And they absolutely deserve to be there.
Now let's focus on becoming the best. And it's a sign of exactly where this Liverpool team is that the prospect of them becoming the best team in Europe is not just realistic, but looking more likely by the day.
And whilst the 4-1 win over Porto isn't a major staging post in this transformation, or even a minor one given how massively Liverpool have changed in the last 18 months and how many great examples there are of that, what it is, is a pleasant reminder that this Liverpool team are not just back amongst the elite – but that some people are treating them like they've never been away.